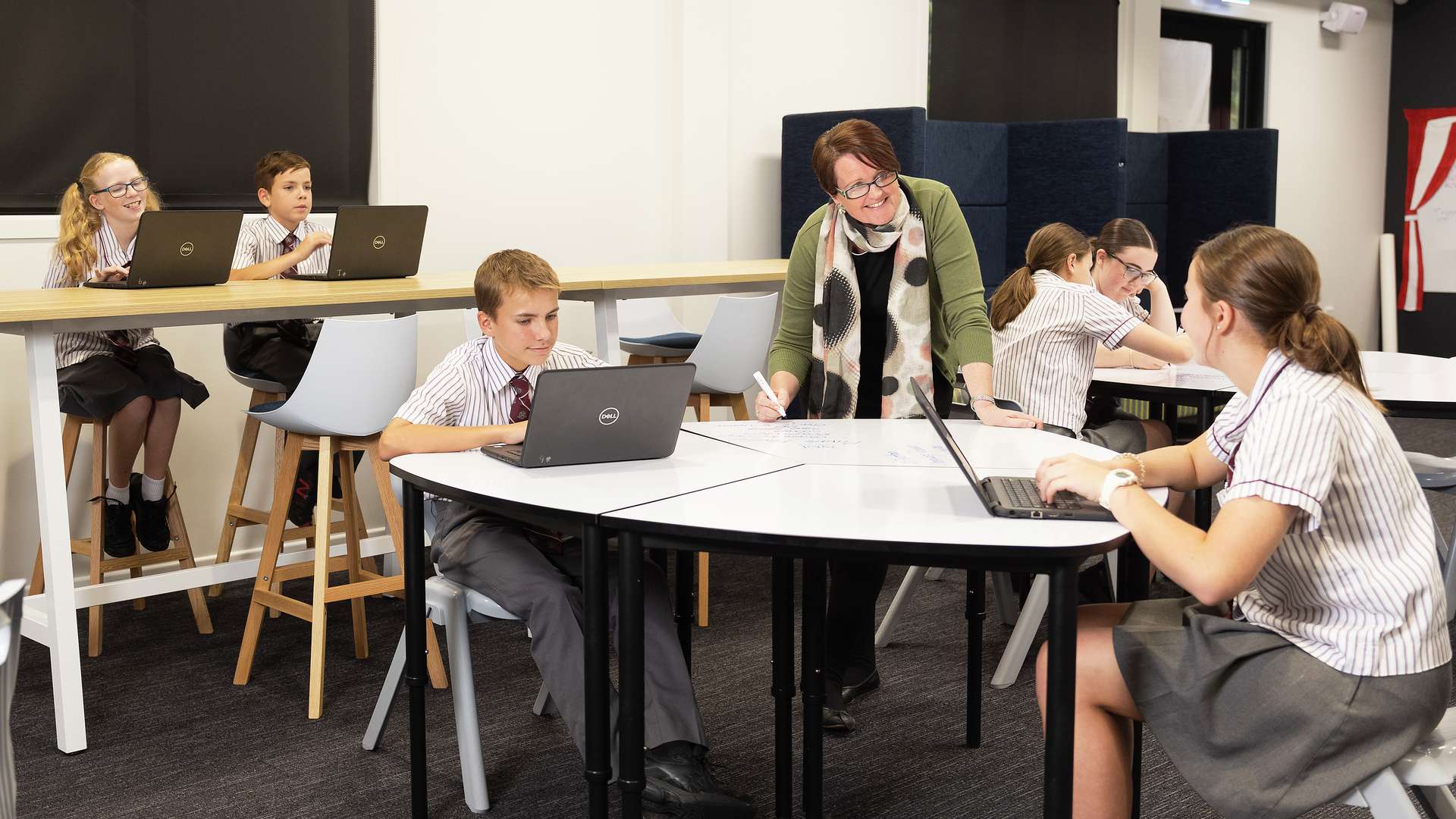 Welcome to the School of Education and the Arts as you begin your journey with us or continue with your studies.
Our school offers a wide selection of courses in the areas of teacher education (early childhood, primary and secondary), digital media, professional communication, music, performing arts, visual arts, humanities, hospitality, early childhood, education support, community services, project management, training and assessment and tourism.
Our school offers a range of study options for you to undertake from short courses to certificate and diploma level courses along with a wide range of undergraduate, postgraduate and research higher degrees. We also offer hyperflexible postgraduate Graduate Certificate and Masters courses in the areas of Educational Neuroscience, Educational Leadership and Creative Writing.
Within the School of Education and the Arts is the Central Queensland Conservatorium of Music. Our Conservatorium offers courses in Music and Theatre within the state-of-the-art conservatorium theatre based on the Ooralea Campus in Mackay.
The school is also home to the state-of-the-art STEM Central at our Gladstone Campus, which provides an engaging space equipped with specialist science, technology, engineering and maths (STEM) educational resources for hands-on STEM experiences. You can view the STEM Strategy for more detail on our commitment to growing STEM within the University. On our Bundaberg campus we are host to the Bundaberg Makerspace, a STEM education centre with a focus on creativity and innovation.
Many researchers in the school are members of the Centre for Research in Equity and Advancement of Teaching and Education (CREATE) and undertake educational and applied research by partnering with a variety of disciplines and industries and engaging with real-life learning and teaching problems to deliver equitable education, training and employment pathways for a wide audience, and in particular, regional Australians. This research centre at CQUniversity delivers Australia's only comprehensive approach to new innovations in education.
The school hosts the Creative Arts Research Training Academy (CARTA), which brings together research students, their supervisors and external partners to create a high-quality culture of research training in and around creative practice research and the creative arts. CARTA builds a dynamic environment of disciplinary, methodological and pedagogical expertise to enhance the quality of training for postgraduate research students. 
The school also boasts the Regional Arts Services Network, which is an Arts Queensland-funded project tailoring arts and cultural services to the needs of rural, regional and remote communities. Our RASN CQU staff have the privilege of further enriching our communities by implementing and managing the 'Catchment Three' region from 2022 – 2025.
Most of our courses offer work-integrated learning and industry placement. This means you can be placed in industry to apply your knowledge and skills or participate in one of our international exchange programs for a two-week period or even a whole term that can take you to many parts of the world. Our courses are designed to ensure that you have the skills and knowledge to succeed in your chosen career.
Our teachers and lecturers are experts in their fields and work closely with industry and relevant networks to ensure that you receive relevant and up to date training, so you are graduate workplace ready. Our professional staff are of the highest quality and are compassionate, caring individuals who are always there to guide and support you throughout your journey with us.
The school also warmly welcomes students from Aboriginal and Torres Strait Islander backgrounds to participate in all of our units of study. Assistance is available through the University's dedicated Indigenous Student Support Team if you require any extra support during your studies.
In closing, I wish you success in your studies during your time with us and hope to meet many of you throughout the year. If any of the team can help you in anyway, please let us know so we can make sure your experience with the School of Education and the Arts is a positive memory for many years to come.
Professor Stephen Dobson
Dean, School of Education and the Arts
Effective teachers, in partnership with caring families have an important responsibility in shaping the citizens of tomorrow. Our teaching courses are designed to graduate exceptional teachers who will make significant contributions to early learning centres, schools, training organisations and communities in which our graduates will teach. If you are interested in a career as a teacher or you are a teacher who would like to undertake further study, we offer a range of quality courses to meet your professional needs.
We also offer a range of vocational qualifications in training and assessment, educational support and childcare. These courses provide you with industry-relevant training along with the skills and knowledge needed if you are interested in becoming a teacher's aide or education support officer, or seeking a career within a childcare or early learning centre.
We offer students the opportunity to study the humanities at both undergraduate and postgraduate level. As a student studying our comprehensive Bachelor of Arts course you are able to specialise in disciplines such as creative writing, literature, history and politics, theatre studies, visual arts, geography and environment, as well as professional communication and journalism leading to a diverse range of careers. Throughout your studies, you will develop lifelong and transferable skills such as critical thinking, research and investigation, communication, design and planning.
Our professional communication courses integrate journalism and communication with digital media production and business disciplines. Theory is balanced with a strong work-integrated learning component. Our graduates find work in a diverse range of communication roles such as journalism, event management, corporate communication, client services and human resources management, website content producers, corporate writers and more.
If you have a passion for the performing and visual arts, we have a range of undergraduate and postgraduate courses in , music, theatre, and visual arts which will inspire, challenge and transform you.
We are proud of our reputation for being a supportive, nurturing and friendly environment where the focus is on developing your individual skills and creativity, and preparing you to undertake professional level work.
Our visual arts, music and theatre courses will help you craft your career as a professional musician, visual artist, recording or sound engineer, composer, actor, music theatre performer, theatre technician, arts administrator and so much more.
Many of our performing arts courses, including our Research Higher Degree (RHD) courses are available to study online via our renowned online study mode, giving you the flexibility to study when and how it suits you. Join us and be part of the premier performing and visual arts training institution in Central Queensland.
We offer a range of vocational courses in hospitality and tourism that allow you to explore a career in the hospitality sector or undertake a trade in this area. Our courses provide you with hands-on training delivered by expert teachers in purpose-built learning facilities. You'll graduate with strong industry connections and be ready to commence your career in this exciting industry.
Our Digital Media courses prepare graduates for a professional career within the digital media industries. The digital revolution has dramatically changed the way we work, learn, play and communicate. It has created jobs that didn't exist a decade ago and it has profoundly changed others. People who are skilled in the production and application of digital media are in demand.
Employment opportunities for graduates with relevant creative and technical expertise can be found in areas such as web design, graphic design, publishing, photography, illustration, animation, game development, software development, audio production, video production, film and television post-production, visual effects, advertising, marketing, and corporate communications.
Transcript
Welcome to the school of Education and the Arts.
I would like to acknowledge that we are on the land of the Durambal people.
And that we acknowledge the Elders past, present and future.
My name is Professor Stephen Dobson, I am the Dean of the School of Education and the Arts.
I work together with a highly skilled set of colleagues who research, teach, provide professional support, enter in partnerships, work with the community, and above all include everybody.
We offer three broad kinds of offering.
The first one is in vocational studies. Different kinds of pathways.
We also have the Arts, which include performing and creative arts which also includes the music conservatorium.
We also offer teacher training in early childhood, primary and secondary.
I hope you enjoy your time at CQU.
It's always a journey and we're happy support you in part of your lifelong learning journey.
Thank you.
Research in the School of Education and the Arts
In the School of Education and the Arts, we research and investigate the ways people learn, create and transform their thinking. We strive to understand and translate stories, histories, and experiences within and beyond our own disciplines, including in teaching, education, the creative arts and humanities. We believe that knowledge is best applied in and for our communities, especially those in regional or rural settings and increasingly exploring international contexts.
Our research aligns with Field of Research codes 36 and 39. The School of Education and the Arts also features many members of the Creative Arts Research Training Academy (CARTA) and the Centre for Research in Equity and Advancement of Teaching and Education (CREATE). Four of the research strengths directly link to CREATE research clusters.
Research strengths
Applied Arts and Regional Communities
Creative and Digital Practices
Learning Innovations for Educational Equity
Global Competency
Science, Technology, Engineering and Maths Education Research (STEM-ER)
Humanities
RHD communities
PREL – Principal Researchers in Educational Leadership
If you would like to learn more about our research strengths, please contact the Deputy Dean (Research) or Postgraduate Research Coordinator.
Research in CREATE's Applied Arts and Regional Communities cluster spans:
Investigations into the arts sector in regional, rural and remote locations
Arts evaluation and arts-led community engagement
Community and public art programs across all disciplines
Building capacity, skills attainment, and training models for artists and artworkers
Creative arts, health and wellbeing in regional, rural and remote locations
Previous research has included funded projects with state-wide arts organisations and local councils.
Active researchers in Applied Arts and Regional Communities
Dr Linda Lorenza
Dr Nadia Mead
Associate Professor Liz Ellison
Patty Preece
Dr Sasha Mackay
Dr Jan Cattoni
Dr Amy Johnson
Dr Andrew Couzens
Prof Bobby Harreveld
Research in Creative and Digital Practices spans:
Collaborative music performance, jazz performance, improvisation, composition and arranging
Musical theatre, children's theatre, theatre in-education and performing arts pedagogy
Collaborative scripting, applied scriptwriting, arts health practices including trauma, VR co-creation with hospitalised young people, Creative Participatory Action Research, documentary
Previous research includeds funded projects collaborating with national university partners, hospitals and industry organisations.
Active researchers in Creative and Digital Practices
Dr Jan Cattoni
Dr Peter McKenzie
Professor Judith Brown AM
Dr Nicole Anae
Dr Linda Lorenza
Dr Ashley Holmes
Associate Professor Celeste Lawson
Associate Professor Steven Pace
Researchers in CREATE's Learning Innovations for Educational Equity (LIFEE) cluster work with educators and learners to devise solutions to equity-related education problems in a range of contexts including:
Initial teacher education
Professional learning for educators
Early childhood education
Primary and secondary school education
Vocational and higher education
Community and arts-based education
CQU also hosts STEM Central, an innovative learning hub based at our Gladstone campus.  
Dr Lois Harris
Professor Kate Ames
Associate Professor Angelina Ambrosetti
Dr Corey Bloomfield
Associate Professor Gillian Busch
Associate Professor Rickie Fisher
Associate Professor Jo Dargusch
Associate Professor Linda Pfeiffer
Professor Margaret Kettle
Dr Daren Mallett
Research in CREATE's Education for Global Competence and Sustainable Development cluster spans:
Examining whole school, classroom and virtual approaches that foster global competence/global citizenship and promote sustainable development
Identifying, developing, and measuring the impact of professional learning
Examining international, national, and state education policies and curricula
Exploring the impact of pre-service teacher education, teacher agency, and teacher beliefs
This research contributes to FORs: 390307 Teacher education and professional development and 390102 Curriculum and pedagogy theory and development as well as SDG 4, particularly target 4.7, and SDG 17. Partnerships include working with international universities and state government departments.
Active researchers in Education for Global Competence and Sustainable Development
Dr Miriam Ham
Dr Karena Menzie-Ballantyne
Professor Stephen Dobson
Dr Michael Hewson
Innovations in CREATE's Science, Technology, Engineering and Maths education research cluster spans:
Indigenous connections to culture
Primary science and STEM
Early Childhood learning
Inquiry-based learning and creative pedagogies
Professional development models and impacts
Robotics and STEAM learning
Makerspace pedagogy
Recent projects include partnerships with local councils, and state and federal government.
Active researchers in STEM-ER Education
Dr Robert Vanderburg
Dr Michelle Vanderburg
Professor Bruce Knight
School staff also undertake research aligned with disciplines within the humanities, such as history, politics, and geography.
Active Researchers in Humanities:
Dr Benjamin Jones

Dr Michael Danaher

Dr Michael Hewson

Dr Vicki Pascoe

Associate Professor Celeste Lawson

Dr Amy Johnson