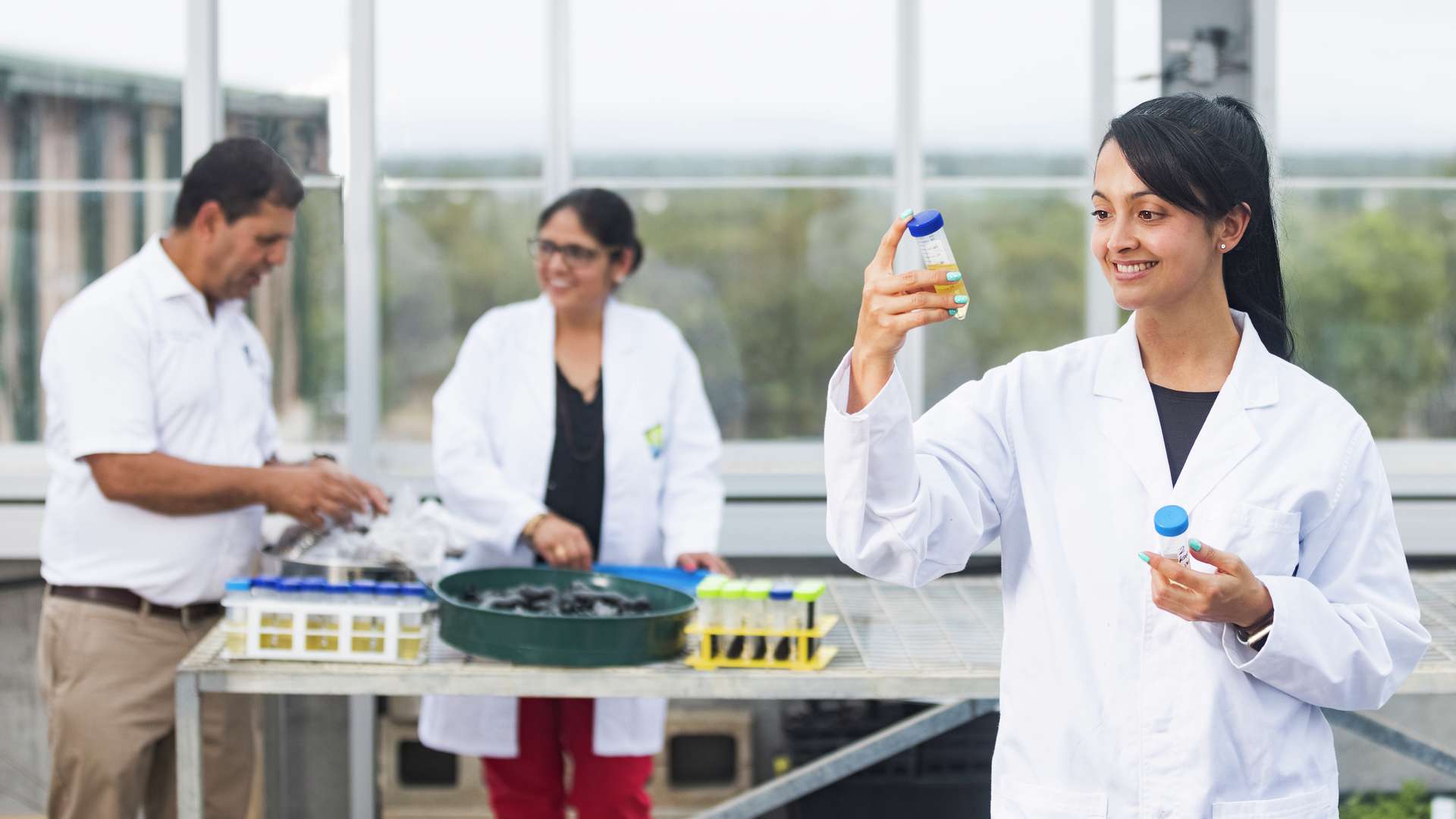 We're proud to be a benchmark leader for how universities should engage with industry to deliver research with true impact. Our focus on practical, applied research sees us deliver real-world solutions that make a difference to our communities both locally and globally.
A commitment to strong business and community partnerships allows us to develop constructive outcomes and identify new opportunities for advancement in a huge range of fields.
This approach has seen us recognised as conducting research that is at, above or well above world standard in an impressive 22 categories in the latest Excellence in Research Australia (ERA) results.
Interested in a Research Higher Degree? Explore the range of options we provide to help you make a difference and become a specialist in your field.
400+ active researchers
$22m research income in 2021
$94m+ in competitive research income 2016 – 2021
730+ annual peer-reviewed research publications
620+ research higher degree students
2 research institutes and 8 research centres
1,000 RHD graduates
Our research focus and engaged research agenda are already making positive impacts on individuals, communities and industries across the world. In coming years, this impact will continue to grow, expanding into new focus areas and transforming the way we think about current challenges. Our impact is demonstrated in improved industry processes, regional and economic development, business improvement, productivity and innovation, social advancement and equity and healthier communities. 
Read about our research impact 
Our research agenda is built around deep engagement with communities, industries and government.
In particular, the University is focused on delivery of research that is relevant to the northern Australia region.
To deliver great research that is meaningful and relevant, researchers work directly with stakeholders to identify challenges and deliver solutions. The end user is involved throughout the entire research project. This approach ensures our research delivers direct benefit and long-lasting impact.
The research partnerships team provide a conduit between our researchers and research staff and business and industry to develop collaboration opportunities and explore issues.
Read more about our research partnerships.
The research we conduct helps to guide the design and delivery of our learning and teaching.
Our University strives to achieve a connected approach to research, learning and teaching, believing that 'real-world' research impacts not only the community it operates in, but so too a student's experience across disciplines. This is evident in the way academics draw on their personal research in designing and teaching courses, where their research informs learning activities and academic discussion on contemporary issues.
Research tasks are also embedded in many undergraduate coursework programs, providing students with opportunities to grow their understanding through knowledge creation.
Regional economies and supply chains
Work, employment, regulation and governance
Sustainable business and community justice
Education
Open and distance education
Creative education in the arts
Learning and assessment innovation for educational equity
STEM education
Education for global competence
Transformative education practices in professions
Railway engineering
Artificial intelligence and machine learning
Clean energy
Hydrogen
Biofuels
Pavement engineering
Big data analytics
Aviation human factors
Healthy behaviours at work, rest and play
Psychology and wellbeing
Sleep and biological rhythms
Physical activity
Emergency and disaster resilience
Gambling and addictive behaviours
Regional health and health services
Human factors and safety science
Agricultural systems
Agricultural management systems
Agricultural extension/translation
Environmental systems
Environmental monitoring and management
Exercise and sports science
Applied medical health
Medical and applied physiology
Advanced clinical practice
Quality and safety in healthcare
Patient safety and consumer experience
Clinician's capacity building
Health workforce
Clinical workforce
Models of care
Preparation for, and transition to, practice
Safe communities
Gendered violence
Violence, abuse and neglect
Psychosocial wellbeing
Aged care
Individuals, families, and communities
Mental health nursing
Our research is monitored by a number of ethics committees and bound by a code of conduct, for more details visit the ethics and integrity page.
Transcript
Australian agriculture is poised for a period of sustained growth thanks to a combination of increased global demand for safe, high quality food and the emergence of technologies that will transform agricultural production systems.
It's an exciting time to be involved in the agricultural sector and to contribute to the development of this important industry in our community.
CQUniversity's Institute for Future Farming Systems works side by side with industry to identify challenges and develop solutions to improve agricultural efficiencies and productivity.
Our focus spans the livestock, horticulture and crop production systems with additional expertise in sensors and agtech products, agricultural extension and education, and gut microbiome research.
The Institute's research is grounded in the needs of industry.
Our researchers live and work in the communities they serve, including Rockhampton, the beef capital of Australia, and Bundaberg, one of the most diverse horticultural production regions in Australia.
While our research is firmly embedded in delivering benefits and sustainability to northern Australia, our reach spans the globe, with key research activities undertaken with communities in Papua New Guinea, the Pacific Islands, New Zealand, Nepal, the United States, Argentina and more recently Indonesia.
The Institute for Future Farming Systems relies on strong partnerships with industry, and we work with our industry partners to develop practical solutions to improve their operations and realise sustainable outcomes.
An example of this is the hand-held Near Infra-Red Sensor device, used to assess ripeness of fruit, that can be used to increase the efficiency in harvesting operations, and the extension of that research with new vision systems and robotics that have been combined into the world's first mango auto-harvester.
Another example is our Precision Livestock Management team who utilise automated data gathering tools to monitor the condition of individual animals in beef herds and sheep flocks.
As part of this, they have developed the internationally recognised Data Muster data integration platform to assist graziers to make more informed biosecurity, production and marketing decisions.
The innovations in this space are proving to be especially relevant to producers within Northern Australia who often manage herds spread across thousands of square kilometres.
The Institute utilises world-class facilities including the laboratories at the Central Queensland Innovation Research Precinct, or CQIRP, and the 3200-hectare Belmont Research Station.
More importantly, our strong partnerships with the agricultural industry ensures access to our researcher's to commercial agricultural production sites making the farms of our region the most valuable facilities for our research.
The Institute for Future Farming Systems is committed to delivering to the agricultural industry with continued engagement and smart innovations that empower end users and help to transform and sustain the sector.
Our research is also helping to inform the development and delivery of new education courses to equip a new generation of producers, agribusiness professionals and researchers with the skills, technical knowledge and expertise that is needed in this rapidly evolving industry.
Research Higher Degrees
We see you making a real difference and changing lives with our Research Higher Degrees. Build on your experience and turn your passion into a research qualification.
Connect with us
We know the value of our connections locally and around the world, connect with us to stay in touch with news and developments
Contact Us
Looking for a research contact or some advice?