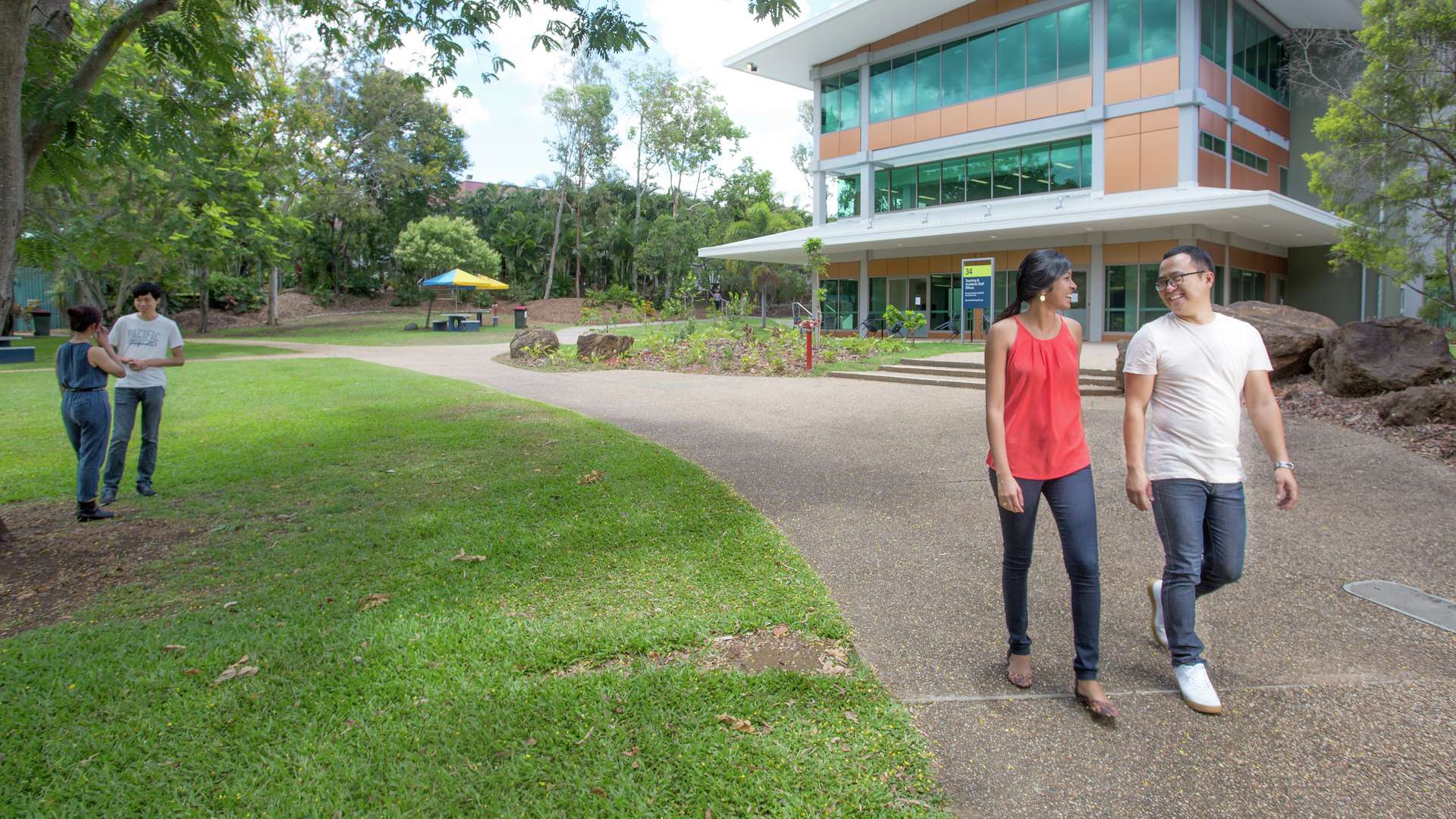 CQUniversity Australia has been on a phenomenal trajectory in recent years and its remarkable growth in student numbers, new courses, new campuses, infrastructure and reputation has seen it emerge as one of Australia's truly great universities.
Originally founded in Rockhampton in 1967, as the Queensland Institute of Technology (QIT) Capricornia, CQUniversity Australia was granted full University status in 1992 and now has more than 30 000 students studying online and on-campus across Australia.
We have firmly established ourselves as one of the largest universities based in regional Australia, with campuses in Adelaide, Brisbane, Bundaberg, Cairns, Emerald, Gladstone, Mackay, Melbourne, Rockhampton, Sydney, and Townsville. Along with these campuses, the University also partners with several of Regional Universities Centres (RUC's) in regional and remote parts of Australia.
In 2014, the University merged with CQ TAFE to bring together more than 175 years of combined experience in the delivery of education and training and establishing Queensland's first comprehensive, dual sector university.
The University now delivers more than 250 education and training offerings, from short courses and certificates, through to undergraduate, postgraduate and research degrees.
Study areas include apprenticeships, trades and training, business, accounting and law, creative, performing and visual arts, education and humanities, engineering and built environment, health, information technology and digital media, psychology, social work and community services, science and environment, and work and study preparation.
As a pioneer in the delivery of distance education, CQUniversity also continues to be a leader in this area with almost half of the current student cohort made up of students studying off-campus through online and mixed-mode delivery, many of whom are based in rural and remote areas.
After more than half a century working with stakeholders in regional Australia, our university is also a renowned research institution in several key disciplines and the benchmark leader for how universities should engage and collaborate with communities and industry.
1967 The Queensland Institute of Technology (Capricornia) (QITC) was founded in Rockhampton.
1971 QITC was transformed into the Capricornia Institute of Advanced Education (CIAE).
1974 CIAE became one of the first institutes in Australia to commence the delivery of distance study, becoming both a pioneer and leader in this area.
1978 Gladstone Campus established.
1987 Mackay Campus established.
1988 Bundaberg Campus established.
1990 CIAE's continued growth led to it being renamed the University College of Central Queensland.
1992 The University College of Central Queensland achieved full University status and The Hon. Stan Jones AO, named first Chancellor.
1994 Name change to Central Queensland University. Sydney Campus established.
1996 First online delivery of courses (distance study began 1974). Central Queensland Conservatorium of Music established at the Mackay Campus.
1997 Melbourne Campus established.
1998 Brisbane campus established.
2004 Second Chancellor Mr Rennie Fritschy AM, installed.
2009 Rebrand to CQUniversity Australia.
2011 First Regional University partnership established with the Geraldton Universities Centre (GUC) in Western Australia.
2012 Adelaide Campus, the Appleton Institute and the Cairns Distance Education Study Centre established. Stage One Allied Health Clinic opens in Rockhampton.
2014 CQUniversity and CQ TAFE merge. Townsville Distance Education Study Centre established.
2015 Cairns and Townsville Distance Education Study Centres become full campuses. Stage Two of the Allied Health Clinic opens in Rockhampton. Institute of Future Farming Systems, Centre for Intelligent Systems and Centre for Railway Engineering are established.
2016 Mr John Abbott OAM installed as Chancellor. CQUniversity is named as Australia's first Changemaker Campus by Ashoka U.
2019 Coastal Marine Ecosystems Research Centre (CMERC) is established in Gladstone.
2020 COVID-19 sees all classes temporarily transition to online in Term 1. First online graduation ceremony held. The Hinkler AgTech Initiative at the Bargara  AgTech Hub a is launched. The Regional Medical Pathway (RMP) is established in partnership with The University of Queensland, Central Queensland Hospital and Health Service and Wide Bay Hospital and Health Service. TAFE Trade Training Centre opens at Gladstone Campus. CQUniversity establishes an Australian-first First Nations RHD student academy (known as Jilbay).
2021 The Centre for Regional Economies and Supply Chains (CRESC) is established. The Centre for Research in Equality and Advancement of Teaching and Education (CREATE) is established.
2022 The Jawun Indigenous Research Centre is launched. Mr Graham Innes AM is appointed as the fourth Chancellor of CQUniversity.
Our Purpose
To provide world-class, inclusive education, training and research opportunities to our students, partners and communities across Australia and internationally.
Our Vision
To be Australia's most accessible and supportive university, connecting our regions to the world through innovative education, training and research excellence.
Our Values
Engagement
We recognise that authentic engagement with our communities, industries, stakeholders, and students is an inseparable feature of our social purpose.
Can Do
We have the skills, vision, and courage to achieve anything. We support one another to seize opportunities and overcome challenges.
Openness
As individuals and as a university, we build trust by acting with integrity and embracing open and honest dialogue.
Leadership
We value leadership as a quality embedded within every role at CQUniversity, and recognise that initiative, collaboration, accountability, and daring to be different define our success as leaders.
Inclusiveness
We value accessible education as an undeniable human right afforded to any person who aspires to it, anchored by a shared sense of equity, kindness, and humanity.
Council
CQUniversity is governed by its Council, which is established by the Central Queensland University Act 1998 (Qld).
Executive
Professor Nick Klomp is the Vice-Chancellor and President of CQUniversity. The Vice-Chancellor and President is the University's Chief Executive Officer, who works in close collaboration with the University Council, of which he is a member, and also with a wide range of internal and external stakeholders to provide overall leadership and directions for the University.
The Vice-Chancellor and President is appointed by the University Council and is responsible to the Council, through the Chancellor, for the leadership and management of the University.
The Vice-Chancellor and President is supported by an Executive, comprising the following senior members of staff:
Vice-Presidents
Vice-President, Student Success
We're proud of our reputation locally and globally for our teaching, research, graduate outcomes, inclusiveness and social innovation.
Explore more: Our Reputation
Our applied research focus emphasises the translation and uptake of research findings to meet the real world needs of our stakeholders. As one of Australia's most engaged universities, with an emphasis on globally relevant activity that benefits the regions we serve, we are fast becoming one of the nation's most respected applied research institutions.
Explore more: Research
Acknowledgement of Country
We respectfully acknowledge the Traditional Custodians of the lands on which we work and learn. We pay respect to the First Nations peoples and their Elders, past, present and future for they hold the memories, the traditions, the cultures and hopes of Aboriginal and Torres Strait Islander peoples.
Vision for reconciliation
We value and celebrate Australia's First Peoples and their cultures, lore, languages and identities, and enduring connection to Country. Our vision for reconciliation is for all Australians working together to address injustice and provide equality of opportunity: and to develop a tertiary education sector that truly embraces the knowledges, leadership, and strengths of Aboriginal and Torres Strait Islander peoples.  Read more about our vision for reconciliation in our Reconciliation Action Plan.
Indigenous engagement
Working to fulfil the goals of our Reconciliation Action Plan, and by living our values, we will focus on building relationships and expanding participation by Aboriginal and Torres Strait Islander staff and students in the University, developing cultural protocols, and commencing a First Nations curriculum.
CQUniversity recognises the significant contribution that Aboriginal and Torres Strait Islander peoples have made to the life of the University through academic, research, student participation and community relations.
Office of Indigenous Engagement
While the Reconciliation Action Plan and our commitment to its goals is universal to our University community, we are also very proud of our Office of Indigenous Engagement through which these important initiatives are monitored and reported.
With the largest footprint of any university in the country, we have campuses spanning the entire east coast of Australia and is also proud to partner with several regional universities' centres in rural and remote locations across the country. Each campus delivers students, staff, community and industry with a place to connect with study, student support and research.
Our seamless approach to education and huge range of online and on campus training and study options, means that whether you want to stay close to home or move somewhere new, we've got a location, study mode and course to suit.
We are renowned for online education and social equity; ensuring that no matter your background or location you have access to quality education and training.  CQUniversity's other locations, in the form of Study Centres, Study Hubs, Regional University Centre Partnerships (RUCPs) and Delivery Sites provide varying levels of support, access to facilities, and study options for Australians across the country.
Campus
A Campus is a CQUniversity location with student facilitates such as libraries, lecture theatres and other learning spaces, student advice centres and commercial outlets such as food and beverage. Campuses can be accessed by both on-campus and online study students.
Regional University Centre Partnerships
Federally funded, Regional University Centres operate at multiple sites across Australia providing infrastructure as well as academic support for students studying via distance with nominated partner universities.  CQUniversity has established and will continue to grow and support Australians to access quality education options with a number of Regional University Centre Partnerships (RUCPs).
Delivery Site
A Delivery Site is a CQUniversity location where students may need to attend to complete a component of their course.
Our holistic approach to safety and wellbeing has been integrated into our culture, systems, strategies and programs, and our commitment extends to all our stakeholders, students, staff, visitors and contractors.
Read more about our safer communities initiatives.
Transcript
As Australia's most inclusive university, we believe that education can be for everyone, no matter your postcode, background, lifestyle or study preferences. We see you working hard for your future, whether it's to change your circumstances, achieve your dreams or support your family. And we're here to help. We pride ourselves on taking away the hurdles and we see no barriers to a quality education.
With locations across every state in mainland Australia and influence reaching across the globe, we offer hundreds of TAFE and Uni courses both on campus and online. In fact, our online education is renowned, thanks to forty years' experience in the field. This accessibility and range of options mean you can study what, when and how you like with CQUniversity.
Led by award-winning lecturing staff, our courses are designed alongside industry, with many including practical learning experiences… because we believe it's important to prepare you with up-to-date knowledge and are committed to seeing you graduate, job ready. With CQUni you can transition seamlessly between our TAFE and University options. And if you need a helping hand, our pathway programs and range of scholarships can get you started. If you're looking to advance your career or make a change, our range of postgraduate and research higher degree qualifications are designed to give you an edge.
Whichever path you choose our friendly staff are here to support you to reach your ultimate goals. It's this approach that's seen us ranked number one in Australia for social equity, and consistently achieving outstanding graduate outcomes. And, we're Australia's first Changemaker campus, which means we're internationally recognised for building social innovation practices into what we do. These things matter to us because they matter to you.
Talk to CQUniversity today about how we can help you to be what you want to be.