ICT50220 - Diploma of Information Technology
| | |
| --- | --- |
| Duration | 1 year full-time or 2 years part-time. |
| Location | Online |
| Next intake | February, 2024 |
| Study mode | Online, RPL/RCC/Credit |
| Total units | 20 |
Fee-Free TAFE course for eligible applicants in 2023.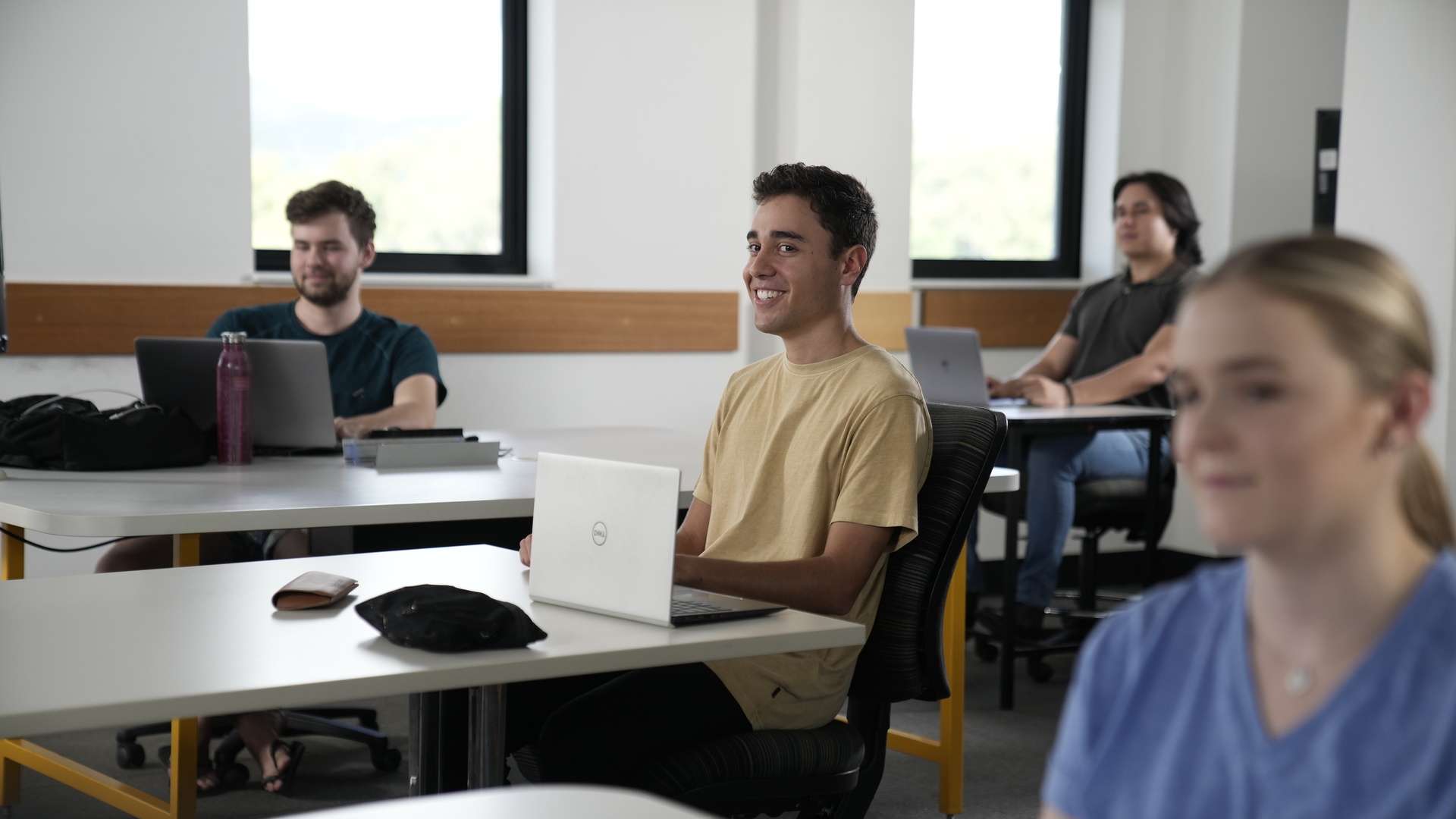 Overview
Are you looking for an advanced IT qualification that provides you with IT technical skills and how to manage ICT projects? The Diploma of Information Technology (ICT50220) course will provide you with an extended understanding and skillset for working in the Information and Communications Technology industry.
This qualification reflects the role of individuals in a variety of information and communications technology (ICT) roles who have established specialised skills in a technical ICT function.
This is a nationally recognised accredited course.
QUALITY EDUCATION, WHEREVER YOU ARE
Between our reputation for learning, teaching and research, our renowned online education offering, and our status as Australia's largest regional university, rest assured you will get a world-class education when you choose CQUniversity.
A UNI THAT KNOWS CREDIBILITY IS KEY
In just 25 years, CQUniversity has achieved some amazing feats and emerged as one of Australia's truly great universities. We have been ranked among the best in the world for our teaching and learning, and are internationally recognised for our focus on Social Innovation. Our graduates are some of the most sought-after in Australia, due to our reputation for work integrated learning and industry-aligned courses, and experience some of the nation's best graduate outcomes in terms of full-time employment and starting salary. CQUni is also regarded as the nation's most inclusive and engaged university, with our award-winning academic and research staff making a real impact on the communities and industries we serve.
A UNI THAT LEADS IN ONLINE EDUCATION
A pioneer in online study, CQUniversity has more than two decades of experience providing high quality online learning experiences across the country and even internationally. We work hard to deliver the latest techniques in online study, and have even planned our physical sites to provide more services to our widespread online study cohort.
A UNI THAT KNOWS CONVENIENCE COUNTS
CQUniversity is truly focused on our students' needs, and that means responding to what, how and where they want to study. It is why we are now Australia's largest regional university, with more than 20 metropolitan and regional locations across five states, delivering TAFE and university qualifications in on-campus, online and supported online modes to more than 30 000 students.
A UNI THAT KNOWS YOUR EXPERIENCE MATTERS
CQUniversity's strong focus on student experience ensures that you are prepared and supported on your student journey. Support services include on-campus or online orientation to assist your transition into university life, course and career advice, financial support options, study support, ongoing assistance through the Student Mentor program, counselling services, support for students with disability or medical conditions, Indigenous student support and more.
Career Opportunities
Individuals in these roles carry out moderately complex tasks in a specialist field, working independently, as part of a team or leading a deliverable with others. They may apply their skills across a wide range of industries, business functions and departments, or as a business owner (sole trader/contractor).
Structure & Availability
Standard Course Structure
Duration:
1 year full-time or 2 years part-time.
Business Needs Analysis
| Unit Code | Unit Name |
| --- | --- |
| ICTCYS407 | Gather, analyse and interpret threat data |
| BSBCRT512 | Originate and develop concepts |
| ICTICT517 | Match ICT needs with the strategic direction of the organisation |
Complex Networking
| Unit Code | Unit Name |
| --- | --- |
| ICTCYS610 | Protect critical infrastructure for organisations |
| ICTNWK529 | Install and manage complex ICT networks |
Professional Practice within IT
| Unit Code | Unit Name |
| --- | --- |
| BSBXTW401 | Lead and facilitate a team |
| ICTICT532 | Apply IP, ethics and privacy policies in ICT environments |
| ICTSAS527 | Manage client problems |
Server Design
| Unit Code | Unit Name |
| --- | --- |
| ICTNWK536 | Plan, implement and test enterprise communication solutions |
| ICTNWK540 | Design, build and test network servers |
Project Management
| Unit Code | Unit Name |
| --- | --- |
| ICTICT525 | Identify and manage the implementation of industry specific technologies |
| ICTPMG505 | Manage ICT projects |
Cyber Security
| Unit Code | Unit Name |
| --- | --- |
| BSBXCS402 | Promote workplace cyber security awareness and best practices |
| ICTCYS613 | Utilise design methodologies for security architecture |
| ICTSAS524 | Develop, implement and evaluate an incident response plan |
Network Security
| Unit Code | Unit Name |
| --- | --- |
| ICTNWK537 | Implement secure encryption technologies |
| ICTSAS526 | Review and update disaster recovery and contingency plans |
| ICTNWK546 | Manage network security |
Virtual computing
| Unit Code | Unit Name |
| --- | --- |
| ICTNWK557 | Configure and manage advanced virtual computing environments |
| ICTNWK559 | Install an enterprise virtual computing environment |
This course has no residential schools.
Requirements
Completion of the bksb (Basic Key Skills Builder) online literacy and numeracy assessment prior to enrolment, unless the student has completed an equal or higher level course.
There are no other mandatory entry requirements for this course. The following are examples of the inherent requirements that are needed to achieve the core learning outcomes of the course:
Communication skills (verbal, non-verbal, written and technology): you will need to effectively communicate in English and produce written assessment in a coherent manner with correct grammar and punctuation.
Cognitive abilities (knowledge and cognitive skills, literarcy and numeracy): you will need to perfom basic arithmetic.
Information and Communcation Technology (ICT) abilities: you will need to competently use a desktop operating system such as Microsoft Windows or Mac OS X, an Internet browser, and email client, and competently use productivity software such as Microsoft Office. Althrough some aspects of discipline software willl be learnt as part of your course, you will need to be able to independently learn to use features of software.
Sensory abilities (visual, auditory and tactile), strength and mobility (gross motor skills and fine motor skills): you will need to preceive fine detail on a computer screen and interact with a computer through devices such as a mouse, touchscreen or keyboard. Some units might require physical movement and installation of computer equipment such as small network routers and cables. You will be expected to either perfomr or supervise the movement and installation of small computer equipment.
Sustainable performances: you will need to be able to concentrate for at least 2 hours at a time.
Interpersonal engagement: you will need to be able to work productively in a team, build rapport with future clients and admit mistakes.
Ethical behaviour: you will need to demonstrate honesty and integrity in academic and professional practice.
Behavioural stability: you will need to interact with people from a wide range of cultures in a calm and composed manner in difficulat situations.
Legal compliance: you will need to comply with the policies and practices of the ICT business organisation in which you find employment.
Fees & Scholarships
2023 Indicative Fees
| Fee Type | Fees |
| --- | --- |
| Fee for service | $13,240 |
| Fee for service per unit | $662 |
| TAFE Priority Skills Fund/Training Program fee per unit | $333.70 |
| Co-Contribution Fee | $9,900 |
| Co-Contribution Concessional Fee | $8,900 |
| Co-Contribution Fee per unit | $495 |
| Co-Contribution Concessional Fee per unit | $445 |
2024 Indicative Fees
| Fee Type | Fees |
| --- | --- |
| Fee for service | $14,040 |
| Fee for service per unit | $702 |
| TAFE Priority Skills Fund/Training Program fee per unit | $5 |
| Co-Contribution Fee | $10,560 |
| Co-Contribution Concessional Fee | $9,520 |
| Co-Contribution Fee per unit | $528 |
| Co-Contribution Concessional Fee per unit | $476 |
| RPL Fee for service per Unit | $351 |
Please refer to the VET student fees price lists, eligibility criteria applies for subsidised funding. If you are unsure please call us on 13 27 86. The 2023 VET Student Loan Cap for this course is $16,788.
VET Student Loans can be used to pay for all or part of an eligible student's Tuition Fees. VET Student Loans is an Australian Government loan scheme to assist eligible students studying diploma level and above qualifications to pay their tuition fees. A VET Student Loan gives rise to a HELP debt that continues to be a debt due to the Commonwealth until it is paid. Please refer to VET Student Loan for details and eligibility.
At CQUniversity, we believe higher education should be for everyone. No matter your situation, we know that everyone needs a helping hand from time to time, and we are proud to offer a wide range of scholarships, bursaries and stipends.
Our scholarships could help you pay for things like relocation, living on campus, laptops and technology, childcare, study and living expenses, travel and more. 

How to apply
Applications for this course are currently closed.
Register your Interest
Please register your interest to stay up-to-date about course updates and intakes for 2024.