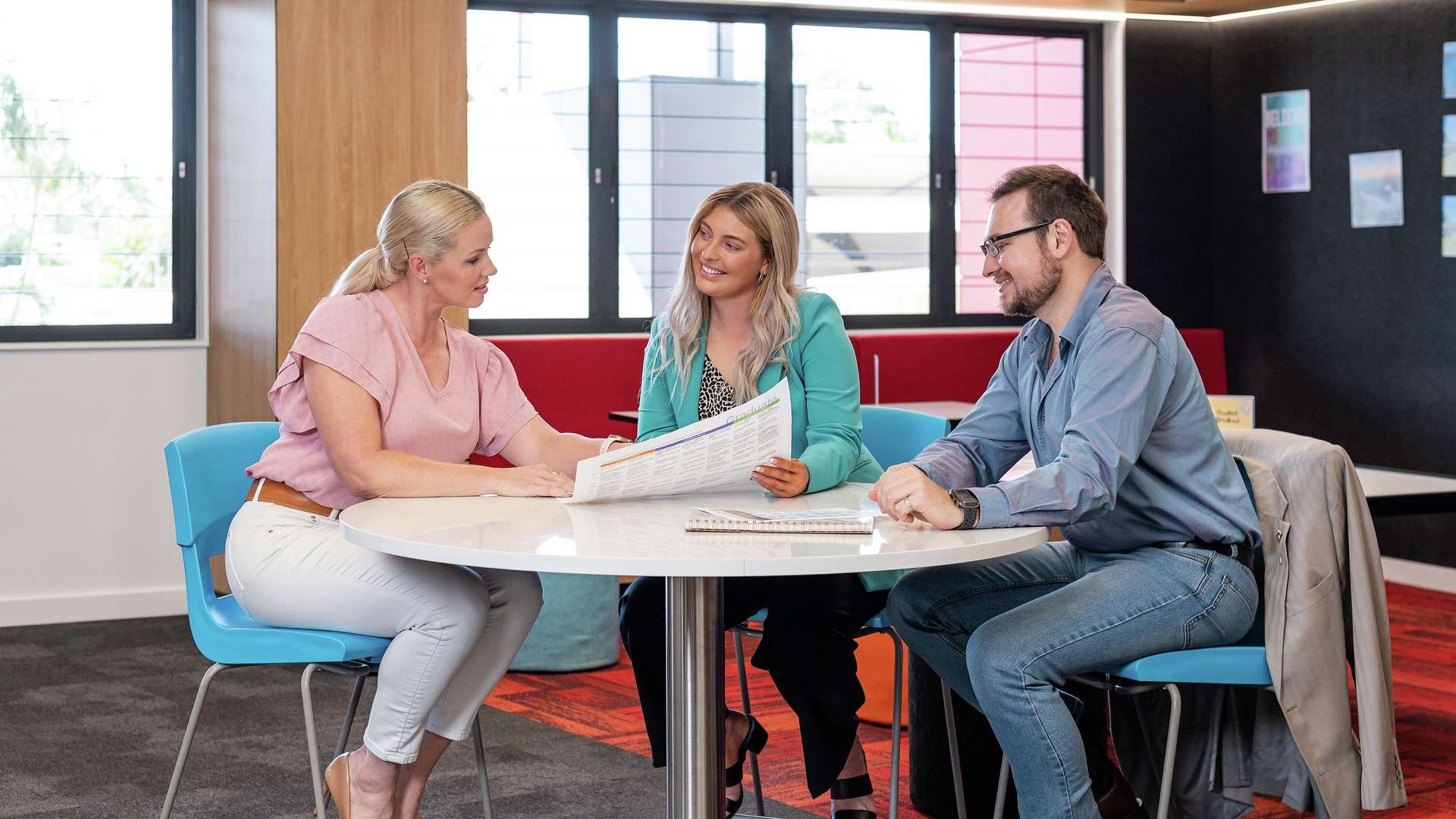 Our goal is to see our students succeed in their studies and to support their personal resilience and overall wellness.
Our student counsellors offer free and confidential mental health support for all CQU students.
Our Counsellors can help with a range of personal and academic issues that include:
Anxiety and depression concerns
Domestic and family violence
Stress management
Study skills (time management and exam preparation)
Loneliness, isolation and homesickness
Grief and loss
Accommodation and housing
Coping and resilience skills
Gender diversity, identity, sexuality and self-expression
Cultural identity
Sexual harassment and assault support
Want to speak with a Counsellor?
Call, email or self-refer to our free Counselling team.
Available
Weekdays 8.30 am to 4.30 pm (AEST)
Are you a current student? Visit MyCQU to learn more about our Counselling Service.
Our Student Wellbeing services provide support through events, programs, workshops, initiatives to help improve overall wellbeing of our students as they navigate studying at CQU.
Weekly Mindfulness Workshop (Calm Time)
Calm Time Mindfulness sessions are designed to help students to take a break from your study, reduce stress, and be introduced to the world of mindful practice.
Calm Time sessions are run weekly for 30 minutes with a different theme each week.
Mental Health First Aid Training
Learn the skills on how to assist adults who may be experiencing a mental health problem, the worsening of an existing mental health problem or in a mental health crisis until professional support arrives. This training is available to both students and staff and is free of charge.
Wellbeing workshops and series
Study Smart is a dynamic, self-directed e-course designed to help students reach their academic, personal, and professional goals.
Cultivating Wellbeing: Managing Emotions & Distress with DBT Skills Workshop Series:
These workshops are a brief introduction to Dialectic Behavior Therapy (DBT) Skills. Skills learnt will help to improve students' ability to regulate emotions, tolerate distress and negative emotion, be mindful and communicate effectively with others.
Healthy Relationships Series:
Healthy Relationships Series is a 5-week group for students to improve their relationship and communication skills for healthier relationships.
Cultivate An Attitude of Gratitude:
This one-hour series is designed to give you practical steps to cultivate more gratitude and wellbeing in your life. 
Wellbeing resources
Wellbeing Services has developed free wellbeing tip sheets, habit trackers, music mixes and more to support our students with their wellbeing.
Events
Our Wellbeing Services team holds several wellbeing events in collaboration with campuses for students including University Mental Health Day & R U Ok Day. 
CQU offers social and emotional wellbeing counselling and services specific for our First Nations students.
Social and Emotional Wellbeing Counsellor
Virtual Cuppa and Yarn
Join our deadly staff and students for a weekly online yarn (via Zoom). No appointments necessary, just good vibes and good company.
What is Social and Emotional Wellbeing?
Underpinning the social and emotional wellbeing approach is the understanding of relationships between individuals, family, kin, and community, and a focus on connection to land, culture, spirituality, and ancestry.
Social and emotional wellbeing recognises the impact of colonisation and dispossession of culture for First Nations peoples.
More information about Social and Emotional Wellbeing can be found in the National Strategic Framework for Aboriginal and Torres Strait Islander Peoples' Mental Health and Social and Emotional Wellbeing.
Aboriginal and Torres Strait Islander Mental Health First Aid Training – AMHFA
Learn how to assist Aboriginal and Torres Strait Islander adults who are developing a mental health problem, experiencing a worsening of an existing mental health problem or in a mental health crisis. Free training for students will be offered throughout the year. For expressions of interest please contact the Wellbeing Team via email to wellbeing@cqu.edu.au.
Our Mindwaves Connectors Program is a peer-to-peer student support program run by our Counselling and Wellbeing Services. It is designed to empower current students to provide Mental Health First Aid to their peers.
Our Student Wellbeing Mindwaves Connectors are all current students trained and accredited in Mental Health First Aid.
Student Wellbeing Mindwaves Connectors are responsible for:
Providing Mental Health First Aid to students
Promoting CQUniversity's Mental Health Strategy (Mindwaves)
Learn more about Student Wellbeing Mindwaves Connectors.
CQUni provides free and confidential help for all CQUniversity students living in Australia outside of university hours (Including weekends and public holidays).
A qualified crisis responder will answer the call or texts and can help in the following ways:
find immediate relief from emotional distress
explore coping strategies for the current crisis
safely manage any immediate threats to life or safety
open pathways for longer-term solutions
focus on specific next steps
link you back in with CQUniversity services that might be helpful.
Need immediate support?
Call or text our free CQUni Out of Hours Student Support line (including weekends and public holidays).
Available:
Weekdays 4.30 pm to 8.30 am (AEST)
Weekends and Public Holidays 12:00 am-11:59 pm (AEST)
CQUniversity is committed to providing all staff and students with a safe, supportive and respectful place to work and study. Physical, sexual or online violence, assault, harassment or bullying, against any individual or group will not be tolerated.
Our commitment to personal safety and well-being means we are proud to support the National Student Safety Survey (NSSS) This campaign highlights the determination of Australia's universities to ensure that our students and staff are safe from violence, sexual assault and sexual harassment.
If you or someone you know has been impacted by sexual violence, student counsellors are available to assist you.
To make an appointment or find our further information use the Student Counselling Referral Form.
CQU is dedicated to creating a safe and supportive atmosphere for all students with a zero-tolerance approach to bullying and discrimination.  As part of this, we have the CQU Ally Program, which aims to promote acceptance and understanding for the LGBTIQ+ community (lesbian, gay, bisexual, transgender, intersex, queer/questioning and others). The Ally program is for ALL students, whether you identify as LGBTIQ+ or not.
There is an Ally Network on Moodle (your student learning portal - MyCQU) as a connection point for any student who would like to be involved, with resources, links, and forums. It is a place for students to access support and get in contact with an Ally.
This is also the place where students who want to become trained as Allies can do so.
We join many other universities around Australia in having an Ally Program and making CQUniversity a welcoming place for all.
What is an Ally?
An Ally is simply any person who is informed about, is sensitive toward and has an understanding of Gay, Lesbian, Bisexual, Transgender, and Intersex (LGBTIQ) people and their issues. An Ally supports the experience and rights of LGBTIQ persons and encourages tolerance in a variety of ways, including by individual example and personal awareness. Allies are not identified as being either heterosexual or LGBTIQ but are representative of the entire CQUniversity community.
What do Allies do?
An Ally is someone who can guide students to resources and support staff, inform students about CQUniversity policies and procedures, listen to students' concerns, reassure students, and discuss ways of dealing with issues that arise.  It is not counselling, and you are not expected to be an expert in LGBTIQ issues.  Students will not be allocated to Allies, but may be referred to the program by staff or academics.  Allies will also pro-actively combat homophobia, either in conversations or by referring the matter to Student Support Centre staff.
Find out more
You can find out more about the Ally Program at CQU via your student portal, MyCQU. 
Spiritual and cultural support
CQUniversity Multi-faith Chaplaincy is an inclusive and welcoming space where students, staff and our wider communities are invited to explore through thoughtful reflection, worship and spiritual practices issues and values of importance to individuals, the University organisation, and wider communities.
Mindwaves University Mental Health Strategy
CQU is committed to developing and implementing a mental health strategy that promotes student and staff mental health and wellbeing and provides a positive educational and workplace experience via a healthy, resilient, inclusive, compassionate and connected University community.
Support available outside of CQU
Emergency services
Ambulance: 000
Police: 000
Lifeline: 13 11 14
Community support
Lifeline 24 Hour Crisis Line: 13 11 14

SMS from 6 pm to 12 am on 0477 131 114

Kids Help Line (under 25 yrs): 1800 55 180
Suicide Call Back Service: 1300 659 467
1800 RESPECT: 1800 737 732
Women's Crisis Line: 1800 811 811
Mensline Australia: 1300 789 978
Beyond Blue: 1300 22 4636
13 Yarn (Indigenous Support): 13 92 76
Thirrili (Indigenous Suicide Services): 1800 805 801
Switchboard (LGBTIQ support): 1800 184 527
Head to Health: Australian Government list of national and state mental health crisis service details
Translating and Interpreting Service: 13 14 50
Student Counselling is supported by funds from the Student Services and Amenities Fee (SSAF). All SSAF funds are used to enhance or extend student services and facilities in accordance with funding guidelines. Find out more about SSAF funding allocation.
Accessing MYCQU
MyCQU is your customised student portal and the best source for all the information and support services you'll need while you're a student at CQU.