Bachelor of Agriculture
| | |
| --- | --- |
| Rank threshold | ATAR: 66 SR: 66 |
| Duration | 3 years full-time, 6 years part-time |
| Location | |
| Next start term | Term 1, 2024 |
| Study mode | On Campus, Online |
| Course code | CV85 |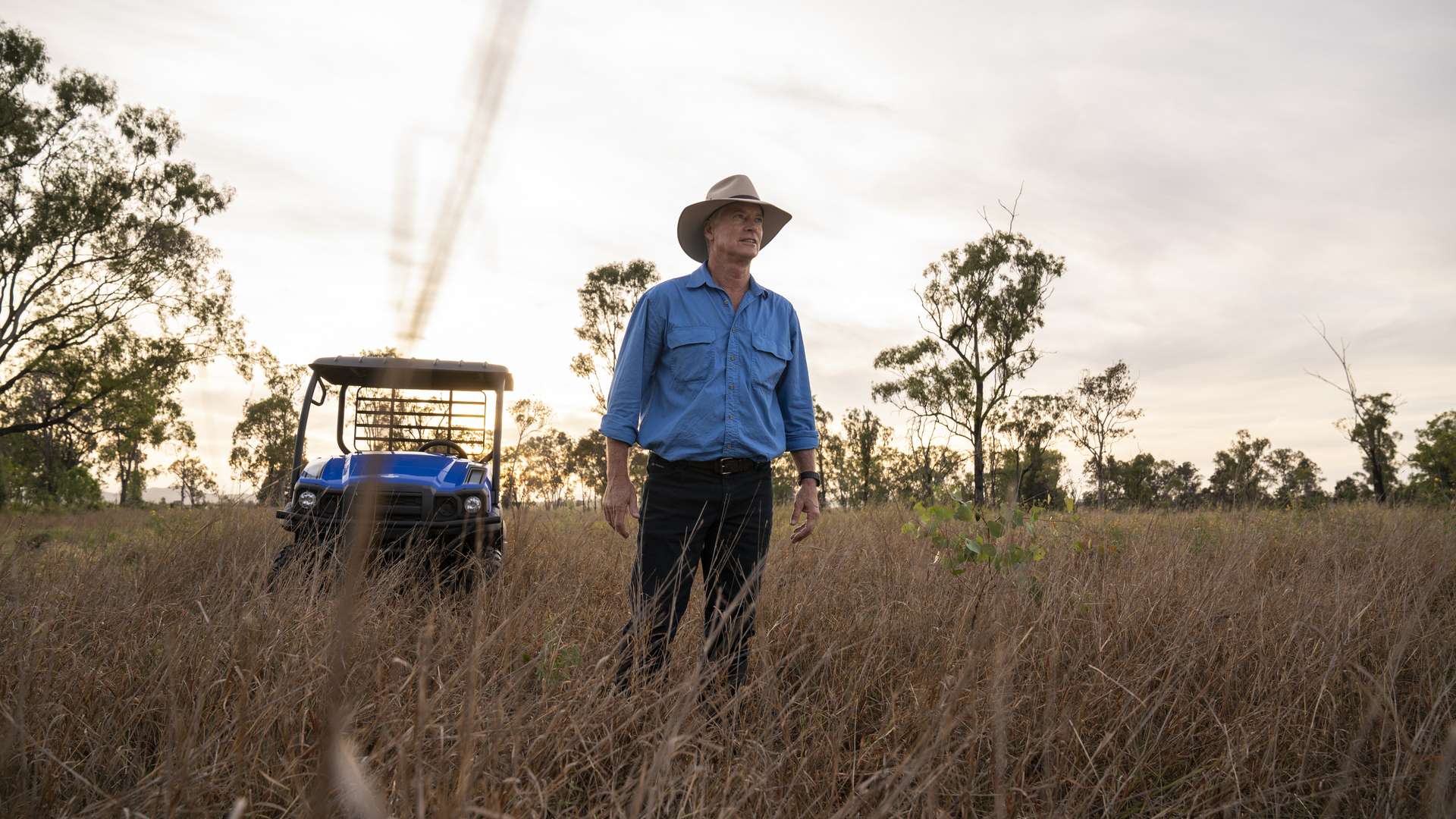 Overview
The Bachelor of Agriculture equips you with the agriculture knowledge, critical thinking and problem-solving skills required to play important professional roles in improving productivity and sustainability of modern agriculture.
The course has an applied focus that will provide you with industry relevant training on a firm scientific basis. A suite of eight core units will provide the strong foundation you will use to acquire understanding of increasingly complex concepts in the context of industry relevant problems. A series of eight discipline units starting in year 2 will help you build your systemic thinking and you will learn about emerging agricultural innovations and current technological advances, culminating in a capstone unit where you reinforce and apply the principles and thinking skills acquired throughout the course to address challenging case studies. Through the professional placement or research project, you will apply the theoretical and practical knowledge gained in your degree to an authentic professional work or research environment.
Eight extension units offer great choices to creatively combine your agriculture core knowledge with other disciplines to give you an additional edge as a professional. You will profit from the University's research excellence in agriculture and its focus on regional and industry engagement through the opportunities to learn from leading industry experts, interact with top researchers, hear from experienced practitioners and engagement activities such as summer research projects, conferences attendance, or international activities. The Bachelor of Agriculture course prepares you for the rigours of the real world and ensures you have the skills to make a difference in the context of the emerging opportunities that a highly technical agricultural industry provides.
Study experience
Authentic Learning Experiences

Real-world Learning Facilities

Strong Research Connections
Career Opportunities
Completion of the Bachelor of Agriculture will prepare you to pursue employment opportunities in areas such as:
agribusiness support sectors such as banking, consultancy, marketing, trading and logistics
agritech
agronomy
cropping
government policy development
horticulture
industry analysis
landcare coordination / management
livestock
production enterprise
 
Employment opportunities exist within public and private sectors for example in management, consulting and research in cropping, agribusiness, horticulture, landcare, sustainability and livestock management.
Structure & Availability
Course structure
You are required to complete 16 core units and either:
an eight-unit minor in agribusiness in depth or animal and plant biology in depth, or
two four-unit minors from either food chemistry and nutrition; entrepreneurship; or sustainable landscapes.

 
Unit information
For information on the units, you could study as part of this course, visit the Handbook and select the "Course Structure" tab.
Credit transfer information
If you have already completed study relevant to the course you have enrolled in, you may be eligible for credit transfer.
On-Campus Availability
| Intake | Locations |
| --- | --- |
| Term 1, 2024 | Bundaberg, Emerald, Rockhampton |
| Term 2, 2024 | Bundaberg, Emerald, Rockhampton |
Online Availability
| Intake | Locations |
| --- | --- |
| Term 1, 2024 | Available Online |
| Term 2, 2024 | Available Online |
Online students will be required to attend compulsory residential schools, and depending on the unit, these may be held in either Bundaberg, Rockhampton, or Emerald (or a combination of these locations). To help reduce the amount of travel required to attend these, when multiple course units require a residential school in a term of study, your residential schools will be scheduled as a block (back-to-back), which means that you will travel to campus just once in that term.
Agribusiness in Depth minor
Combine your agricultural studies with the foundations of business in this minor to extend your employment opportunities.
Animal and Plant Biology in Depth minor
This minor pairs with the Applied Chemistry major for a strong foundation in both chemistry and biology. You'll explore biology with a genetic, microbiological, ecological and physiological focus on Australian flora and fauna.
Entrepreneurship minor
This minor supports the combination of agriculture and your startup aspirations.
Food Chemistry and Nutrition minor
Build your knowledge in human nutrition, public health nutrition, food science and fundamental chemistry principles.
Liberal Studies minor
This minor has been designed to support credit, articulation agreements and transition arrangements. Please contact Course Advice for further information.
Sustainable Landscapes minor
Build upon your specialisation with modern environmental science and Australian geography units.
Students studying via distance and mixed-mode will be required to attend compulsory residential schools for some units.
Professional Placement or Project - BIOL12050
This unit provides students with an opportunity to apply the theoretical knowledge and practical skills attained in their degree course to the professional work environment. Students will undertake either a) an industry placement, or b) a short research project for 120 hours. They will report on their experience in an appropriate format, identifying the nature of the work and activities undertaken. They will also reflect on how the knowledge gained and the skills developed during placement relate to their course of study and their future career.
Requirements
Rank Threshold
         
            

The rank threshold is the minimum competitive rank required for your application to be considered for entry to this course. 

The rank threshold for this course is: SR 66 | ATAR 66.0
Student profile
If you would like to know more about entry scores for applicants with recent secondary education and the student profile for this course view our Course and Entry Score Profile for Term 1, 2023.
Institute Profile
To find out about CQUniversity's Undergraduate Profile for Term 1, 2023 view our Institute Profile.
Recommended study
Biology and Mathematical Methods
Prerequisites
No pre-requisites required
English Language Proficiency Requirements
If you were not born in Australia, Canada, New Zealand, United Kingdom, Ireland, South Africa or United States of America, you are required to meet the English Language Proficiency requirements set by the University.
Applicants are required to provide evidence of completion of:
A secondary qualification (Year 11 and 12, or equivalent), or
An Australian Qualifications Framework (AQF) diploma level qualification, or
Bachelor level qualification study for a period of at least 2 years fulltime with a minimum overall GPA 4.0
completed within Australia, Canada, New Zealand, United Kingdom, South Africa, Ireland, or United States of America, which will meet the English proficiency.
If you do not satisfy any of the above you will need to undertake an English language proficiency test and achieve the following scores:
An International English Language Testing System (IELTS Academic) overall band score of at least 6.0 with a minimum 5.5 in each subset; or
Test of English as a Foreign Language (TOEFL) - Requires 550 or better overall and minimum TWE score of 4.5 (Paper Based Test), or 75 or better overall and no score less than 17 (Internet Based Test); or
Pearson Test of English Academic (PTE Academic) - Requires an overall score of 54 with no sub-score less than 46; or
An Occupational English Test with Grades A or B only in each of the four components.
English test results remain valid for no more than two years between final examination date and the date of commencement of study, and must appear on a single result certificate.
If you are an international student, visit our international student information for more details.
Each student will be assessed individually.
You will have to meet this course's
inherent requirements
by demonstrating essential skills and attributes.
Fees & Scholarships
2023 Indicative Fees
| Fee Type | Fees |
| --- | --- |
| Commonwealth Supported Place – Indicative First Year Fee | $5,164 |
2024 Indicative Fees
| Fee Type | Fees |
| --- | --- |
| Commonwealth Supported Place – Indicative First Year Fee | $7,051 |
| Domestic Full Fee Paying – Indicative First Year Fee | $30,777 |
Indicative first-year fee
The fees listed are indicative only and based on enrolling in a full-time study load for one academic year (generally, this is eight units over two terms). Your fees may vary depending on the units you select and the number you study per term. Fees are reviewed annually and are subject to change. Understanding your fees.
Commonwealth support and government assistance loans
Commonwealth Supported Places (CSPs) are subsidised by the Australian Government, meaning you are only required to pay the student contribution rather than full tuition fees if you meet eligibility requirements. If offered a CSP, you may be eligible for a HECS-HELP government loan. HECS-HELP is an Australian Government loan scheme that assists you in paying your student contributions. Provided you meet the HECS-HELP eligibility criteria, you may use HECS-HELP to defer part or all of your student contribution fees. Learn more about paying for university.
Other study costs
Part of your course costs includes Student Services and Amenities Fees (SSAF). There may also be additional costs as part of your studies, such as textbooks, technology expenses, travel expenses, professional certifications, uniforms, or vaccinations. Explore other study costs.
At CQUniversity, we believe higher education should be for everyone. No matter your situation, we know that everyone needs a helping hand from time to time, and we are proud to offer a wide range of scholarships, bursaries and stipends.
Our scholarships could help you pay for things like relocation, living on campus, laptops and technology, childcare, study and living expenses, travel and more. 

How to apply
| State | Admission Code |
| --- | --- |
| Northern Territory | Online: 150721 |
| Queensland | Online: 855532; Bundaberg: 819632; Emerald: 829632; Rockhampton: 859632 |
| South Australia | Online: 150721 |
| New South Wales | Online: 160721 |
| Tasmania | Online: 150721 |
| Western Australia | Online: 150721 |
| Victoria | Online: 150721 |
If you have decided what you would like to study and are ready to apply, we're here to help you along the way. Before you apply, you will need to have a Unique Student Identifier (USI). If you do not have a USI, creating one is quick and easy. Simply visit usi.gov.au to create one.
Want to know more about application dates and other admission information?
View our important dates information and read about other admission considerations such as information for domestic students with overseas qualifications, indigenous support, and elite athlete, coach and performer support.
What's the best way to apply?
Option 1: Ideal for most situations, whether you have completed high school recently or some time ago.
Option 2: Ideal if you have previously studied with CQUni.
---
Option 1: Ideal for most situations, apply via a tertiary admission centre
View the table below for the best application option based on where you live.
| | |
| --- | --- |
| If you live in | Tertiary Admissions Centre (TAC)* |
| Queensland | Apply via QTAC |
| New South Wales, Australian Capital Territory (ACT) | Apply via UAC |
| Victoria, Western Australia, Tasmania, Northern Territory, South Australia | Apply via ApplyCQUNI |
*Please note that you may be required to pay a fee when applying via a TAC.
---
Option 2: If you have previously studied with CQUni, apply direct.
As a past CQUni student, you may be eligible to apply directly to CQUniversity for this course. To apply direct, your prior study with CQUni must be a completed or partially completed CQUni course or unit including:
CQUni's Skills for Tertiary Entrance Preparatory Studies (STEPS), Tertiary Entrance Program (TEP), or Start Uni Now (SUN) units.
A CQUni certificate, diploma, advanced diploma, associate degree, bachelor degree, graduate certificate, graduate diploma, master or research higher degree, or a unit within these courses.