Master of Project Management
| | |
| --- | --- |
| Duration | 2 years full-time, 4 years part-time |
| Location | |
| Next start term | Term 1, 2024 |
| Study mode | On Campus, Online |
| Course code | CV84 |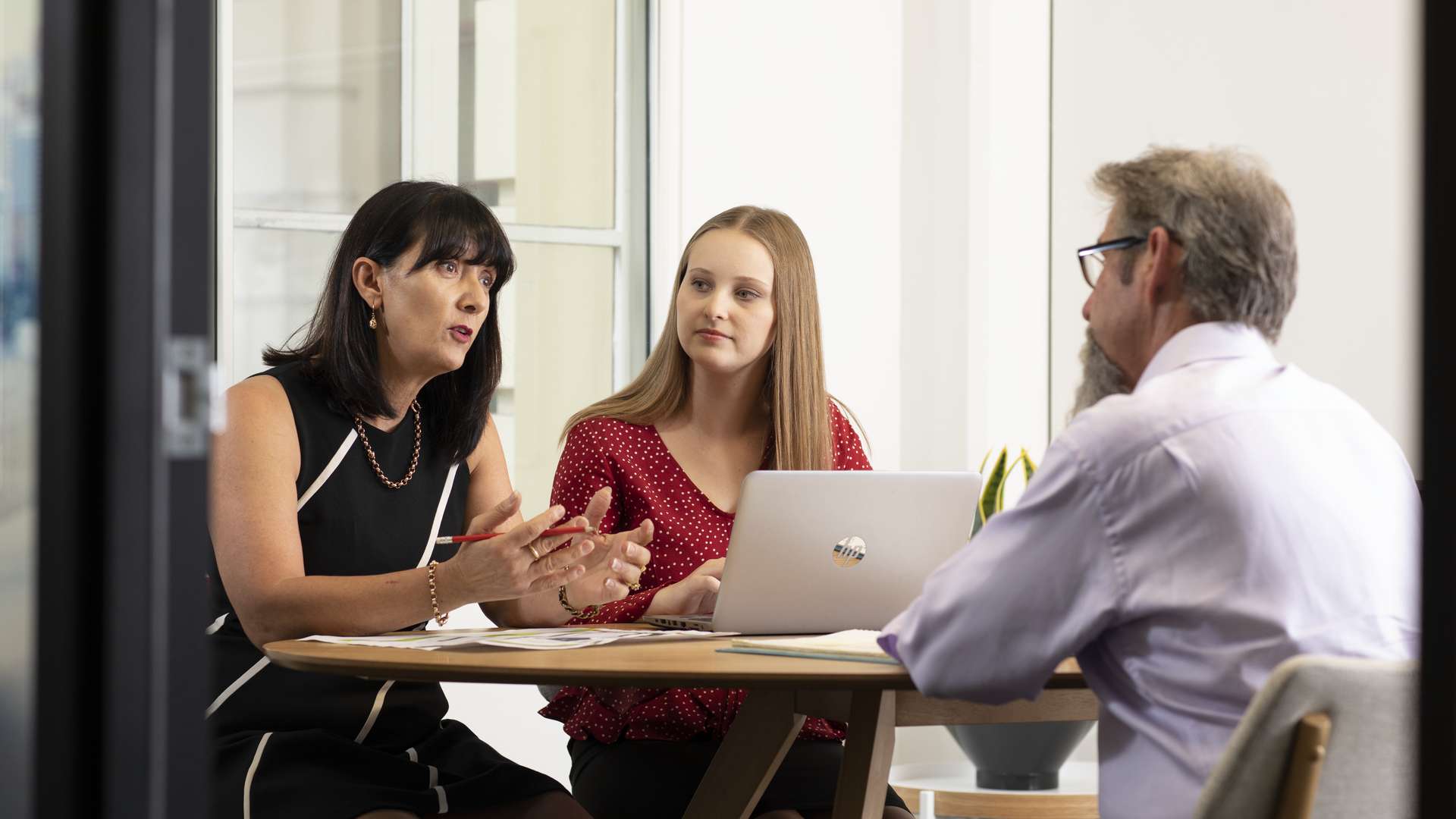 Overview
Study the Master of Project Management to develop advanced discipline knowledge and skills to lead and manage projects within diverse work settings. This course focuses on both the hard technical and soft human aspects of project management through both course work and research, as used in large commercial and public organisations. Specialise in one of the four minors; Hospital and Health Services Management, Information Systems, Information Technology, and Management. Benefit from the option to complete a research, practicum, or internship stream in your final year and tailor your Master's to suit your career goals.
The Master of Project Management is fully accredited by the Project Management Institute - Global Accreditation Centre for Project Management Education Programs (GAC-PMI). Graduates are eligible to accrue professional development units (PDUs) upon successful completion of the course.
This course provides an opportunity for you to extend your knowledge through coursework into project management and/or develop a research career in your relevant profession. This course focuses on the hard technical and soft human aspects of project management. All the course materials have been aligned to the Project Management Institute (PMI) global standards and core bodies of knowledge. In the final year of the course, you can choose one of three streams; a research stream, a practicum stream, or an internship stream.
If you opt for the research stream your project can be based on either your workplace or issues that are important to your profession. The research stream will also allow you to meet the eligibility criteria to enrol in a PhD. program should you have a plan for an academic career as it suffices the threshold ratio of the research components in the Masters Course. The practicum is student-led and you will develop a project within a simulated company environment. Alternatively, you can opt for an internship, and if you are eligible, you will be placed at a host organisation to further develop your skills and competencies and obtain authentic experience in project management. While undertaking the qualification you will be well prepared to contribute to future growth and change in the projects you are involved in whilst at the same time enhancing your individual career advancement opportunities.
Mission Statement for CQUniversity's project management courses
CQUniversity's School of Engineering and Technology believe project management is a lifestyle and is committed to improving the world for current and future generations through outstanding teaching and learning, scholarship and practice. We carry out this mission through world-class, project management education, based on global standards and cutting-edge research conducted in the discipline, in order to skill and educate the next generation of project managers.
Vision for CQUniversity's project management courses
Our vision is to be a global leader in project management education, embracing engagement and innovation, with a can-do attitude. As part of this vision, we are transparent in our communication with our stakeholders, we are inclusive, and strive to cultivate our greatness by offering project management courses for everyone. The Project Management Team at CQUniversity strives to be a leader by hiring and promoting people who are leaders, developing them, and developing a culture where leaders influence non-conventional thinking.
Transcript
The new era of sustainability, net zero and readiness to net zero is all about projects. We have to achieve this change by conducting projects, which means that we need project managers.
Master of Project Management at CQUniversity, I believe is one of the greatest masters. Our programs are very well received by many industries.
We are getting their feedback on what the market is requiring right now, what the industry future looks like and how we can support the industry by filling the gaps in terms of competencies and skills.
The students are coming from different backgrounds: engineering, agriculture, psychology… and when the students are working together you can see how sharing knowledge in a real example inside the classroom is growing others' expertise.
One of the good indicators about our courses is the unconditional accreditation from the Project Management Institute. We are among eight universities across Australia who were successful to get this accreditation, and this is evident about the quality of our courses. 
In the Master of Project Management, we have 3 streams. We have the practicum, we have the research stream, and we have the internship. And, this was designed in order to meet their different background for all of our students.
Internship is, providing a very real-life experience to the students, and this provides them to be hosted by real companies so they will liaise with the company for 10 weeks, work for the company and then most of the time they will end up with achieving a very good evaluation and get the job.
I was inspired to study a Master of Project Management because I really wanted to hone my project management skills. I chose their research stream because I found that I really enjoyed doing research and the skills you can also get such as being organised, disciplined, thorough. So, all of those are things I found really enjoyable. 
So, the Master of Project Managementprovides different minors to the students. Students are able to take a set of units that promote them to get a minor and we are working in developing more minors to suit the students' background.
We've got staff who are teaching in project management and they are coming from different backgrounds. It's another added value to the students.
In studying Master of Project Management at CQUniversity, I gained several connections through my lecturers and tutors, so this also opened doors for me in terms of looking for work in the project management field.
So, I hope to become a project manager within sectors that can create a lasting impact in our society. And through my studies in CQU, this has opened the doors for me to be able to do just that. 
Project managers are very well equipped with the knowledge to mitigate risk to manage risk and to predict the future. After COVID, the world is bouncing back, so we need project managers everywhere and I believe that the statistics is really true that the demand on project managers will grow in the next five years exponentially. So, go for it.
Career Opportunities
Career opportunities are endless for Project Management graduates. Employment can be found many industries, such as Engineering, Business, IT, Construction, Health, Government, Mining, Transportation and many others. The course will boost your career advancement prospects and provide a competitive advantage for you over others without this qualification.
Structure & Availability
COURSE STRUCTURE
You are required to complete 11 core units and either a four-unit minor in Hospital and Health Services Management, Information Systems, Information Technology or Management. Alternatively, you can complete four electives from the list provided rather than a four-unit minor.
UNIT INFORMATION
For information on the units, you could study as part of this course, visit the Handbook and select the "Course Structure" tab.
CREDIT TRANSFER INFORMATION
If you have already completed study relevant to the course you have enrolled in, you may be eligible for credit transfer.
On-Campus Availability
| Intake | Locations |
| --- | --- |
| Term 1, 2024 | Brisbane, Melbourne, Sydney |
| Term 2, 2024 | Brisbane, Melbourne, Sydney |
| Term 3, 2024 | Brisbane, Melbourne, Sydney |
Online Availability
| Intake | Locations |
| --- | --- |
| Term 1, 2024 | Available Online |
| Term 2, 2024 | Available Online |
| Term 3, 2024 | Available Online |
Hospital and Health Services Management minor
This minor set you up to work in healthcare industries by combining your project management studies with healthcare settings. You'll examine Australian healthcare structures, organisational culture, managing access and assessing change. 

Information Systems minor
This minor introduces foundational IT skills and knowledge including programming, and information systems analysis and design. Plus, you will examine workplace culture and the importance of professional communication. 

Information Technology minor
This minor introduces foundational IT skills and knowledge including programming, network and cyber security, and information systems analysis and design.

Management minor
Enhance your management expertise and develop skills in effective business communications, governance discussions, human resource management, and effective digital marketing communications.  
 
This course has no residential schools.
Learned Society - Project Management Institute Inc
Core
The CV84 Master of Project Management course is internationally accredited by the Project Management Institute Global Accreditation Center for Project Management Education Programs (GAC) www.gacpm.org
Students and graduates are entitled to benefits and resources from the PMI https://www.pmi.org/
Project Management Internship - PPMP20017
Students have the option of undertaking an internship as part of the internship stream instead of the project management practicum or research units.
Requirements
To be eligible for entry into this course, applicants must have:
A completed Australian Bachelor degree, or higher Australian Qualifications Framework (AQF) equivalent qualification.
English Language Proficiency Requirements:
If you were not born in Australia, Canada, New Zealand, United Kingdom, Ireland, South Africa or United States of America, you are required to meet the English Language Proficiency requirements set by the University.
Applicants are required to provide evidence of completion of:
a secondary qualification (Year 11 or 12) or equivalent); or
bachelor level qualification study for a period of at least 2 years full-time with a minimum overall GPA 4.0
completed within Australia, Canada, New Zealand, United Kingdom, South Africa, Ireland or United States of America.
If you do not satisfy any of the above, you will need to undertake an English language proficiency test and achieve the following scores:
An International English Language Testing System (IELTS Academic) overall band score of at least 6.0 with a minimum 5.5 in each subset; or
Test of English as a Foreign Language (TOEFL) - Requires 550 or better overall and minimum TWE score of 4.5 (Paper Based Test), or 75 or better overall and no score less than 17 (Internet Based Test); or
Pearson Test of English Academic (PTE Academic) - Requires an overall score of 54 with no sub-score less than 46; or
An Occupational English Test with Grades A or B only in each of the four components.
English test results remain valid for no more than two years between final examination date and the date of commencement of study, and must appear on a single result certificate.
Each student will be assessed individually.
You will have to meet this course's
inherent requirements
by demonstrating essential skills and attributes.
Fees & Scholarships
2023 Indicative Fees
| Fee Type | Fees |
| --- | --- |
| Domestic Full Fee Paying – Indicative First Year Fee | $28,860 |
2024 Indicative Fees
| Fee Type | Fees |
| --- | --- |
| Domestic Full Fee Paying – Indicative First Year Fee | $30,600 |
Indicative first-year fee
The fees listed are indicative only and based on enrolling in a full-time study load for one academic year (generally, this is four units over one term for a graduate certificate or eight units over two terms for a graduate diploma or masters degree). Your fees may vary depending on the units you select and the number you study per term. Fees are reviewed annually and are subject to change. Understanding your fees.
Government assistance loans
You may be eligible for FEE-HELP, an Australian Government loan scheme that helps eligible students pay their tuition fees. Provided you meet the FEE-HELP eligibility criteria, you can choose to use FEE-HELP to cover all or part of your tuition fees. Learn more about paying for university or view the FEE-HELP information booklet on the Australian Government's Study Assist website.
Other study costs
Part of your course costs includes Student Services and Amenities Fees (SSAF). There may also be additional costs as part of your studies, such as textbooks, technology expenses, travel expenses, professional certifications, uniforms, or vaccinations. Explore other study costs.
At CQUniversity, we believe higher education should be for everyone. No matter your situation, we know that everyone needs a helping hand from time to time, and we are proud to offer a wide range of scholarships, bursaries and stipends.
Our scholarships could help you pay for things like relocation, living on campus, laptops and technology, childcare, study and living expenses, travel and more. 

How to apply
If you have decided what you would like to study and are ready to apply, we're here to help you along the way.  Before you apply, you will need to have a Unique Student Identifier (USI).  If you do not have a USI, creating one is quick and easy.  Simply visit usi.gov.au to create one.

Want to know more about application dates and other admission information?
View our important dates information and read about other admission considerations such as information for domestic students with overseas qualifications, indigenous support, and elite athlete, coach and performer support.

APPLY DIRECTLY TO CQUNIVERSITY
To apply for this course, submit your application directly to CQUniversity using the Apply button below.