Graduate Diploma of Business Administration (Leadership)
| | |
| --- | --- |
| Duration | 0.7 years full-time, 5 years part-time |
| Location | Online |
| Next start term | Anytime |
| Study mode | Online |
| Course code | CM07 |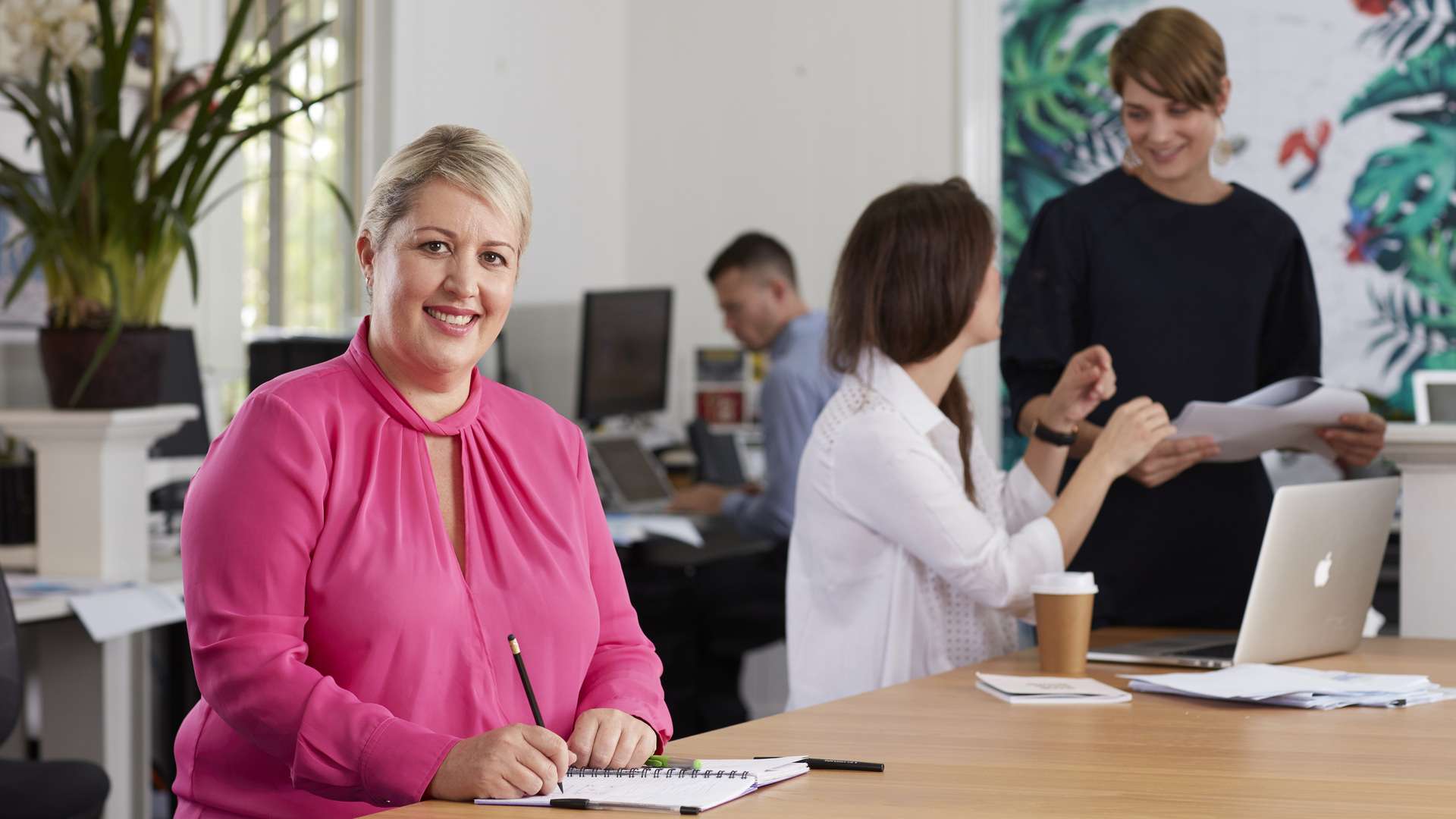 Overview
Enhance your career in management and leadership with the Graduate Diploma of Business Administration (Leadership). Delivered as part of a suite of three business administration (leadership) courses, this Graduate Diploma is a flexible online course that allows you to study when and where it suits you.
Progress your career in management and leadership with the Graduate Diploma of Business Administration (Leadership). Delivered as part of a suite of three business administration (leadership) courses, this course is delivered via our Be Different platform and offers you a self-paced, flexible online course, ideal for busy, emerging business leaders.
You will study units based on essential business functions including strategic marketing, communication for leadership success, accounting, global economics, business legal frameworks, contemporary leadership, people, leadership and culture and disruption, innovation and entrepreneurship. Your studies will focus on solving problems, creating innovative solutions, and generating entrepreneurial initiatives. Through this course you will develop contemporary skills using problem solving and activity based learning. This course is closely aligned with the industry capabilities expected of graduates and provides you with skills and knowledge to help progress your career in business. 
If you have completed the Graduate Certificate in Business Administration (Leadership) and would like to extend your skills further, then this Graduate Diploma is ideal for you. Alternatively, after you have completed the Graduate Diploma of Business Administration (Leadership) if you are interested in developing advanced business and leadership skills, you can transition seamlessly into our Master of Business Administration (Leadership) receiving credits for units completed. 
The flexible online delivery via our Be Different platform allows you to study entirely online, when and where it suits you. Add to this, no unit or assessment deadlines and affordable tuition fees and you have a suite of business administration (leadership) courses that allow you to fit study around your life, not the other way round.
"

I feel like the MBA (Leadership) has given me a better idea of strategies going forward, and more importantly, I think it's actually re-emphasized why I've been doing things for so long.

Master of Business Admnistration (Leadership)
Career Opportunities
If you are seeking to reinvigorate your career, a Graduate Diploma of Business Administration (Leadership) is for you. This course is ideal for aspiring leaders and offers you an affordable, fresh, and compelling graduate educational experience. The Graduate Diploma provides you with the skills and knowledge to advance your career, and to become an internationally astute business leader.
Structure & Availability
COURSE STRUCTURE
The Graduate Diploma of Business Administration (Leadership) is comprised of eight units. Each standard unit is designed to take 144 hours to complete, which equates to eight to 12 months of full-time study for the full course. However, this is a flexible online course so you will have up to five years from enrolment to complete the course at your own pace.
ASSESSMENT INFORMATION
The assessments that you will complete within this course range from evaluative self-practice, online tests, case study reviews, reports, and business simulations. Plus, there are additional optional activities available if you wish to explore topics further. The difference between traditional university course assessments and this flexible online course is that there are no deadlines or due dates - you set your own pace.
CREDIT TRANSFER INFORMATION
If you have already completed study relevant to the course you have enrolled in, you may be eligible for credit transfer.
Online Availability
| Intake | Locations |
| --- | --- |
| Hyperflexible Annual Term, 2023 | Available Online |
| Hyperflexible Annual Term, 2024 | Available Online |

This course is open for applications all year round so you can start your studies anytime.
When you study this course via our flexible online Be Different learning platform, not only will you study high-quality course content delivered by our supportive educators, but you also get to set the pace. This flexible online course is open all year round, and you are not bound by our traditional term dates for study nor doing assessments, so you can truly study when it suits you.
UNIT OVERVIEWS
DISRUPTION, INNOVATION AND ENTREPRENEURSHIP
Discover the key markers behind successful disruptive innovations and how they penetrate established markets faster, with greater impact.
A disruptive innovation is one that disrupts an existing market and value network by creating a new one, effectively displacing established market-leading firms, products and alliances. Learn how business disruption, innovation and entrepreneurship come together to work as a whole. You'll also examine current case studies and come up with your own workable environments for disruptive innovations and entrepreneurship to thrive.
Key takeaways include:
applying appropriate leadership principles to inspire market disruption by 'first movers'
employing creativity, innovation and the spirit of entrepreneurship to design a business venture from start-up to maturity
exploring how modern entrepreneurship and innovation function according to organisational size, industry type, culture and strategy, and
improving individual performance within a business entrepreneurial environment via personal awareness and direction.

PEOPLE, LEADERSHIP AND CULTURE
Learn important principles of how an organisation is structured and operated at various levels.
Gain a holistic view of the drivers, behaviours, group dynamics and leadership practices that influence the culture, social skills, change and effectiveness of an organisation.
Drawing on insights from management, human resource management, sociology and psychology, you will focus on individual, group and organisational-level themes surrounding development and effectiveness. Topics covered include perception, attitudes, values, personality, motivation and performance, the nature and management of teams, leaders and leadership, communication, conflict, and decision-making, as well as organisational structure, organisational culture, and change.
Key takeaways include:
influencing employee job satisfaction and emotional well-being by leveraging leadership and motivation theories 
identifying the challenges that confront contemporary society as determined by social and cultural research 
learning how to work effectively with people of diverse cultures, norms and languages, and 
improving organisational, team and individual performances by implementing effective performance methods.

COMMUNICATION FOR LEADERSHIP SUCCESS
Develop the key communication skills in becoming the most effective business leader.
Because of their aptitude for mobilising and engaging stakeholders towards organisational achievement, leaders with well-developed social skills are in demand. Becoming proficient in interpersonal interactions is necessary in creating exceptional business performance. Learn how cultivating optimistic attitudes to problem-solving, nurturing positive mindsets and sharing aspirations all go towards organisational success.
Discover how leadership is informed by coaching, delegating, and initiating organisational change, and how sophisticated communications can benefit the strategic marketing and positive public awareness of any business. Realise how organisational goals are achieved by simplifying the effective flow of information by business leaders and employees alike.
Key takeaways include: 
interacting constructively and professionally with others
demonstrating persuasion and negotiation techniques 
working collaboratively with others in a cross-cultural setting, and 
communicating concisely to global audiences in a dynamic media environment.

STRATEGIC MARKETING
Learn how to effectively communicate the objectives and corporate goals of an organisation through strategic marketing.
Evaluate the competitive advantage and potential marketplace of an organisation's offering by exploring the significance of corporate strategy, along with how a marketing strategy and plan are devised, executed and evaluated.
A strategic marketing plan summarises the how and what is necessary to achieve the objectives of the organisation. The process targets desired customers and compares them to competitors. From this, the appropriate actions are created and implemented to ensure the marketing strategy succeeds. A marketing strategy identifies relevant market segments, targeting, brand prioritising and positioning.
Key takeaways include:
analysing current marketing strategies through key marketing concepts, theories and statistical techniques 
identifying suitable marketing strategies through market research 
analysing legal, ethical and societal influences on marketing decision-making, and 
communicating product, price, place and promotional objectives effectively via a marketing plan.

ACCOUNTING FOR BUSINESS DECISIONS
Come away with the fundamentals of accounting across all aspects of business operations within ethical, professional, organisational and social contexts.
While financial accounting comprises the concepts and procedures of producing accounts, management accounting controls cost and profit to enable the use and application of financial information.
Applying theoretical principles of accounting to real-world practices, you will learn how financial information gathering, analysis and reporting is used to plan and control business operations in the support of strategic decision-making. These go towards safeguarding routine and non-routine business accountability.
Key takeaways include:
analysing how different accounting methods affect financial data
applying various approaches to decision-making aligned with accounting principles in financial reporting and analysis
exploring ethical issues, such as fraud and earnings management, related to financial reporting, and
communicating financial and non-financial information to stakeholders effectively.

CONTEMPORARY LEADERSHIP
Discover how influencing, motivating and empowering others has contributed to the advancement of organisations.
Effective business leaders have the ability to consistently captivate and motivate others. Learn about the various models, theories, frameworks and techniques that can improve individual, group and organisational productivity. Also, examine the traits, behaviours and corresponding likelihood of what goes into making a great leader.
Transformational leaders inspire others to consider the greater whole and go beyond. They have the potential to achieve lasting change for the benefit of all members in the organisation, ultimately affecting successful and sustainable business outcomes.
Key takeaways include:
enhancing organisational productivity via leadership theories, frameworks and techniques
using established leadership values to translate strategic commercial decisions into sustainable trends
assessing leadership styles effective for change management and the creation of a transformational culture, and
implementing the SMART (Specific, Measurable, Assignable, Realistic, Time-related) framework to inspire a sustainable vision. 

GLOBAL ECONOMICS
Discover how businesses, often driven by global economic obligations, create instability that impacts organisational performance, and how this can affect stock and financial markets.
A critical function of managers is to make informed decisions on unpredictable economic circumstances. Learn the key principles of macroeconomics – how an open economy functions and stakeholder relationships. Understand how global economic events impact regions and nation-states. By assessing emerging business opportunities and managing risk, you will identify how developing a clear competitive advantage framework will meet these dynamic challenges.
Key takeaways include:
investigating policies that address national output, unemployment, inflation, exchange rate, household debt, balance of payments and other macroeconomic issues
examining the activities between firms and consumers, and the growth of productive resources, like production, distribution and consumption
analysing how the implementation of fiscal and monetary policies manage global business cycle fluctuations, and
using statistical tools, graphs and written essays to study quantitative economic data.

BUSINESS LEGAL FRAMEWORKS
Gain a broad insight into the practice and significance of international law.
In response to courts drawing more and more on international law to support lawmaking, business leaders must distinguish how this may affect their organisations. You will focus on the logistical, regulatory, financial and political risks surrounding the formation and operation of international commercial trade.
Businesses must also comply with international agreements that require a competent understanding of various mechanisms. Critical aspects of international law engagement with international organisations, such as treaty-making, dispute resolution and the interaction of international law, will also be covered. Traditional topics like international legal practice and engagement are also tapped into.
Key takeaways include:
using legal principles and precedents to identify legal risk
identifying, interpreting and applying legal cases, rulings and statutes related to domestic and international business
using legal databases to carry out basic legal research, and
critiquing and applying rules of domestic and international professional legal ethics.
FOR MORE INFORMATION
For more information about the units, you could study as part of this course, visit our student Handbook and select the "Course Structure" tab.
This course has no residential schools.
Requirements
To be eligible for entry into this course, applicants must hold one of the following:
A completed Australian Qualifications Framework (AQF) Bachelor degree, or higher equivalent qualification; or
A completed AQF Diploma with two years relevant* business or managerial experience.
*Relevant business or managerial experience includes a working knowledge of how a business operates, for example, budgeting, staffing, project management, financial reporting, process management, or human resources.
Professional experience must be shown in a letter of employment which is presented on a company letterhead as well as signed and dated by a delegated authority. The letter must contain position title, duties performed and length of service.
English Language Proficiency Requirements:
If you were not born in Australia, Canada, New Zealand, United Kingdom, Ireland, South Africa or United States of America you are required to meet the English Language Proficiency requirements set by the University. Applicants are required to provide evidence of completion of:
- A secondary qualification (Year 11 and 12, or equivalent), or
- An Australian Qualifications Framework (AQF) diploma level qualification, or
- Bachelor level qualification study for a period of at least 2 years fulltime with a minimum overall GPA 4.0
Completed within Australia, Canada, New Zealand, United Kingdom, South Africa, Ireland, or United States of America, which will meet the English proficiency.
If you do not satisfy any of the above you will need to undertake an English language proficiency test and achieve the following scores as below:
- An International English Language Testing System (IELTS Academic) overall band score of at least 6.0 overall with a minimum 5.5 in each subset; or
- Test of English as a Foreign Language (TOEFL) - Requires 550 or better overall & minimum TWE score of 4.5 (Paper Based Test), or 75 or better overall and no score less than 17 (Internet Based Test); or
- Pearson Test of English Academic (PTE Academic) - Requires an overall score of 54 with no sub-score less than 46; or
- An Occupational English Test with Grades A or B only in each of the four components.
English test results remain valid for no more than two years between final examination date and the date of commencement of study, and must appear on a single result certificate.
International Students should visit http://www.cqu.edu.au/international for further information.
Each student will be assessed individually.
You will have to meet this course's
inherent requirements
by demonstrating essential skills and attributes.
Fees & Scholarships
2023 Indicative Fees
| Fee Type | Fees |
| --- | --- |
| Domestic Full Fee Paying – Indicative First Year Fee | $12,756 |
2024 Indicative Fees
| Fee Type | Fees |
| --- | --- |
| Domestic Full Fee Paying – Indicative First Year Fee | $13,776 |
Indicative first-year fee
The fees listed are indicative only and based on enrolling in a full-time study load for one academic year (generally, this is four units for a graduate certificate or eight units for a graduate diploma or masters degree). Your fees may vary depending on the units you select and the number you study per term. Fees are reviewed annually and are subject to change. Understanding your fees.
Government assistance loans
You may be eligible for FEE-HELP, an Australian Government loan scheme that helps eligible students pay their tuition fees. Provided you meet the FEE-HELP eligibility criteria, you can choose to use FEE-HELP to cover all or part of your tuition fees. Learn more about paying for university or view the FEE-HELP information booklet on the Australian Government's Study Assist website.
Other study costs
There may be additional costs as part of your studies, such as technology expenses. Learn more about other study costs.
How to apply
This course is open for applications all year round allowing you to start your studies anytime. If you're ready, apply direct now.