Bachelor of Nursing
| | |
| --- | --- |
| Rank threshold | ATAR: 68 SR: 68 |
| Duration | 3 years full-time, 6 years part-time |
| Location | Online and Rockhampton |
| Next start term | Term 1, 2024 |
| Study mode | On Campus, Online |
| Course code | CL91 |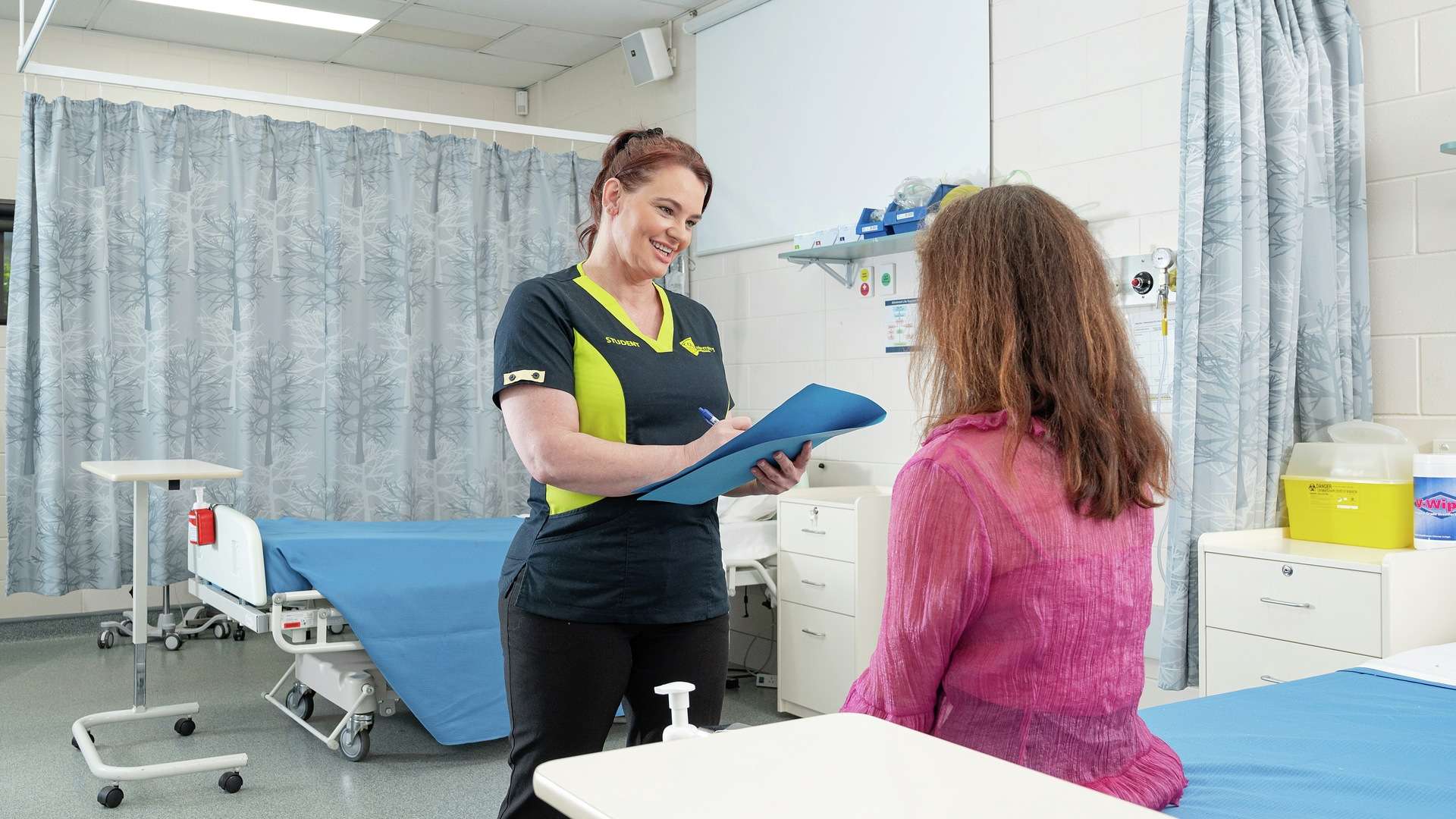 Overview
Whether you have always dreamed of being a nurse, or your lived experiences have ignited your passion to make a difference through healthcare, our accredited Bachelor of Nursing will prepare you for a rewarding and diverse career as a competent and effective Registered Nurse (Division 1) General.
This course prepares you to be reflective about your practice as a nurse and develop clinical reasoning skills in order to confidently and safely engage in contemporary nursing practice in a variety of environments and contexts and adapt to the needs of people from diverse backgrounds.
You'll acquire skills to provide person-centred care and collaborate with other members of the interdisciplinary healthcare team. Plus, seek evidence to ensure safe quality practice and act in a professional, ethical and compassionate manner. In addition, you will learn to nurture the development of nursing as a practice discipline and demonstrate leadership in healthcare. You will explore how life-long learning skills can facilitate continuing professional development.
Our highly trained and experienced nursing lecturers will support you while you develop your professional nursing profile. You will develop your skills and knowledge through a combination of theoretical and extensive clinical learning experiences including simulated training across our nationally located Clinical Learning Centres which simulates a real-world setting for you to safely practice in, and completion of 800 hours of professional practice placements commencing in your first year of study. Benefit from our enhanced learning experience and launch your nursing career.
Study experience
The learning experiences at CQUniversity are designed to suit each individual course. This course features:
Authentic Learning Experiences

Real-world Learning Facilities
Career Opportunities
In the final year of the course, students usually apply for a new graduate nursing position in a hospital and health service or other healthcare organisation where they will have the opportunity to further consolidate their knowledge and skills in nursing.  The broad nature of nursing and healthcare allows opportunities for employment and/or specialisation in environments such as acute hospital services, community health, mental health, residential and aged care, indigenous health, and rural and remote health.
Structure & Availability
Course structure
The Bachelor of Nursing requires you to complete 23 core units, a total of 144 units of credit. 
Unit information
For information on the units, you could study as part of this course, visit the Handbook and select the "
Course Structure
" tab. The units listed in the handbook are listed in the order that you should complete them. By completing these units in a different order, you may delay your progress and extend the length of your study. It is particularly important to look at professional experience placement units and the terms in which they are offered, noting that professional experience placement units are offered only once each year.
Please note that some units within this course are only available to study online. 
Credit transfer information
If you have already completed study relevant to the course you have enrolled in, you may be eligible for
credit transfer.
On-Campus Availability
| Intake | Locations |
| --- | --- |
| Term 1, 2024 | Rockhampton |
| Term 2, 2024 | Rockhampton |
Online Availability
| Intake | Locations |
| --- | --- |
| Term 1, 2024 | Available Online |
| Term 2, 2024 | Available Online |
Online study
As an online student, you can enjoy the flexibility of studying when and where it suits you with the support of our local campuses in Bundaberg, Cairns, Mackay, Rockhampton and Townsville. The course content is delivered online; however, you will be required to attend face-to-face components such as residential schools on campus. Our nursing residential schools are held on campus in Brisbane, Bundaberg, Cairns, Mackay, Rockhampton, and Townsville. In addition to these sites, students studying within Victoria may be able to attend residential schools at Hamilton Hospital, while students studying through the Pilbara Universities Centre can complete residential schools in Port Hedland. This means that if you live in one of these locations or close to them, there's no need to relocate to complete your studies. And, if you live outside of these locations, you can choose the location, out of those listed above, that best suits you to complete your residential schools.
The face-to-face components of this course include seven residential schools; two are scheduled in the first year, three in the second year and a final two in the third year of your studies, along with six clinical placement blocks scheduled throughout the course. Placements are sourced as locally as possible to where you are studying; however, this is not always possible, and you may be required to travel to complete placements. If you are studying in Victoria, you can complete your placements at Hamilton Hospital, or we can try and source placements with providers closer to your location. This means that your study integrates a blend of on-campus learning, clinical placements and online study - a delivery combination that builds your skills, knowledge and experience in nursing along with your self-learning and time management skills.
Clinical block placements
Due to the limited availability of placements, some block placements have a start and/or end date that fall outside standard term dates.
Western District Health Service (WDHS) Arrangement - Hamilton
The WDHS Arrangement is a partnership arrangement for Hamilton Hospital (Vic) and CQU School of Nursing, Midwifery and Social Sciences. It is available for Bachelor of Nursing students who live in the Hamilton area. As part of the arrangement, you'll complete your placements and residential schools in Hamilton. You'll need to meet the eligibility criteria set by the WDHS to be considered for this arrangement. 
Term 1 2024 Applications - Early Closing Dates
If you are applying for Term 1, 2024, this course has early closing dates as follows:
UAC applications close on Monday, 4 December 2023
QTAC applications close on Friday, 8 December 2023
Direct applications close on Friday, 8 December 2023
ApplyCQUni applications close on Monday, 15 January 2024.
Majors and minors are not applicable to this course.
All Compulsory Residential Schools:
Year 1
NURS11166 Health and Assessment in Nursing (3 days)
NURS11170 Professional Experience Placement 1 (3 days)
Year 2
NURS12161 Professional Experience Placement 2 (3 days)
NURS12162 Mental Health Professional Experience Placement (2 days)
NURS12164 Professional Experience Placement 3 (3 days)
Year 3
NURS13142 Professional Experience Placement 4 (4 days)
NURS13145 Professional Experience Placement 5 (4 days)


Professional Practice - Australian Nursing and Midwifery Accreditation Council (ANMAC)
Core
The Bachelor of Nursing is accredited by the Australian Nursing and Midwifery Accreditation Council (ANMAC). The Bachelor of Nursing leads to eligibility for registration as a nurse (Division 1) in Australia.
Professional Experience Placement 1 - NURS11170
Professional Experience Placement
Professional Experience Placement 2 - NURS12161
Professional Experience Placement
Mental Health Nursing with Professional Experience Placement - NURS12162
Professional Experience Placement
Professional Experience Placement 3 - NURS12164
Professional Experience Placement
Professional Experience Placement 4 - NURS13142
Professional Experience Placement
Professional Experience Placement 5 - NURS13145
Professional Experience Placement
Depending on clinical placement availability, you may need to travel within or outside of your state for your clinical placement.

Requirements
Rank Threshold
A rank threshold is the minimum competitive rank that applications will be considered for entry to this course. The rank threshold for this course is: SR 68 | ATAR 68.0
Lowest Ranks
The lowest selection rank refers to the lowest rank to which an offer was made for an intake or term and includes adjustment factors applied to an applicant's ATAR such as the Regional Adjustment Scheme and Educational Access Scheme. An ATAR with adjustment factors applied is referred to as a selection rank.
The lowest selection ranks (includes adjustment factors) for Term 1, 2023 for the following locations are as follows:
Online: 68
Rockhampton: 70.1
Please note entry to courses is competitive and the lowest score (ATAR or selection rank) will vary from year to year and campus to campus and is provided as a historical guide of past performance.
Student profile
If you would like to know more about entry scores for applicants with recent education and the student profile for this course, view our Course and Entry Score Profile for Term 1, 2023.
Institute profile
To learn about CQUniversity's Undergraduate Profile for Term 1, 2023, view our Institute Profile.
Recommended study
English, Maths, Biology or Science
When applying, you must demonstrate that you have met the listed Entry Requirements and English Language Proficiency requirements.
After you have applied and enrolled in this course, you will need to be able to meet the Study Requirements, as these generally relate to work-integrated learning activities that form part of your course. You will be provided with more information about inherent, security, vaccination, health and other compulsory requirements after enrolling in the relevant units that these relate to. 
Entry Requirements
English Language Proficiency Requirements:
The English Language Skills requirements listed below are those specified by the Nursing and Midwifery Board of Australia as required for initial registration.
As an applicant for the Bachelor of Nursing, you are required to demonstrate your English language competency in one of the following ways:
English is your primary language and you have satisfactorily completed at least six years of primary and secondary education, taught and assessed solely in English – including at least two years completed between grades 7 and 12 - in a recognised country. (Recognised countries: Australia, Canada, New Zealand, Republic of Ireland, South Africa, United Kingdom or United States of America); OR

You are currently registered as an Enrolled Nurse with the Australian Health Practitioner Agency (AHPRA)
If you do not satisfy any of the above you will need to undertake an English language proficiency test and achieve the following scores as below:
An International English Language Testing System (IELTS Academic) overall band score of at least 7.0 overall with a minimum 7.0 in each subset; OR

An Occupational English Test with Grades A or B only in each of the four components; OR

Pearson Test of English Academic (PTE Academic) – requires an overall score of 65 with no sub-score less than 65; OR

Test of English as a Foreign Language (TOEFL) iBT – requires 94 or better overall and no score less than 27 for writing, 23 for speaking and 24 for listening and reading.
English test results remain valid for no more than two years between the final examination date and the date of commencement of the study and must appear on a single result certificate.
If you are an International student please visit International students English requirements for further information.
Each student will be assessed individually.
Nursing students' English language skills are directly aligned with the requirements of the Australian Health Practitioner Regulation Agency (AHPRA).
The COVID-19 vaccination is mandatory to be eligible to attend a WIL placement for this course. Students will be required to provide evidence of having an up-to-date COVID-19 vaccination status by the closing date prior to a WIL placement. The vaccine received must be a vaccine approved by the Therapeutic Goods Administration (TGA) of Australia.
Work-Integrated Learning (WIL) placements apply to this course and as such are subject to compulsory pre-placement conditions referred to as mandatory checks and are outlined in the health, security and other compulsory requirements sections. Mandatory checks are determined by industry, organisations, legislation, regulations, policies, and procedures. To be eligible for a WIL placement, students must first achieve compliance with mandatory checks by each closing date prior to a WIL placement and maintain current evidence for the duration of the course. 
Mandatory health requirements include immunisation and vaccination evidence (and serology where required) to the following diseases: COVID-19 (up-to-date status), Hepatitis B, Measles, Mumps and Rubella, Varicella, Pertussis, Influenza, and Tuberculosis screening. Respirator mask fit testing is also an annual requirement for this course. 
Mandatory security requirements include an Australian Federal Police clearance, working with children check, and NDIS worker screening clearance. 
Other mandatory requirements include a First Aid and CPR certificate, student agreement to privacy and confidentiality, adherence to Ahpra policies for a registered student professional, fitness to participate in WIL student declaration, jurisdictional and site-specific compulsory requirements, and other training modules. 
It is mandatory for a minimum of 800 hours WIL placement in an off-campus health care setting to be undertaken for the Bachelor of Nursing course. Students may be required to complete more than 800 hours due to an organisation's make up of absence policy.
It is important for students to be aware that you may be required to travel to complete your WIL placement.
WIL placements are organised in blocks of time as per the WIL unit requirement, are in various health organisations throughout Australia where a service agreement is in place, subject to availability and capacity of the organisation, and are not negotiable.
You will have to meet this course's
inherent requirements
by demonstrating essential skills and attributes.
Fees & Scholarships
2023 Indicative Fees
| Fee Type | Fees |
| --- | --- |
| Commonwealth Supported Place – Indicative First Year Fee | $5,080 |
Indicative first-year fee
The fees listed are indicative only and based on enrolling in a full-time study load for one academic year (generally, this is eight units over two terms). Your fees may vary depending on the units you select and the number you study per term. Fees are reviewed annually and are subject to change. Understanding your fees.
Commonwealth support and government assistance loans
Commonwealth Supported Places (CSPs) are subsidised by the Australian Government, meaning you are only required to pay the student contribution rather than full tuition fees if you meet eligibility requirements. If offered a CSP, you may be eligible for a HECS-HELP government loan. HECS-HELP is an Australian Government loan scheme that assists you in paying your student contributions. Provided you meet the HECS-HELP eligibility criteria, you may use HECS-HELP to defer part or all of your student contribution fees. Learn more about paying for university.
Other study costs
Part of your course costs includes Student Services and Amenities Fees (SSAF). There may also be additional costs as part of your studies, such as textbooks, technology expenses, travel expenses, professional certifications, uniforms, or vaccinations. Explore other study costs.
At CQUniversity, we believe higher education should be for everyone. No matter your situation, we know that everyone needs a helping hand from time to time, and we are proud to offer a wide range of scholarships, bursaries and stipends.
Our scholarships could help you pay for things like relocation, living on campus, laptops and technology, childcare, study and living expenses, travel and more. 

How to apply
| State | Admission Code |
| --- | --- |
| Queensland | Online: 851525; Rockhampton: 850426 |
| Northern Territory | Online: 152511 |
| South Australia | Online: 152511 |
| Tasmania | Online: 152511 |
| Victoria | Online: 152511 |
| Western Australia | Online: 152511 |
| New South Wales | Online: 162511 |
If you have decided what you would like to study and are ready to apply, we're here to help you along the way. Before you apply, you will need to have a Unique Student Identifier (USI). If you do not have a USI, creating one is quick and easy. Simply visit usi.gov.au to create one.
Want to know more about application dates and other admission information?
View our important dates information and read about other admission considerations such as information for domestic students with overseas qualifications, indigenous support, and elite athlete, coach and performer support.
---
What's the best way to apply?
Option 1: Ideal for most situations, whether you have completed high school recently or some time ago.
Option 2: Ideal if you are studying with one of our partner study hubs.
Option 3: Ideal if you have previously studied with CQU or are applying as part of the Western District Health Service Arrangement.
---
Option 1: Ideal for most situations, apply via a tertiary admission centre
View the table below for the best application option based on where you live.
| | |
| --- | --- |
| If you live in | Tertiary Admissions Centre (TAC)* |
| Queensland | Apply via QTAC |
| New South Wales, Australian Capital Territory (ACT) | Apply via UAC |
| Victoria, South Australia, Northern Territory, Western Australia, Tasmania | Apply via ApplyCQUNI |
*Please note that you may be required to pay a fee when applying via a TAC.
---
Option 2: Want to study with one of our partner study hubs? Apply via ApplyCQUni
Benefit from local support, space, technology and facilities offered by one of our delivery partners - Pilbara Kimberly University Centres (delivered in Karratha with residential schools offered at Port Headland) and Uni Hub Spencer Gulf (Port Pirie, Port Augusta and Kadina). Learn more about CQU Regional University Centre partners. 
---
Option 3: If you have previously studied with CQU or are applying as part of the Western District Health Service arrangement, apply direct.
Past CQU students
You may be eligible to apply directly to CQUniversity for this course. To apply direct, your prior study with CQU must be a completed or partially completed CQU course or unit including:
CQU's Skills for Tertiary Entrance Preparatory Studies (STEPS), Tertiary Entrance Program (TEP), or Start Uni Now (SUN) units.
A CQU certificate, diploma, advanced diploma, associate degree, bachelor degree, graduate certificate, graduate diploma, master or research higher degree, or a unit within these courses.
Western District Health Service (WDHS) Arrangement
Apply directly to CQU if you intend to study this course as part of the arrangement in place with WDHS in Hamilton, Victoria. You'll also need to express your interest, discuss arrangement options with the health educator at the Health Service and meet the required eligibility criteria set by the WDHS.