Bachelor of Laws
| | |
| --- | --- |
| Rank threshold | ATAR: 74 SR: 74 |
| Duration | 3 years full-time, 4 years part-time |
| Location | Online |
| Next start term | Term 1, 2024 |
| Study mode | Online |
| Course code | CG98 |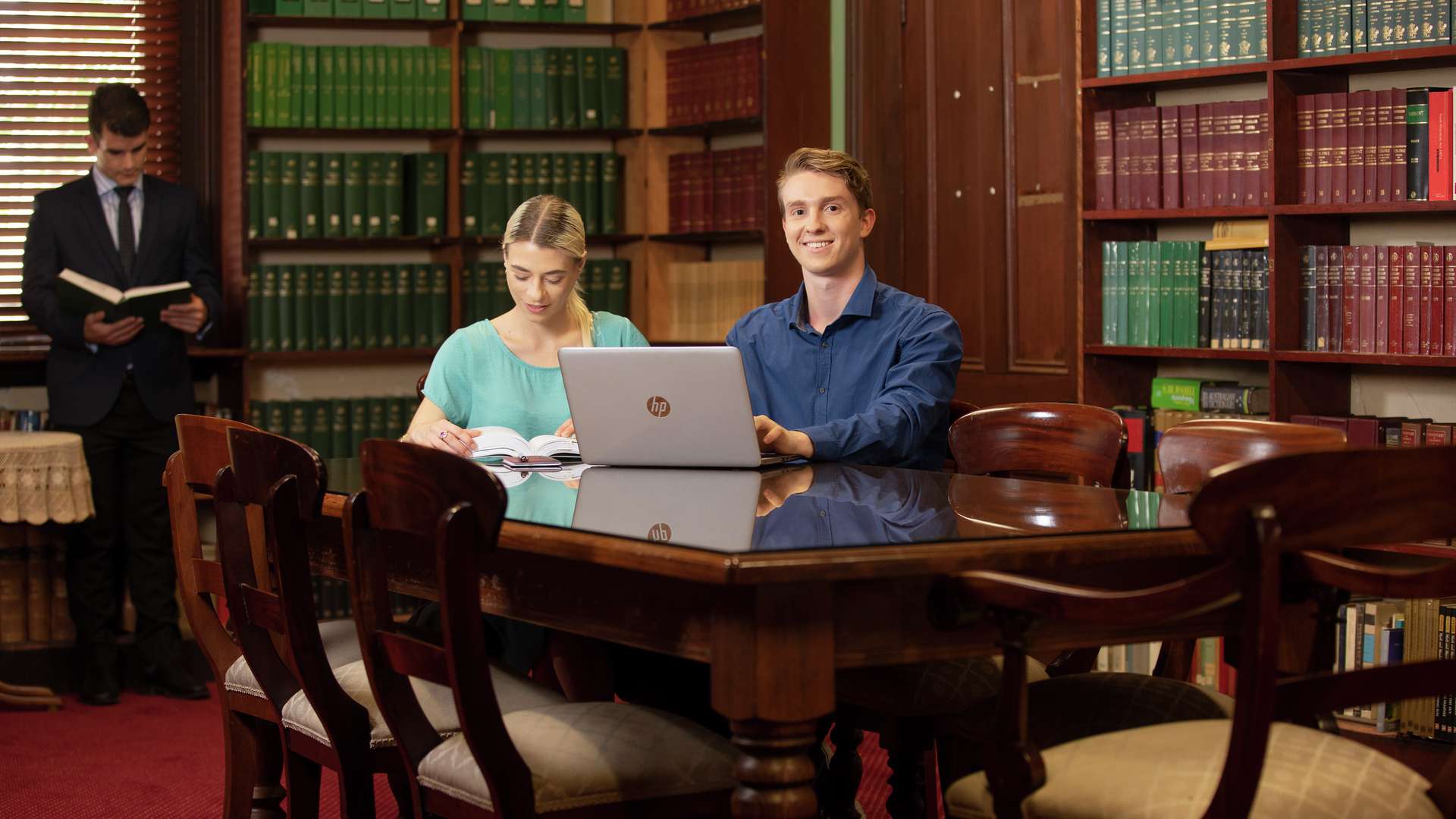 Overview
Study CQUni's innovative Bachelor of Laws in just three years full-time and 100% online, and launch your law career sooner. Our fully accredited degree covers all areas of law required to satisfy professional accreditation through the Legal Practitioners Admissions Board and practice nationally after completing the required professional legal training. 
The Bachelor of Laws course at CQUniversity is a three-year full-time or four-year part-time undergraduate degree, available to study entirely online giving you the flexibility to choose how and when you study to fit your lifestyle. You will learn all the areas of law required to satisfy professional accreditation through the Legal Practitioners Admissions Board. The course enables graduates to proceed to practice as a legal practitioner after completing the required professional training.
During your studies you will learn about legal procedures and key legislation, and be given the opportunity to develop skills necessary to identify, analyse and evaluate facts in relation to legal frameworks.
The core areas of law covered in the course match those required for admission to the legal profession (Priestley 11) and other requirements of the Law Admissions Consultative Committee including statutory interpretation, criminal law and procedure, contracts, torts, federal and state constitutional law, equity (including trusts), administrative law, property, company law, evidence, ethics and professional responsibility and civil dispute resolution.
Tailor your studies to suit your interests and career goals with a choice of elective units including animal law, resolving civil disputes (ADR), drafting, legal advocacy, commercial law, family law, succession, revenue law, jurisprudence, Australian employment law, environmental law, international and human rights law, Indigenous legal issues, law of startups, and legal automation.
Your studies are strongly focussed on developing relevant legal professional experience through a range of experiential learning opportunities. These include simulations such as moots, branching simulations, and role-plays, drafting legal documents, client interviewing exercises, developing legal apps and pro bono community service opportunities. You will also complete a legal practicum unit with the choice of completing a work placement, social innovation project, or workplace simulation. You will benefit from the flexibility to study online to suit your lifestyle, utilising Moodle or iTunesU, and other online learning tools. Discover more about studying law at CQUni and the range of support available to students.
Study experience
Authentic Learning Experiences

Experienced Teaching Team
"

I really feel that the lecturers really support and really strive to provide the best support and contact and course that's engaging enough for online students to stay committed to.

Bachelor of Laws
Career Opportunities
The Bachelor of Laws prepares graduates for a career as a legal professional. Aside from the traditional roles as a solicitor, barrister or in-house counsel, a law degree is useful for careers in academia, business, the public service and politics.
Structure & Availability
Course structure
You are required to complete a total of 24 units consisting of 16 core units plus eight units from either liberal law or legal practice, or four units from two of the following areas; liberal law, legal practice, or commercial law.
Assessment is overseen through university governance processes, along with the discipline's pastoral responsibility. The Bachelor of Laws course adheres to CQUniversity's academic standards and continual renewal and improvement framework.
Unit information
For information on the units, you could study as part of this course, visit the Handbook and select the "Course Structure" tab.
Credit transfer information
If you have already completed study relevant to the course you have enrolled in, you may be eligible for credit transfer.
Online Availability
| Intake | Locations |
| --- | --- |
| Term 1, 2024 | Available Online |
| Term 2, 2024 | Available Online |
| Term 3, 2024 | Available Online |
This course has no residential schools.
Professional Practice - Legal Practitioners Admissions Board (Queensland)
Core
Legal Practitioners Admissions Board of Queensland
The degree is an approved academic qualification for admission to the legal profession. Graduates are also required to undertake a further period of practical legal training before being admitted as a legal practitioner.
Legal Practicum - LAWS12073
Students will be able to undertake at their option an overseas or domestic practicum placement or engagement with a complex work simulation.
Requirements
Rank Threshold
A rank threshold is the minimum competitive rank that applications will be considered for entry to this course. The rank threshold for this course is: SR 74 | ATAR 74.0
Lowest Ranks
The lowest selection rank refers to the lowest rank to which an offer was made for an intake or term and includes adjustment factors applied to an applicant's ATAR such as the Regional Adjustment Scheme and Educational Access Scheme. An ATAR with adjustment factors applied is referred to as a selection rank.
The lowest selection ranks (includes adjustment factors) for Term 1, 2023 for the following locations are as follows:
Online: 77.7
Please note entry to courses is competitive and the lowest score (ATAR or selection rank) will vary from year to year and campus to campus and is provided as a historical guide of past performance.
Student profile
If you would like to know more about entry scores for applicants with recent secondary education and the student profile for this course view our Course and Entry Score Profile for Term 1, 2023.
Institute profile
To find out about CQUniversity's Undergraduate Profile for Term 1, 2023 view our Institute Profile.
Recommended study
No recommended study required
Prerequisites
English (Units 3 and 4, C)
English (Units 3 & 4, C) or equivalent
English Language Proficiency Requirements
If you were not born in Australia, Canada, New Zealand, United Kingdom, Ireland, South Africa or United States of America, you are required to meet the English Language Proficiency requirements set by the University. Applicants are required to provide evidence of completion of:
A secondary qualification (Year 11 and 12, or equivalent), or
An Australian Qualifications Framework (AQF) diploma level qualification, or
Bachelor level qualification study for a period of at least 2 years fulltime with a minimum overall GPA 4.0
Completed within Australia, Canada, New Zealand, United Kingdom, South Africa, Ireland or United States of America, which will meet the English proficiency.
If you do not satisfy any of the above, you will need to undertake an English language proficiency test and achieve the following scores:
An International English Language Testing System (IELTS Academic) overall band score of at least 6.0 with a minimum 5.5 in each subset; or
Test of English as a Foreign Language (TOEFL) - Requires 550 or better overall and minimum TWE score of 4.5 (Paper Based Test), or 75 or better overall and no score less than 17 (Internet Based Test); or
Pearson Test of English Academic (PTE Academic) - Requires an overall score of 54 with no sub-score less than 46; or
An Occupational English Test with Grades A or B only in each of the four components.
English test results remain valid for no more than two years between final examination date and the date of commencement of study, and must appear on a single result certificate.
Each student will be assessed individually.

There are no health requirements.
The capstone unit LAWS12073 Legal Practicum may have security requirements if students choose an overseas placement. Legal Practicum students will be given orientation with regards to applied ethics in the workplace; professional obligations.
You will have to meet this course's
inherent requirements
by demonstrating essential skills and attributes.
Fees & Scholarships
2023 Indicative Fees
| Fee Type | Fees |
| --- | --- |
| Commonwealth Supported Place – Indicative First Year Fee | $15,136 |
2024 Indicative Fees
| Fee Type | Fees |
| --- | --- |
| Commonwealth Supported Place – Indicative First Year Fee | $16,320 |
| Domestic Full Fee Paying – Indicative First Year Fee | $17,556 |
Indicative first-year fee
The fees listed are indicative only and based on enrolling in a full-time study load for one academic year (generally, this is eight units over two terms). Your fees may vary depending on the units you select and the number you study per term. Fees are reviewed annually and are subject to change. Understanding your fees.
Commonwealth support and government assistance loans
Commonwealth Supported Places (CSPs) are subsidised by the Australian Government, meaning you are only required to pay the student contribution rather than full tuition fees if you meet eligibility requirements. If offered a CSP, you may be eligible for a HECS-HELP government loan. HECS-HELP is an Australian Government loan scheme that assists you in paying your student contributions. Provided you meet the HECS-HELP eligibility criteria, you may use HECS-HELP to defer part or all of your student contribution fees. Learn more about paying for university.
Other study costs
Part of your course costs includes Student Services and Amenities Fees (SSAF). There may also be additional costs as part of your studies, such as textbooks, technology expenses, travel expenses, professional certifications, uniforms, or vaccinations. Explore other study costs.
At CQUniversity, we believe higher education should be for everyone. No matter your situation, we know that everyone needs a helping hand from time to time, and we are proud to offer a wide range of scholarships, bursaries and stipends.
Our scholarships could help you pay for things like relocation, living on campus, laptops and technology, childcare, study and living expenses, travel and more. 

How to apply
| State | Admission Code |
| --- | --- |
| Queensland | Online: 856105 |
| New South Wales | Online: 160081 |
| Northern Territory | Online: 150081 |
| South Australia | Online: 150081 |
| Tasmania | Online: 150081 |
| Victoria | Online: 150081 |
| Western Australia | Online: 150081 |
If you have decided what you would like to study and are ready to apply, we're here to help you along the way.
Before you apply, you will need to have a Unique Student Identifier (USI). If you do not have a USI, creating one is quick and easy. Simply visit usi.gov.au to create one.

Want to know more about application dates and other admission information?
View our important dates information and read about other admission considerations, such as information for domestic students with overseas qualifications, indigenous support, and elite athlete, coach and performer support.
---
What's the best way to apply?
Option 1: Ideal for most situations, whether you have completed high school recently or some time ago.
Option 2: Ideal if you are studying with one of our partner study hubs.
Option 3: Ideal if you have previously studied with CQU.
---
Option 1: Ideal for most situations, apply via a tertiary admission centre
View the table below for the best application option based on where you live.
| | |
| --- | --- |
| If you live in | Tertiary Admissions Centre (TAC)* |
| Queensland | Apply via QTAC |
| New South Wales, Australian Capital Territory (ACT) | Apply via UAC |
| Victoria, Western Australia, Tasmania, Northern Territory, South Australia | Apply via ApplyCQUNI |
*Please note that you may be required to pay a fee when applying via a TAC.
---
Option 2: Want to study with one of our partner study hubs? Apply via ApplyCQUni
Benefit from local support, space, technology and facilities offered by one of our delivery partners.
---
Option 3: If you have previously studied with CQU, apply direct.
As a past CQU student, you may be eligible to apply directly to CQU for this course. To apply directly, your prior study with CQU must be a completed or partially completed CQU course or unit, including:
CQU's Skills for Tertiary Entrance Preparatory Studies (STEPS), Tertiary Entrance Program (TEP), or Start Uni Now (SUN) units.
A CQU certificate, diploma, advanced diploma, associate degree, bachelor degree, graduate certificate, graduate diploma, master or research higher degree, or a unit within these courses.