Bachelor of Science (Chiropractic)
| | |
| --- | --- |
| Rank threshold | ATAR: 69 SR: 69 |
| Duration | 3 years full-time, 6 years part-time |
| Location | Brisbane |
| Next start term | Term 1, 2024 |
| Study mode | On Campus |
| Course code | CB77 |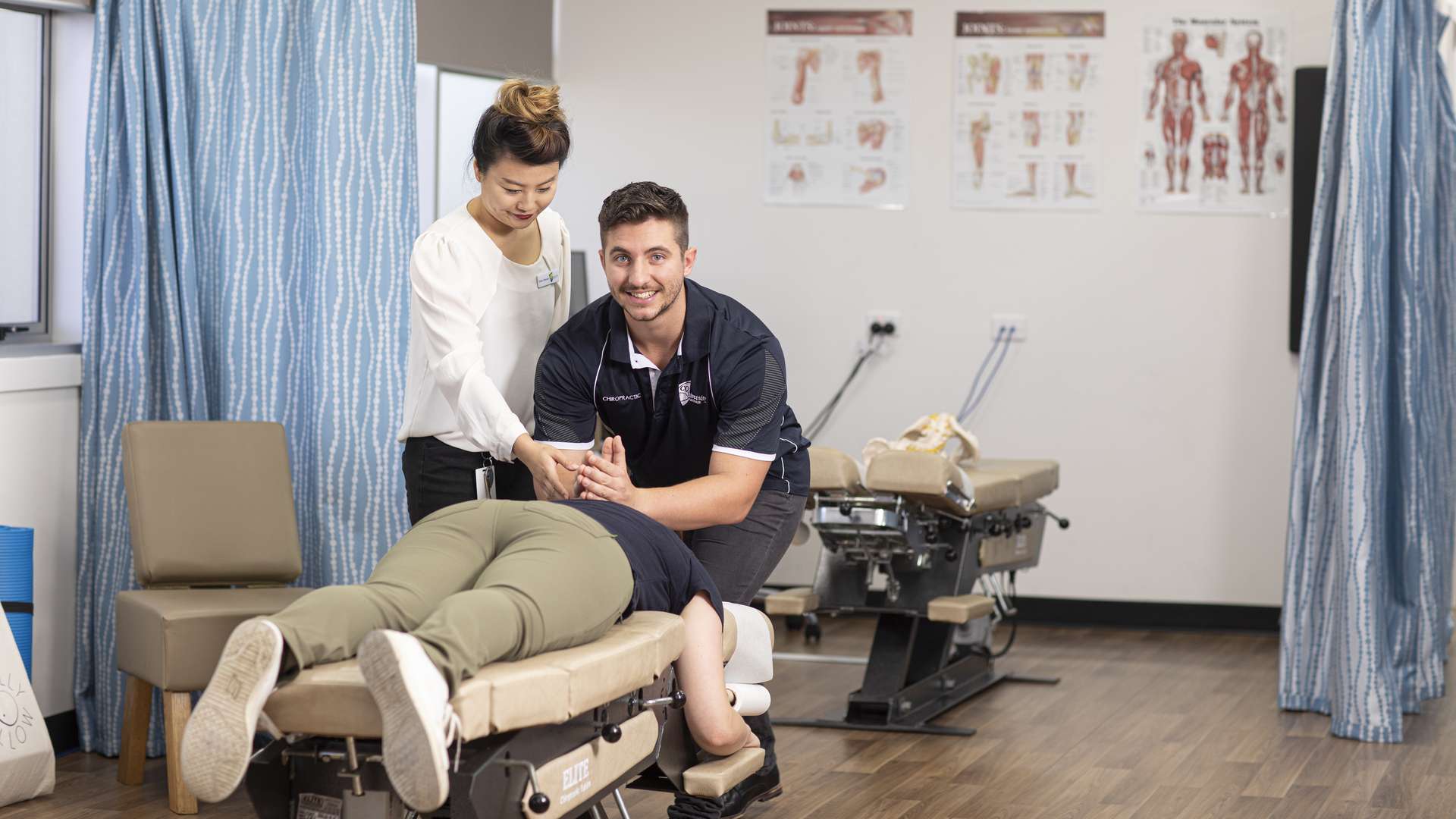 Overview
Study the Bachelor of Science (Chiropractic) and equip yourself with skills that will kick-start your journey towards a career as a Chiropractor.
The Bachelor of Science (Chiropractic) is an evidence-based degree designed to provide you with the qualification needed to apply to enter the professional qualification, the Master of Clinical Chiropractic.
Graduation from the Master of Clinical Chiropractic course renders you eligible to apply for registration as a chiropractor in Australia and overseas.
During your studies, you will develop clinical skills to become confident in the diagnosis and management of patients presenting for care. You will learn the history, philosophy and principles and theories of chiropractic from a contemporary perspective.
The course has a strong focus on nutrition, rehabilitation and other lifestyle adaptations designed to optimise musculoskeletal health. Within a patient-centred learning environment, you will develop a range of patient assessment procedures and therapeutic approaches designed to manage common musculoskeletal issues.
Within a patient-centred learning environment, you will develop a range of spinal and patient assessment procedures and basic therapeutic approaches to common musculoskeletal issues such as low back pain, neck and shoulder pain, and headache.
Learn within Australia's newest state-of-the-art chiropractic learning environment and undertake work-integrated learning in clinics to further enhance your practical experience and employability so you graduate confident, competent and work-ready.
Study experience
Real-world Learning Facilities
"

You can study online and on campus as well as between different campuses. I really liked the flexibility I had with that. Alongside the world-class lecturers we have on offer, it really influenced my decision.

Bachelor of Science (Chiropractic), Master of Clinical Chiropractic
Career Opportunities
The Bachelor of Science (Chiropractic) provides you with knowledge and an appreciation of basic techniques enabling you to pursue employment opportunities as an assistant in chiropractic practice.
This course is the ideal pathway into the Master of Clinical Chiropractic. Upon completion of the masters course you will be eligible to apply for registration to practice as a Chiropractor and describe yourself as a Chiropractor.
Structure & Availability
COURSE STRUCTURE
You are required to complete 24 core units. As this course provides strongly sequenced clinical learning to ensure the attainment of high-level psychomotor skills and patient-centred clinical decision making the units must be taken in the sequence in which they are offered.

UNIT INFORMATION
For information on the units, you could study as part of this course, visit the Handbook and select the "Course Structure" tab.

CREDIT TRANSFER INFORMATION
If you have already completed study relevant to the course you have enrolled in, you may be eligible for credit transfer.
On-Campus Availability
| Intake | Locations |
| --- | --- |
| Term 1, 2024 | Brisbane |
Majors and minors are not applicable to this course.
Students who select to study some units via distance may be required to attend compulsory residential schools.
You are required to undertake work-integrated learning in a range of forms including activities in chiropractic clinics, other health clinics and optional mini study tours overseas.
Requirements
Rank Threshold
A rank threshold is the minimum competitive rank that applications will be considered for entry to this course. The rank threshold for this course is: SR 69 | ATAR 69.0
Lowest Rank
The lowest selection rank refers to the lowest rank to which an offer was made for an intake or term and includes adjustment factors applied to an applicant's ATAR such as the Regional Adjustment Scheme and Educational Access Scheme. An ATAR with adjustment factors applied is referred to as a selection rank. The lowest selection ranks (includes adjustment factors) for Term 1, 2023 for the following locations are as follows:
Brisbane: SR 71.0
Please note entry to courses is competitive and the lowest score (ATAR or selection rank) will vary from year to year and campus to campus and is provided as a historical guide of past performance.
Student Profile
If you would like to know more about entry scores for applicants with recent secondary education and the student profile for this course view our Course and Entry Score Profile for Term 1, 2023.
Institute Profile
To find out about CQUniversity's Undergraduate Profile for Term 1, 2023 view our Institute Profile.
Recommended study
Prerequisites
English (Units 3 and 4, C)
Entry Requirements
English (Units 3 & 4, C) or equivalent
English Language Proficiency Requirements
If you were not born in Australia, Canada, New Zealand, United Kingdom, Ireland, South Africa or United States of America, you are required to meet the English Language Proficiency requirements set by the University.
Applicants are required to provide evidence of completion within the last 5 years of:
A secondary qualification (Year 11 and 12, or equivalent), or

Bachelor level qualification study for a period of at least 2 years fulltime with a minimum overall GPA of 4.0
completed within Australia, Canada, New Zealand, United Kingdom, South Africa, Ireland, or United states of America, which will meet the English proficiency.
If you do not satisfy any of the above, you will need to undertake an English language proficiency test and achieve the following scores:
An International English Language Testing System (IELTS Academic) overall band score of at least 7.0 with a minimum 7.0 in each subset; or

An Occupational English Test with Grades A or B only in each of the four components; or

Test of English as a Foreign Language (TOEFL) iBt - 94 or better overall and no score less than 24 for listening and reading, 27 for writing, and 23 for speaking; or

Pearson Test of English Academic (PTE Academic) - Requires an overall score of 65 with no sub-score less than 65.
English test results remain valid for no more than two years between final examination date and the date of commencement of study and must appear on a single result certificate.
International Students should visit http://www.cqu.edu.au/international for further information.
Each student will be assessed individually.
Chiropractic students' English language skills are directly aligned with the requirements of the Australian Health Practitioner Regulation Agency (AHPRA). Available at: https://www.ahpra.gov.au/Registration/Registration-Standards/English-language-skills.aspx
Health requirements will be applicable should students progress to CC71 Master of Clinical Chiropractic.
Security requirements will be applicable should students progress to CC71 Master of Clinical Chiropractic.
Other compulsory requirements will be applicable should students progress to CC71 Master of Clinical Chiropractic.
You will have to meet this course's
inherent requirements
by demonstrating essential skills and attributes.
Fees & Scholarships
2023 Indicative Fees
| Fee Type | Fees |
| --- | --- |
| Commonwealth Supported Place – Indicative First Year Fee | $9,172 |
2024 Indicative Fees
| Fee Type | Fees |
| --- | --- |
| Commonwealth Supported Place – Indicative First Year Fee | $9,888 |
| Domestic Full Fee Paying – Indicative First Year Fee | $29,517 |
Indicative first-year fee
The fees listed are indicative only and based on enrolling in a full-time study load for one academic year (generally, this is eight units over two terms). Your fees may vary depending on the units you select and the number you study per term. Fees are reviewed annually and are subject to change. Understanding your fees.
Commonwealth support and government assistance loans
Commonwealth Supported Places (CSPs) are subsidised by the Australian Government, meaning you are only required to pay the student contribution rather than full tuition fees if you meet eligibility requirements. If offered a CSP, you may be eligible for a HECS-HELP government loan. HECS-HELP is an Australian Government loan scheme that assists you in paying your student contributions. Provided you meet the HECS-HELP eligibility criteria, you may use HECS-HELP to defer part or all of your student contribution fees. Learn more about paying for university.
Other study costs
Part of your course costs includes Student Services and Amenities Fees (SSAF). There may also be additional costs as part of your studies, such as textbooks, technology expenses, travel expenses, professional certifications, uniforms, or vaccinations. Explore other study costs.
At CQUniversity, we believe higher education should be for everyone. No matter your situation, we know that everyone needs a helping hand from time to time, and we are proud to offer a wide range of scholarships, bursaries and stipends.
Our scholarships could help you pay for things like relocation, living on campus, laptops and technology, childcare, study and living expenses, travel and more. 

How to apply
| State | Admission Code |
| --- | --- |
| Queensland | Brisbane: 880501 |
If you have decided what you would like to study and are ready to apply, we're here to help you along the way. Before you apply, you will need to have a Unique Student Identifier (USI). If you do not have a USI, creating one is quick and easy. Simply visit usi.gov.au to create one.
Want to know more about application dates and other admission information?
View our important dates information and read about other admission considerations such as information for domestic students with overseas qualifications, indigenous support, and elite athlete, coach and performer support.
What's the best way to apply?
Option 1: Ideal for most situations, whether you have completed high school recently or some time ago.
Option 2: Ideal if you have previously studied with CQUni.
---
OPTION 1: IN MOST SITUATIONS, YOU WILL NEED TO APPLY VIA THE QUEENSLAND TERTIARY ADMISSION CENTRE
To apply for this course you will need to submit your application for this course via the Queensland Tertiary Admissions Centre (
QTAC
).
---
OPTION 2: IF YOU HAVE PREVIOUSLY STUDIED WITH CQUNI, APPLY DIRECT

As a past CQUni student, you may be eligible to apply directly to CQUniversity for this course. Your prior study with CQUni must be a completed or partially completed CQUni course or unit such as:
CQUni's Skills for Tertiary Entrance Preparatory Studies (STEPS), Tertiary Entrance Program (TEP), or Start Uni Now (SUN) units.
A CQUni certificate, diploma, advanced diploma, associate degree, bachelor degree, graduate certificate, graduate diploma, master or research higher degree, or a unit within these courses.