Graduate Certificate in Public Health
| | |
| --- | --- |
| Duration | 0.5 years full-time, 1 year part-time |
| Location | |
| Next start term | Term 1, 2024 |
| Study mode | On Campus, Online |
| Course code | CL46 |
This course offers Commonwealth Supported Places, meaning you may be eligible for significant fee savings.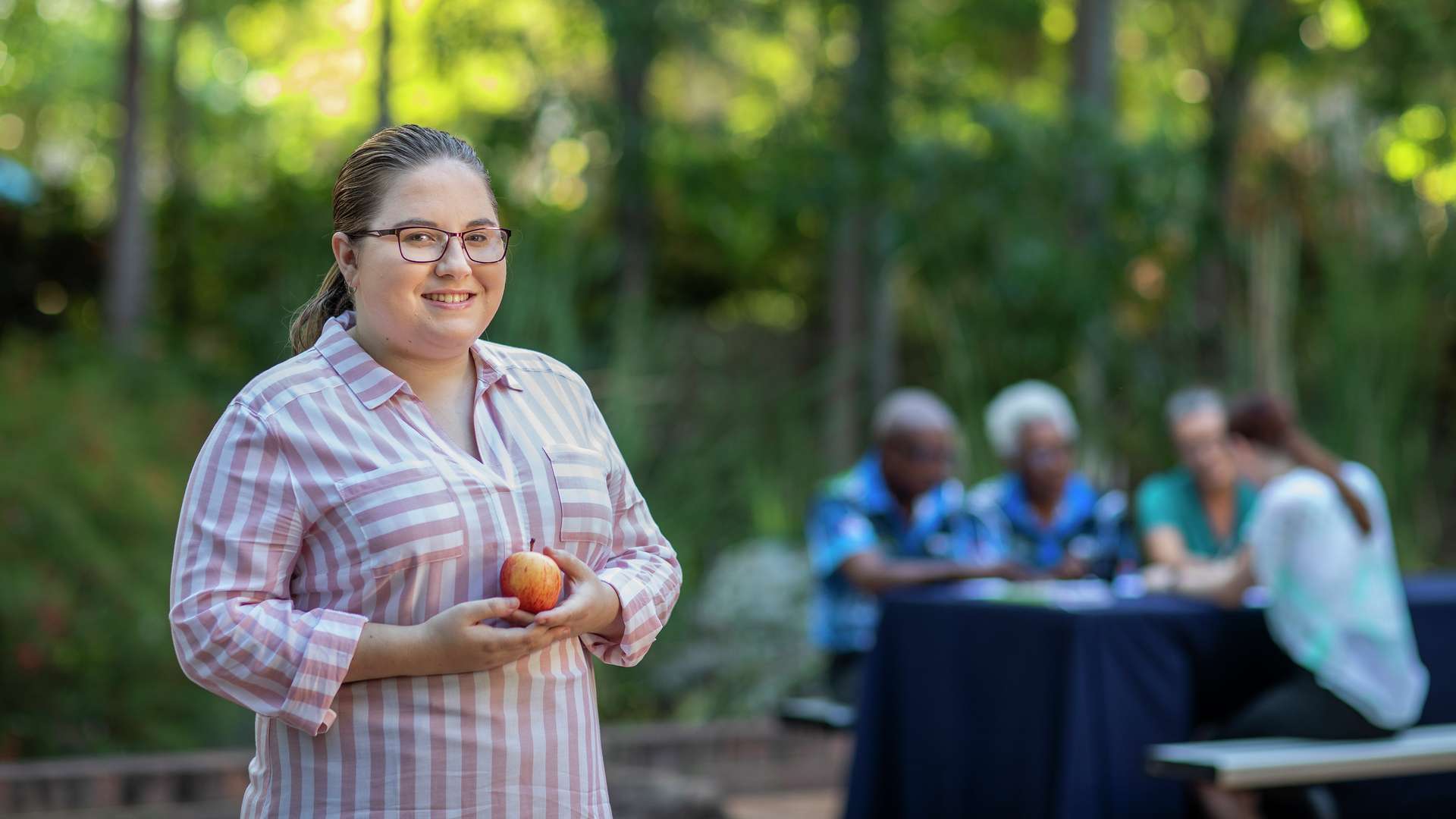 Overview
The Graduate Certificate in Public Health is an innovative and unique course designed for community-minded individuals from any background (not just medical) who want to make a real difference to the health of communities local, national, and global.
Focusing on the social and ecological factors that affect community health, you will explore topics such as globalisation, urbanisation, climate change, changing demography, maldistribution of wealth and universal health care. In developing your understanding in these areas, you will be able to develop the skills needed to influence health outcomes in a wide range of professional community focused industries, both inside and outside the traditional health pathways.  
Designed for any community-minded individual from any background, this innovative course is based on the social-ecological model of health.  In this course you will begin to examine the "Why's of the Why's" of community health beyond the traditional medical model, and into the social factors that affect community health.
This course is suitable for you if you're working in any role in a community-focused industry, or are simply interested in expanding your knowledge on the societal factors that influence health outcomes and want to make a real difference in your community. You will also have the opportunity to select two electives from other public health units to best suit your interests and needs.
Study experience
Authentic Learning Experiences

Experienced Teaching Team
Career Opportunities
The Graduate Certificate in Public Health prepares graduates for work in community-based and community-led services and organisations. You can also work on projects for government and non-government organisations relating to a number of health fields including health promotion and health administration.
Structure & Availability
Course structure
You must complete four units consisting of two core units and two electives from a specified list of units.
Unit information
For information on the units you could study as part of this course, visit the Handbook and select the "Course Structure" tab.
Credit transfer information
If you have already completed study relevant to the course you have enrolled in, you may be eligible for credit transfer.
On-Campus Availability
| Intake | Locations |
| --- | --- |
| Term 1, 2024 | Melbourne, Sydney |
| Term 2, 2024 | Melbourne, Sydney |
Online Availability
| Intake | Locations |
| --- | --- |
| Term 1, 2024 | Available Online |
| Term 2, 2024 | Available Online |
Majors and minors are not applicable to this course.
This course has no residential schools.
Requirements
Recommended study
It is recommended students have completed a health related degree.

Entry Requirements:
A completed Australian Qualifications Framework (AQF) equivalent Bachelor degree, or higher equivalent qualification; or
A completed AQF Diploma with a minimum of two years relevant employment experience in health care or the public health sector*; or
A minimum of Five years employment experience in health care or public health sector; or
Current registration as a Registered Nurse (Division 1) with the Australian Health Practitioners Regulatory Authority (AHPRA) and a letter of employment demonstrating a minimum 3 years employment in a setting which requires the use of nursing skills.
*Relevant employment experience includes employment in health care or public health field such as health practice and/or administration/management/leadership roles within health-related organisations.
Employment experience must be demonstrated in the form of an official letter of employment, presented on company letterhead and be signed and dated by a delegated authority. Please ensure that the letter contains your full name, position title, duties performed and length of service.
English Language Proficiency Requirements
If you were not born in Australia, Canada, New Zealand, United Kingdom, Ireland, South Africa or United States of America, you are required to meet the English Language Proficiency requirements set by the University. Applicants are required to provide evidence of completion of:
A secondary qualification (Year 11 and 12, or equivalent), or
An Australian Qualifications Framework (AQF) diploma level qualification, or
Bachelor level qualification study for a period of at least 2 years full tie with a minimum overall GPA 4.0
completed within Australia, Canada, New Zealand, United Kingdom, South Africa, Ireland or United States of America, which will meet the English proficiency.
If you do not satisfy any of the above, you will need to undertake an English language proficiency test and achieve the following scores:
An International English Language Testing System (IELTS Academic) overall band score of at least 6.0 with a minimum 5.5 in each subset; or
Test of English as a Foreign Language (TOEFL) - Requires 550 or better overall and minimum TWE score of 4.5 (Paper Based Test), or 75 or better overall and no score less than 17 (Internet Based Test); or
Pearson Test of English Academic (PTE Academic) - Requires an overall score of 54 with no sub-score less than 46; or
An Occupational English Test with Grade of C in each of the four components.
English test results remain valid for no more than two years between final examination date and the date of commencement of study, and must appear on a single result certificate.
If you are an International Student, visit our International students webpage for further information.
Each student will be assessed individually.
You will have to meet this course's
inherent requirements
by demonstrating essential skills and attributes.
Fees & Scholarships
2023 Indicative Fees
| Fee Type | Fees |
| --- | --- |
| Commonwealth Supported Place – Indicative First Year Fee | $4,148 |
| Domestic Full Fee Paying – Indicative First Year Fee | $13,092 |
2024 Indicative Fees
| Fee Type | Fees |
| --- | --- |
| Commonwealth Supported Place – Indicative First Year Fee | $4,472 |
| Domestic Full Fee Paying – Indicative First Year Fee | $13,878 |
Indicative first-year fee
The fees listed are indicative only and based on enrolling in a full-time study load for one academic year (generally, this is four units over one term for a graduate certificate or eight units over two terms for a graduate diploma or masters degree). Your fees may vary depending on the units you select and the number you study per term. Fees are reviewed annually and are subject to change. Understanding your fees.
Commonwealth supported places
With Commonwealth Supported Places (CSP) available for this course, you may be eligible for significant fee savings. If you are not eligible for a CSP or if CSPs are full, you will be required to pay full fees. Find out more about CSP eligibility criteria.
Government assistance and HELP loans
Commonwealth Supported Places (CSPs) are subsidised by the Australian Government, meaning you are only required to pay the student contribution rather than full tuition fees if you meet eligibility requirements. If offered a CSP, you may be eligible for a HECS-HELP government loan. HECS-HELP is an Australian Government loan scheme that assists you in paying your student contributions. Provided you meet the HECS-HELP eligibility criteria, you may use HECS-HELP to defer part or all of your student contribution fees. Learn more about paying for university.
Other study costs
Part of your course costs includes Student Services and Amenities Fees (SSAF). There may also be additional costs as part of your studies, such as textbooks, technology expenses, travel expenses, professional certifications, or vaccinations. Explore other study costs.
At CQUniversity, we believe higher education should be for everyone. No matter your situation, we know that everyone needs a helping hand from time to time, and we are proud to offer a wide range of scholarships, bursaries and stipends.
Our scholarships could help you pay for things like relocation, living on campus, laptops and technology, childcare, study and living expenses, travel and more. 

How to apply
If you have decided what you would like to study and are ready to apply, we're here to help you along the way.  Before you apply, you will need to have a Unique Student Identifier (USI).  If you do not have a USI, creating one is quick and easy.  Simply visit usi.gov.au to create one.

Want to know more about application dates and other admission information?
View our important dates information and read about other admission considerations such as information for domestic students with overseas qualifications, indigenous support, and elite athlete, coach and performer support.

APPLY DIRECTLY TO CQUNIVERSITY
To apply for this course, submit your application directly to CQUniversity using the Apply button below.