Master of Clinical Nursing
| | |
| --- | --- |
| Duration | 3 years part-time |
| Location | Online |
| Next start term | Term 1, 2024 |
| Study mode | Online |
| Course code | CL22 |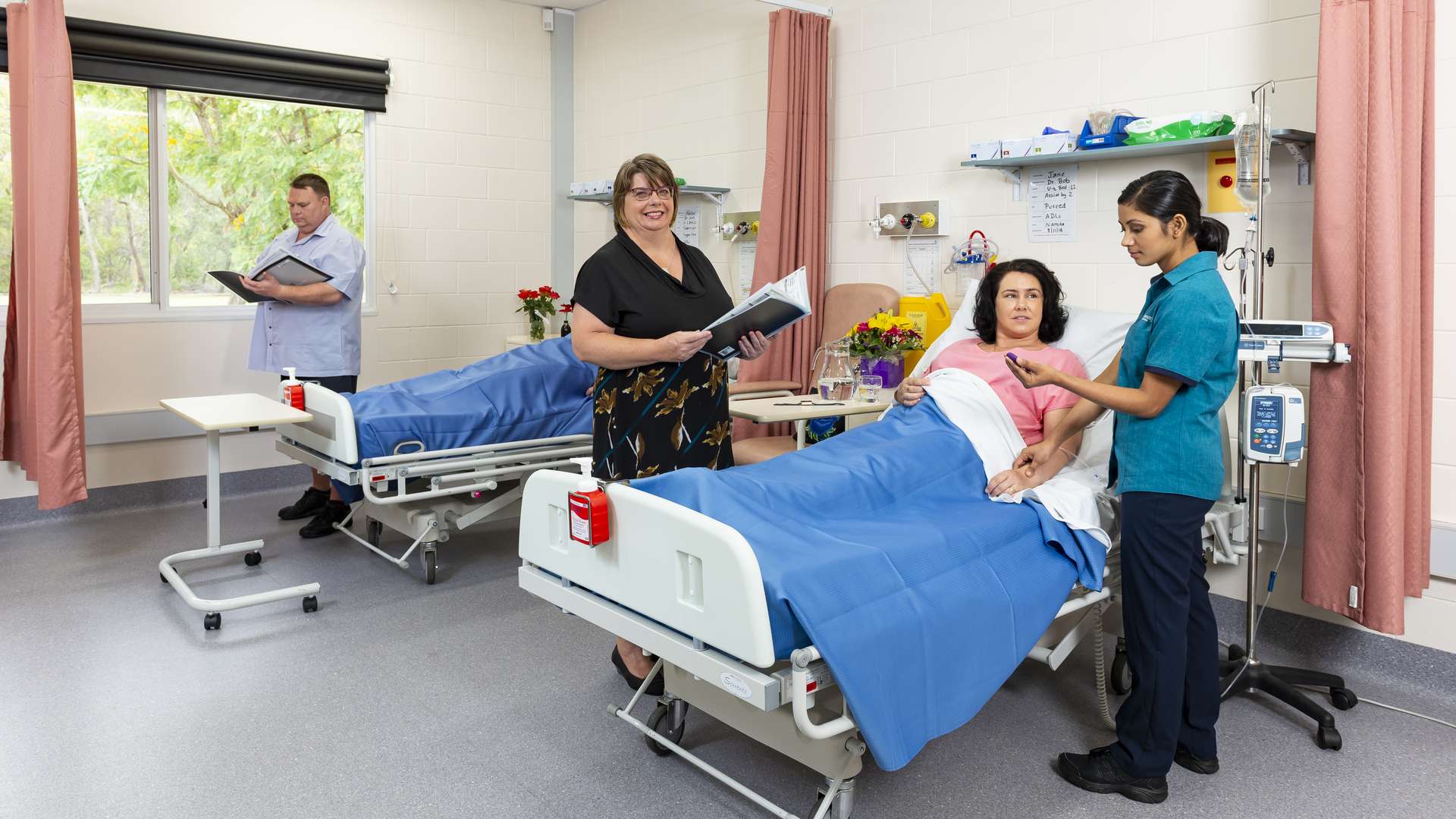 Overview
If you are a Registered Nurse who would like to make enhanced clinical decisions and lead clinical practice then our Master of Clinical Nursing is ideal for you. You'll gain advanced skills and knowledge in your specialist area of practice, and develop your clinical decision making skills. Tailor your studies to your practice interests and choose a generalist, gerontology, or medical/surgical major.
The Master of Clinical Nursing prepares you to make enhanced clinical decisions and lead clinical practice. You will develop your skills and knowledge in sound theoretical and ethical frameworks that support evidence based, person-centred nursing care.
The course is a discipline based degree with twelve units covering:
Patient Deterioration,

Clinical Governance,

Professional Practice,

Specialty Practice,

Clinical Learning and Teaching Leadership,

Research, and

a Quality Improvement project.

You will also select a Generalist, Gerontology or Medical / Surgical Nursing major to tailor your studies.
Your first year of study aims to enhance confidence and competence in the clinical areas. It includes clinically based practice and theory. Your second year focuses on enhancing professional and clinical skills within your specialist area of practice. The use of a portfolio will allow you to apply your learning to your own clinical practice and document your career development. The third year focuses on the acquisition of research knowledge and skills. You'll also complete your quality improvement project in your area of specialty. To meet the learning outcomes of this course, you must be nursing in a clinical area where clinical skills are employed.
The Master of Clinical Nursing provides you with a nursing-specific, high-level, post-graduate qualification. You'll develop clinical decision makings skills through the use of evidence, reflection, discussion and critical review of situation, context and resources. You will examine contemporary issues impacting on health care delivery. Plus, you'll develop your clinical, professional and leadership skills to promote consumer outcomes. As a graduate, many exciting and rewarding opportunities may be available to you, including promotion.
Career Opportunities
The Master of Clinical Nursing provides Registered Nurses with a nursing specific high level post-graduate qualification.This qualification has the potential to create many exciting and rewarding opportunities for graduates including increased financial remuneration from some employers. Graduates will attain competency and confidence to be able to undertake the many nurse leadership positions available within the health care industry; Clinical Nurse Specialist, Nurse Consultant and Nurse Unit Manager roles. This qualification will also provide registered nurses with the competitive edge in order to apply for promotion.The research component of the course will allow graduates to move into research roles and even lead applied clinical research.
Structure & Availability
Course Structure
You are required to complete 12 units made up of six core units, and a 6-unit major. You can choose from a Generalist, Gerontology, or Medical/Surgical major. 
Unit Information
For information on the units, you could study as part of this course, visit the Handbook and select the "Course Structure" tab.
Credit Transfer Information
If you have already completed study relevant to the course you have enrolled in, you may be eligible for credit transfer.
Online Availability
| Intake | Locations |
| --- | --- |
| Term 1, 2024 | Available Online |
Generalist major
Tailored to registered nurses not working in an identified speciality area, this major gives you the opportunity to advance your clinical knowledge and leadership to undertake leadership positions in the healthcare industry. 

Gerontology major
Gain expert knowledge and technical skills within the speciality area of gerontology. Plus, you will learn to critique health assessments of an elderly patient and promote the agency of older patients when planning health care responses. 

Medical Surgical major
Develop knowledge and skills to specialise in medical and surgical interventions of a patient. You will graduate with demonstrated autonomy, expert judgement, adaptability and responsibility to prepare you for a specialist leadership role. 
 
This course has no residential schools.
Requirements
To study this course you will need to meet the entry requirements outlined below and be enrolled in a partnered Graduate Program at one of the following Hospital and Health Services/hospitals.

Cairns Hinterland Hospital and Health Services
    - Cairns Hospital
Mater Townsville
Central Queensland Hospital and Health Services
    - Rockhampton
    - Gladstone Hospital
Mackay Hospital and Health Services
    - Mackay Hospital
Wide Bay Hospital and Health Services
    - Bundaberg Hospital  
    - Hervey Bay Hospital
    - Maryborough
Metro South
    - PA Hospital
    - Logan Hospital
    - Redland Bay Hospital
    - QE2 Hospital
Western District Health Service (Victoria)
    - Hamilton Hospital
Port Pirie Regional Health Service - Yorke and Northern Local Health Network
    - Port Pirie Hospital

To be eligible for entry into this course, applicants must supply:
Evidence of current registration as a Registered Nurse with Australian Health Practitioner Regulation Agency (AHPRA); and
A letter of support from your employer to undertake the course and that you are currently employed in Australia in your nominated area of specialisation.
Letters of employment must be presented on a company letterhead and be signed and dated by a delegated authority. Please ensure that the letter contains your full name, position title, duties performed, hours per week, and length of service.
English Language Proficiency Requirements:
If you were not born in Australia, Canada, New Zealand, United Kingdom, Ireland, South Africa or United States of America you are required to meet the English Language Proficiency requirements set by the University. Applicants are required to provide evidence of completion of:
A secondary qualification (Year 11 and 12, or equivalent), or
An Australian Qualifications Framework (AQF) diploma level qualification, or
Bachelor level qualification study for a period of at least 2 years full time with a minimum overall GPA 4.0
Completed within Australia, Canada, New Zealand, United Kingdom, South Africa, Ireland, or United States of America, which will meet the English proficiency.
If you do not satisfy any of the above you will need to undertake an English language proficiency test and achieve the following scores as below:
An International English Language Testing System (IELTS Academic) overall band score of at least 6.0 overall with a minimum 5.5 in each subset; or
Test of English as a Foreign Language (TOEFL) - Requires 550 or better overall & minimum TWE score of 4.5 (Paper Based Test), or 75 or better overall and no score less than 17 (Internet Based Test); or
Pearson Test of English Academic (PTE Academic) - Requires an overall score of 54 with no sub-score less than 46; or
An Occupational English Test with Grades A or B only in each of the four components.
English test results remain valid for no more than two years between final examination date and the date of commencement of study and must appear on a single result certificate.
If you are an International student, please visit International students English requirements for further information.
Each student will be assessed individually.
You will have to meet this course's
inherent requirements
by demonstrating essential skills and attributes.
Fees & Scholarships
2023 Indicative Fees
| Fee Type | Fees |
| --- | --- |
| Domestic Full Fee Paying – Indicative First Year Fee | $26,184 |
The indicative first year fee is an approximate cost of enrolling in this course for one academic year. Your actual fees may vary, depending on the units that you select to study and the number of units you study per term. You can view unit fees in the Cost Per Unit table. Fees are reviewed annually and are subject to change.
Indicative fees for Graduate Certificate courses are based on studying four units in an academic year.
Indicative fees for Graduate Diploma and Master courses are based on studying eight units in an academic year. 
ABOUT FEES

Fee Category
Full fee paying place
What is a Full Fee Paying Place
As a full fee-paying student, you are required to pay full tuition fees for your course.
Fee Type
Tuition Fees
What is my tuition fee?

Your tuition fees are charged per unit of study based on the credit point value of each unit. Our Tuition Fee Schedules provide an estimate of fees per unit. You can also view fees specific to the course, and units, you are interested in studying by using our Cost Per Unit table.

FEE-HELP and payment options

FEE-HELP is the loan scheme provided the Australian Government to help eligible students pay their tuition fees through a loan. Eligible students can use a FEE-HELP loan to pay for all or some of their tuition fees. If you elect to use a FEE-HELP loan, this means that you will defer payment of your tuition fees and repay your FEE-HELP loan when your income is above the compulsory repayment threshold.

You must meet specific eligibility requirements to be able to use FEE-HELP assistance. If you are not eligible for a FEE-HELP loan, or you are required to pay your tuition fees upfront, you will need to pay your fees no later than the census date for the term in which you are studying.

Other Fees
You will also incur a Student Services and Amenities Fee.
Other study costs
You may have other study costs such as travel expenses related to residential schools or work placements if they are a requirement of your course. There are also textbooks, stationery and other sundry costs associated with studying.
At CQUniversity, we believe higher education should be for everyone. No matter your situation, we know that everyone needs a helping hand from time to time, and we are proud to offer a wide range of scholarships, bursaries and stipends.
Our scholarships could help you pay for things like relocation, living on campus, laptops and technology, childcare, study and living expenses, travel and more. 

How to apply
If you have decided what you would like to study and are ready to apply, we're here to help you along the way.  Before you apply, you will need to have a Unique Student Identifier (USI).  If you do not have a USI, creating one is quick and easy.  Simply visit usi.gov.au to create one.

Want to know more about application dates and other admission information?
View our important dates information and read about other admission considerations such as information for domestic students with overseas qualifications, indigenous support, and elite athlete, coach and performer support.

APPLY DIRECTLY TO CQUNIVERSITY
To apply for this course, submit your application directly to CQUniversity using the Apply button below.