Master of Paramedic Science (Primary Healthcare Practice)
| | |
| --- | --- |
| Duration | 1.5 years full-time, 3 years part-time |
| Location | Online |
| Next start term | Term 1, 2024 |
| Study mode | Online |
| Course code | CH87 |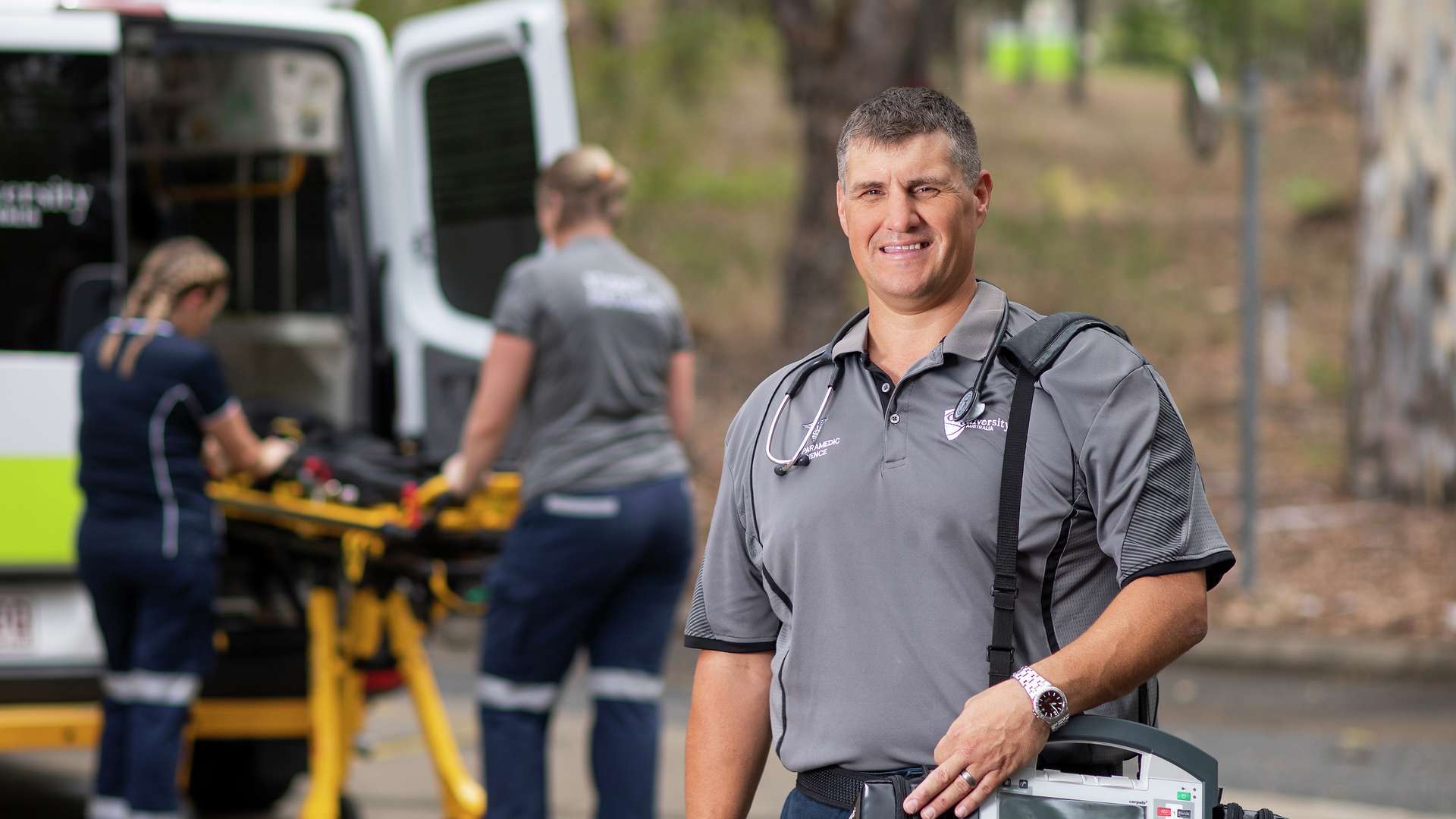 Overview
Designed to meet industry needs, the Master of Paramedic Science (Primary Healthcare Practice) will equip you to take on the leadership role of a paramedic specialising in primary healthcare practice who can provide essential services in the non-emergency, out-of-hospital, low acuity or primary healthcare settings.
This course provides you with the skills, knowledge, clinical reasoning and leadership strategies to meet the role of a paramedic specialising in primary healthcare practice. Paramedics with a focus on primary healthcare are advanced healthcare professionals who can provide essential services in the non-emergency, out-of-hospital, low acuity or primary healthcare settings.
Upon completion of this course, you will be able to deliver a primary care level of paramedic practice as well as the ability to identify alternative pathways within the healthcare system to effectively and independently manage a broad range of common chronic and low acuity disease states. This care is a patient-centred approach that ensures you are a competent and yet diverse clinical practitioner who can meet low acuity healthcare needs of the community. Additionally, this role often involves leadership within both the paramedic profession and healthcare system that can support a range of activity from education to managerial needs.
Career Opportunities
The Master of Paramedic Science (Primary Healthcare Practice) supports graduates to operate in the expanding professional areas of paramedic practice. It provides you with the knowledge and skills to move towards the evolving roles of paramedics, extended or community care paramedic positions.
Structure & Availability
COURSE STRUCTURE
You are required to complete 9 units.

UNIT INFORMATION
For information on the units, you could study as part of this course, visit the Handbook and select the "Course Structure" tab.

CREDIT TRANSFER INFORMATION
If you have already completed study relevant to the course you have enrolled in, you may be eligible for credit transfer.
Online Availability
| Intake | Locations |
| --- | --- |
| Term 1, 2024 | Available Online |
Majors and minors are not applicable to this course.
Some units in this course will require compulsory attendance at residential schools.
Primary Healthcare Placement - PMSC28001
Students will undertake Work Integrated Learning placements with primary healthcare providers within this unit to gain experience and develop primary healthcare knowledge and skills.
Requirements
Recommended study
Prior studies in the paramedic science discipline area.

To be eligible for entry into this course, applicants must hold:
· Current registration as a paramedic with the Australian Health Practitioner Regulation Agency (AHPRA); and
· A minimum of 3 years unsupervised clinical operational experience at a paramedic level, or
· A minimum of 1 year of clinical operational experience in a specialist role such as intensive or critical care paramedic.
Employment experience must be shown in a letter of employment which is presented on a company letterhead as well as signed and dated by a delegated authority. The letter must contain your full name, position title, duties performed, and length of service.
English Language Proficiency Requirements:
If you were not born in Australia, Canada, New Zealand, United Kingdom, Ireland, South Africa or United States of America you are required to meet the English Language Proficiency requirements set by the University. Applicants are required to provide evidence of completion within the last 5 years of:
A secondary qualification (Year 11 and 12, or equivalent), or

Bachelor level qualification study for a period of at least 2 years full time with a minimum overall GPA 4.0



Completed within Australia, Canada, New Zealand, United Kingdom, South Africa, Ireland, or United States of America, which will meet the English proficiency.
If you do not satisfy any of the above you will need to undertake an English language proficiency test and achieve the following scores as below.
An International English Language Testing System (IELTS Academic) overall band score of at least 7.0 overall with a minimum 7.0 in each subset; or

Test of English as a Foreign Language (TOEFL iBT) – requires 94 or better overall and no score less than 27 for writing, 23 for speaking and 24 for listening and reading.

Pearson Test of English Academic (PTE Academic)

‐

Requires an overall score of 65 with no sub

‐

score less than 65; or

An Occupational English Test with Grades A or B only in each of the four components.
English test results remain valid for no more than two years between final examination date and the date of commencement of study, and must appear on a single result certificate.
Each student will be assessed individually.
Paramedic students' English language skills are directly aligned with the requirements of the Australian Health Practitioner Regulation Agency (AHPRA).
The COVID-19 vaccination is mandatory to be eligible to attend a WIL placement for this course. Students will be required to provide evidence of having an up-to-date COVID-19 vaccination status by the closing date prior to a WIL placement. The vaccine received must be a vaccine approved by the Therapeutic Goods Administration (TGA) of Australia.
Work-Integrated Learning (WIL) placements apply to this course and as such are subject to compulsory pre-placement conditions referred to as mandatory checks and are outlined in the health, security and other compulsory requirements sections. Mandatory checks are determined by industry, organisations, legislation, regulations, policies, and procedures. To be eligible for a WIL placement, students must first achieve compliance with mandatory checks by each closing date prior to a WIL placement and maintain current evidence for the duration of the course.
Mandatory health requirements include immunisation and vaccination evidence (and serology where required) to the following diseases: COVID-19 (up-to-date status), Hepatitis B, Measles, Mumps and Rubella, Varicella, Pertussis, Influenza, and Tuberculosis screening. Respirator mask fit testing is also an annual requirement for this course.
Mandatory security requirements include an Australian Federal Police clearance.
Other mandatory requirements include student agreement to privacy and confidentiality, adherence to Ahpra policies for a registered professional, fitness to participate in WIL student declaration, jurisdictional and site-specific compulsory requirements, and other training modules.
You will have to meet this course's
inherent requirements
by demonstrating essential skills and attributes.
Fees & Scholarships
2023 Indicative Fees
| Fee Type | Fees |
| --- | --- |
| Domestic Full Fee Paying – Indicative First Year Fee | $26,853 |
The indicative first year fee is an approximate cost of enrolling in this course for one academic year. Your actual fees may vary, depending on the units that you select to study and the number of units you study per term. You can view unit fees in the Cost Per Unit table. Fees are reviewed annually and are subject to change.
Indicative fees for Graduate Certificate courses are based on studying four units in an academic year.
Indicative fees for Graduate Diploma and Master courses are based on studying eight units in an academic year. 
ABOUT FEES
Fee Category
Full fee paying place
What is a Full Fee Paying Place
As a full fee paying students, you are required to pay full tuition fees for your course.
Fee Type
Tuition Fees
What is my tuition fee?
Your tuition fees are charged per unit of study based on the credit point value of each unit.
Our Tuition Fee Schedules provide an estimate of fees per unit.
You can also view fees specific to the course, and units, you are interested in studying by using our Cost Per Unit table.
FEE-HELP and payment options
FEE-HELP is the loan scheme provided the Australian Government to help eligible students pay their tuition fees through a loan.
Eligible students can use a FEE-HELP loan to pay for all, or some of their tuition fees. If you elect to use a FEE-HELP loan, this means that you will defer payment of your tuition fees and repay your FEE-HELP loan when your income is above the compulsory repayment threshold (the 2018-2019 income year threshold is $51,957 or above).
You must meet specific eligibility requirements to be able to use FEE-HELP assistance.
If you are not eligible for a FEE-HELP loan, or you are required to pay your tuition fees upfront, you will need to pay your fees no later than the census date for the term in which you are studying.
Other Fees
You will also incur a Student Services and Amenities Fee.
Other study costs
You may have other study costs such as travel expenses related to residential schools or work placements if they are a requirement of your course. There are also textbooks, stationery and other sundry costs associated with studying. Incidental fees are applicable for clinical placement forfeiture and clinical placement supplementation if this occurs
At CQUniversity, we believe higher education should be for everyone. No matter your situation, we know that everyone needs a helping hand from time to time, and we are proud to offer a wide range of scholarships, bursaries and stipends.
Our scholarships could help you pay for things like relocation, living on campus, laptops and technology, childcare, study and living expenses, travel and more. 

How to apply
If you have decided what you would like to study and are ready to apply, we're here to help you along the way.  Before you apply, you will need to have a Unique Student Identifier (USI).  If you do not have a USI, creating one is quick and easy.  Simply visit usi.gov.au to create one.

Want to know more about application dates and other admission information?
View our important dates information and read about other admission considerations such as information for domestic students with overseas qualifications, indigenous support, and elite athlete, coach and performer support.

APPLY DIRECTLY TO CQUNIVERSITY
To apply for this course, submit your application directly to CQUniversity using the Apply button below.