Graduate Certificate in Nursing (Re-Entry)
| | |
| --- | --- |
| Duration | 0.5 years full-time, 1 year part-time |
| Location | Online |
| Next start term | Term 1, 2024 |
| Study mode | Online |
| Course code | CH79 |
This course offers Commonwealth Supported Places, meaning you may be eligible for significant fee savings.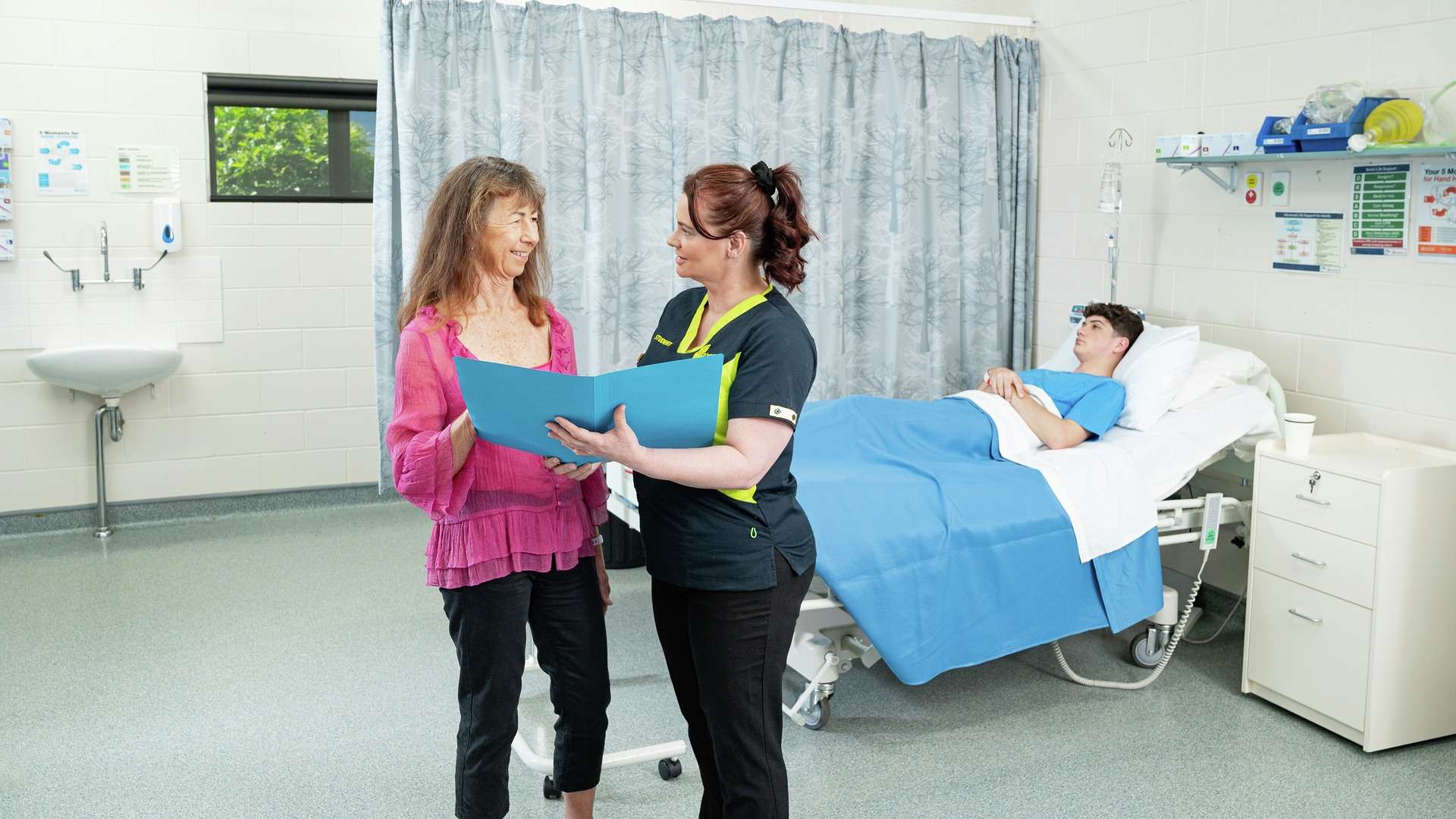 Overview
If you are a registered nurse whose registration has lapsed, this course will enable you to regain full registration while also assisting you to build your skills and experience.
The Graduate Certificate in Nursing (Re-Entry) enables you to develop advanced knowledge and skills in order to return to work as a Registered Nurse. This course will build on your existing theoretical, practical and research knowledge. This course will include a five-day residential school and 160 hours of industry-based learning. On successful completion of the Graduate Certificate of Nursing (Re-Entry), you will be eligible for registration as a Registered Nurse with the Nursing and Midwifery Board of Australia.
Career Opportunities
Upon completion of the Graduate Certificate in Nursing (Re-entry) and acquiring registration with the Nursing and Midwifery Board of Australia you will be equipped to work as a Registered Nurse within Australia. As a Nurse, you can choose from a number of roles in the healthcare profession including positions in:
public and private hospitals
general health services
mental health
community health
residential care
indigenous health
remote and rural health.
Structure & Availability
You are required to complete three core units.
Unit information
For information on the units, you could study as part of this course, visit the Handbook and select the "Course Structure" tab.
Credit transfer information
If you have already completed study relevant to the course you have enrolled in, you may be eligible for credit transfer.
Online Availability
| Intake | Locations |
| --- | --- |
| Term 1, 2024 | Available Online |
| Term 2, 2024 | Available Online |
Term 1 2024 Application Timelines
Applications for Term 1, 2024, for this course close on Monday, 19 February 2024. 
Majors and minors are not applicable to this course.
Students must attend a 5-day compulsory residential school at the end of the term, before attending work-integrated learning. The location of the residential school will be determined by timetabling.
Professional Practice - Australian Nursing and Midwifery Accreditation Council (ANMAC)
Core
This course has professional accreditation with the Nursing and Midwifery Board of Australia, subject to Australian Nursing and Midwifery Accreditation Council (ANMAC) approval.
Clinical Nursing Practice - NURS20162
Students will complete 160 hours of work-integrated learning in an area of nursing where they have relevant experience. Student rosters will be at the discretion of the facility, it is expected that students work all shifts. Students may be required to travel to attend work-integrated learning.
Requirements
Recommended study
Students must seek permission from the Head of Course to be enrolled in full-time study.  Part-time study does not require approval.
It is strongly recommended that students have computer literacy skills and can write in English at an academic level.  Prior experience of online learning will be of benefit to students enrolled in this course.
Students are expected to commit to 12.5 hours per week, per unit, therefore, students who have multiple time commitments are strongly encouraged to study part-time.
To be eligible to enrol in this course applicants must be referred by the AHPRA/NMBA to undertake "a board approved re-entry to practice program". A copy of this referral must be supplied with your application. NMBA/AHPRA referrals have an expiry date, therefore, applicants are responsible for ensuring they have sufficient time to complete the course (including work-integrated learning). For further information please refer to the Nursing and Midwifery Board Re-Entry to Practice.
Domestic students from non-English speaking backgrounds may be required to undertake an academic IELTS (International English Language Testing System) with a minimum achievement of 7 across all bands and overall prior to undertaking their clinical placement. This is in order to meet Australian Nursing and Midwifery Accreditation Council standard 5.6. At the discretion of the Head of Course, students may be referred to an internal English short course at their own expense. This is in order to meet Australia Nursing and Midwifery Accreditation Council standard 2.2.
The COVID-19 vaccination is mandatory to be eligible to attend a WIL placement for this course. Students must provide evidence of having an up-to-date COVID-19 vaccination status by the closing date before a WIL placement. The vaccine received must be a vaccine approved by the Therapeutic Goods Administration (TGA) of Australia.
Work-Integrated Learning (WIL) placements apply to this course and as such are subject to compulsory pre-placement conditions referred to as mandatory checks and are outlined in the health, security and other compulsory requirements sections. Mandatory checks are determined by industry, organisations, legislation, regulations, policies, and procedures. To be eligible for a WIL placement, students must first achieve compliance with mandatory checks by each closing date before a WIL placement and maintain current evidence for the duration of the course.
Mandatory health requirements include immunisation and vaccination evidence (and serology where required) for the following diseases: COVID-19 (up-to-date status), Hepatitis B, Measles, Mumps and Rubella, Varicella, Pertussis, Influenza, and Tuberculosis screening. Respirator mask fit testing is also an annual requirement for this course.
Mandatory security requirements include an Australian Federal Police clearance, working with children check, and NDIS worker screening clearance.
Other mandatory requirements include a First Aid and CPR certificate, student agreement to privacy and confidentiality, adherence to AHPRA policies for a registered student professional, fitness to participate in WIL student declaration, jurisdictional and site-specific compulsory requirements, and other training modules.
You will have to meet this course's
inherent requirements
by demonstrating essential skills and attributes.
Fees & Scholarships
2023 Indicative Fees
| Fee Type | Fees |
| --- | --- |
| Commonwealth Supported Place – Indicative First Year Fee | $2,061 |
| Domestic Full Fee Paying – Indicative First Year Fee | $13,092 |
2024 Indicative Fees
| Fee Type | Fees |
| --- | --- |
| Commonwealth Supported Place – Indicative First Year Fee | $2,221 |
| Domestic Full Fee Paying – Indicative First Year Fee | $13,878 |
Indicative first-year fee
The fees listed are indicative only and based on enrolling in a full-time study load for one academic year (generally, this is four units over one term for a graduate certificate or eight units over two terms for a graduate diploma or masters degree). Your fees may vary depending on the units you select and the number you study per term. Fees are reviewed annually and are subject to change. Understanding your fees.
Commonwealth supported places
With Commonwealth Supported Places (CSP) available for this course, you may be eligible for significant fee savings. If you are not eligible for a CSP or if CSPs are full, you will be required to pay full fees. Find out more about CSP eligibility criteria.
Government assistance and HELP loans
Commonwealth Supported Places (CSPs) are subsidised by the Australian Government, meaning you are only required to pay the student contribution rather than full tuition fees if you meet eligibility requirements. If offered a CSP, you may be eligible for a HECS-HELP government loan. HECS-HELP is an Australian Government loan scheme that assists you in paying your student contributions. Provided you meet the HECS-HELP eligibility criteria, you may use HECS-HELP to defer part or all of your student contribution fees. Learn more about paying for university.
Other study costs
Part of your course costs includes Student Services and Amenities Fees (SSAF). There may also be additional costs as part of your studies, such as textbooks, technology expenses, travel expenses, professional certifications, or vaccinations. Explore other study costs.
At CQUniversity, we believe higher education should be for everyone. No matter your situation, we know that everyone needs a helping hand from time to time, and we are proud to offer a wide range of scholarships, bursaries and stipends.
Our scholarships could help you pay for things like relocation, living on campus, laptops and technology, childcare, study and living expenses, travel and more. 

How to apply
If you have decided what you would like to study and are ready to apply, we're here to help you along the way.  Before you apply, you will need to have a Unique Student Identifier (USI).  If you do not have a USI, creating one is quick and easy.  Simply visit usi.gov.au to create one.

Want to know more about application dates and other admission information?
View our important dates information and read about other admission considerations such as information for domestic students with overseas qualifications, indigenous support, and elite athlete, coach and performer support.

APPLY DIRECTLY TO CQUNIVERSITY
To apply for this course, submit your application directly to CQUniversity using the Apply button below.