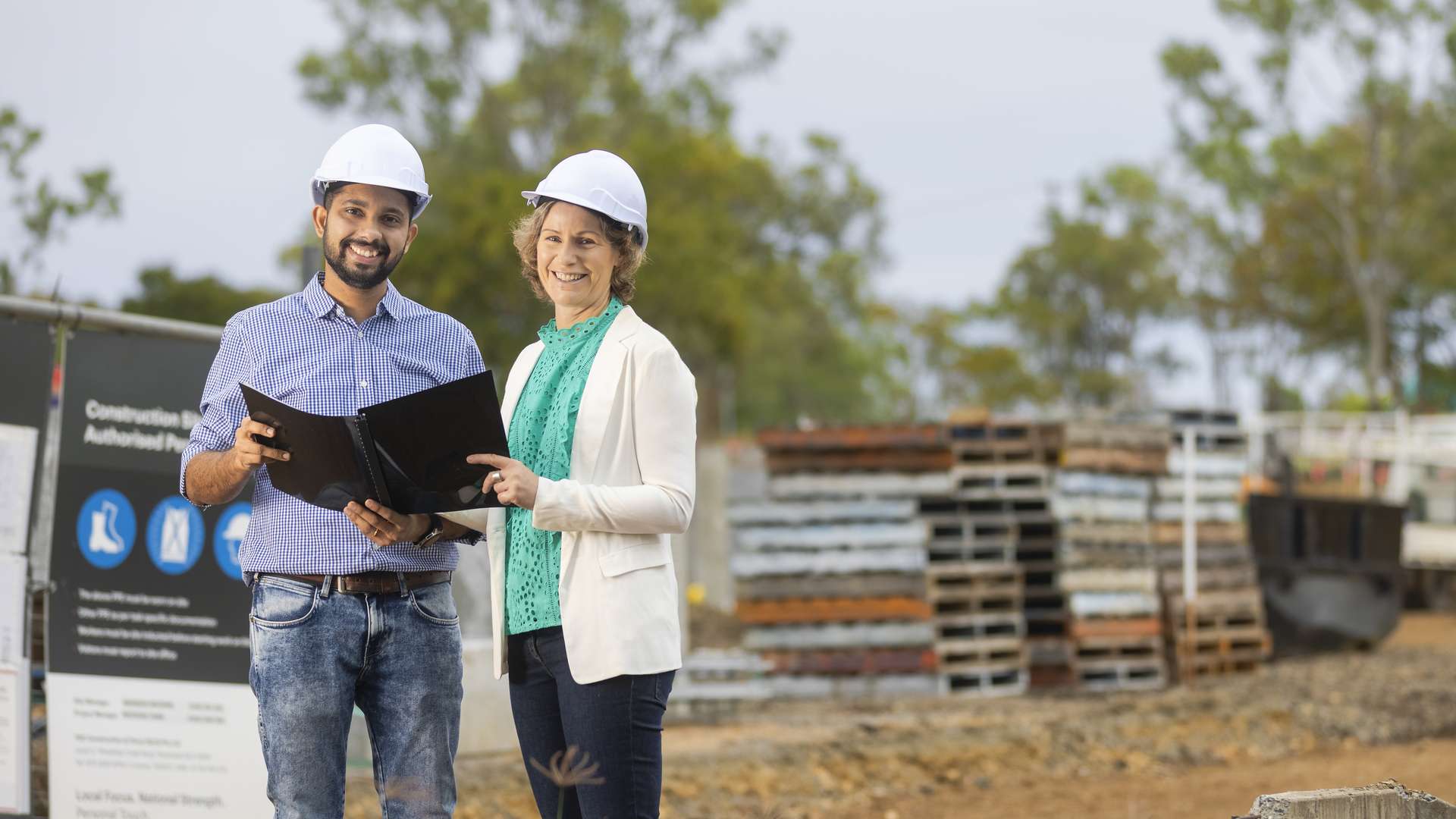 Internships and work placements play a crucial role in developing your employability and maximising your employment prospects.
CQUniversity's internship program is one key aspect of our career preparation support to deliver the best possible employment outcomes for our international students. We are proud that many of them ended up securing employment with their host organisations.
Our internships come at no additional cost or course duration and no GPA hurdle. And the best thing is we will find a suitable internship for you.
Top achievements
Student placements have grown by approximately 50% year on year.
Over 1000 international students have been placed.
Placements are spread across the country: Brisbane, Melbourne, Rockhampton, Sydney and Perth, with new opportunities being explored in Cairns and regional Queensland.
Students gain work experience in government, private sectors and the non-profit sector, with opportunities available in all organisation types from large multi-nationals to small family-owned businesses and innovative start-ups.
Host organisations span engineering, IT and hospitality industries – from rail technology frontrunners to world leaders in data science and research, to eminent hotel chains and international aviation giants.
The growth we are seeing in enrolments in courses with internships are indicators that we are on the right path in terms of providing a platform for our students to gain invaluable work experience. The growth also shows that students have begun to place greater importance on the opportunity to gain work experience during their studies.
Courses with internships
In the 2021 International Student Barometer, our students have told us their experience at CQUniversity prepared them well for their career goals, placing us well above the Australian university average in their career goal preparation satisfaction. They were satisfied with career advice from staff, that their course would help them get a good job, and with making good contacts for the future.
Working in an organisation in your area of study allows you to build networks in that field that may open doors for you in the future.
Gain a competitive edge in the global job market and increase your chances of full-time employment once you graduate.
Enhance and develop skills in teamwork, decision-making and communication while having the chance to put your academic knowledge into practice.
Experience an understanding of Australian work practices and culture.
The internship will give added value to your degree and at no extra cost.
The internship is offered over a 10–12 week period. You will not be required to undertake any other units during this period, which means you will be able to concentrate on your internship and get the most from the experience.
The duration of your degree is not extended, which means you can still complete your bachelor's degree in three years and your master's degree in two years.
The internship is found for you by CQUniversity and our Internship Partners – market leaders in career development programs for international candidates.
You will undertake the relevant prerequisite unit, which ensures you have the knowledge to succeed in an Australian working environment.
CQUniversity works with Internships Providers to source internships for eligible students.
Our providers have partnerships with thousands of host companies with opportunities to suit every discipline.
Previous host organisations have included:
Asahi Australia
Australian Grand Prix
BHP
Bitzer Australia
Bombardier Australia
Boral
Daimler Mercedes Truck & Bus
Endeavour Foundation Enterprises
Finisar Australia
Gold Coast Health
Holcim Australia
iBuild
Komatsu
Monash IVF
PGH Bricks & Pavers
QLD Tafe
Racing Victoria
Shebah
Transdev
Tritium
Vacupack
Wallenius Wilhelmsen
Wesley Mission
Westkon Precast
Winslow Constructors
multiple city councils
eminent hotel chains
and more.
Follow the appropriate Internship Planner for your Course, you must have completed all other units prior to the term of the internship.
Attend one of the 'How to Apply' sessions, conducted by the CQUniversity Internships team.
Interested students need to submit the Student Internship Agreement by week two of the term prior to your internship.
Once applications are received, the CQUniversity will assess your eligibility and allocate eligible students to an Internship Provider. This will be based on location, field of study and personal preference.
Students will receive an email with all the necessary information and will need to submit the required documentation to the Internship Providers.
CQUniversity and the selected Internship Provider will search for companies in your preferred industry from a network of over 3000 organisations.
The Internship Provider will contact an appropriate company, negotiate on your behalf and set up an interview.
The Internship Provider will coach you and host mock interviews to get your interview skills on point.
You must then complete an interview with the selected organisation to be successfully placed. Don't worry, if you don't get it right the first time you are given two more chances to secure a position.
Your internship begins.
During the internship
The Internship Provider will assign you a dedicated Internship Program Supervisor and a workplace mentor who will monitor your training and provide one-on-one guidance and support throughout the course.
During the internship, CQUniversity staff and academics are there to support you. There will be regular check-in points, assessment workshops and assessment pieces, plus evaluation forms that you and your workplace supervisor need to complete.
Once your internship is finished, you will need to complete the final assessment piece and present your final report. In some cases, your workplace mentor/supervisor will be asked to attend.
Transcript
I'm Stephan Van Heerden, I studied a Bachelor or Engineering at CQUniversity in Bundaberg.
My name is Shibirajan, I studied a Master of Mechanical Engineering at CQUniversity Australia
My name is Urusha Kansakar and I graduated from the Master of Professional Accounting.
CQUniversity provided me many platforms to go beyond my potential.
I am working as an Assistant Accountant in the construction industry. This was my first accounting job in Australia, and I was promoted after my first year.
This course provided me financial literacy, theoretical skills as well as computer skills.
With the internship I met a lot of people in the industry that I worked in and that helped me a lot with my career after university.
So, I encourage future students and current students to make sure that I have enough contact with the clients and with the current workforce so that they have a good network for the end of the day when they finish with the University.
It's a very clear philosophy within Knauf to pursue and bring on board the absolutely best people that we can find. So, it was a good avenue for us to partner with CQUniversity.
The graduates from there seem to transition better than other graduates that I've certainly had exposure to.
During my internship, I gained the confidence to make contributions to the company's operational processes where, apart from learning high-level business processes, I enhanced my critical evaluation, problem-solving, verbal and written skills.

At the end of my internship, I secured a job offer and am excited to be part of the team."
I was offered a scholarship from CQUniversity. At the end of my first year, CQUniversity found me an internship through which I was offered a job and I've been working there ever since.
I was really happy with the experience, and I learned how engineering text theory-based knowledge can be applied to a real-life experience.
Although most of my course was online due to COVID-19 lockdowns, I was still able to learn and get ready for my future profession, thanks to the knowledge, skills and preparation provided by CQUniversity.
My internship placement opened my eyes to the world of business management.
The experience was wonderful, and I was employed right after my internship.
The 3-month internship was the highlight of my degree. I was placed with the City of Port Phillip Council and put onto multiple projects.
I implemented techniques learnt in my coursework and enjoyed networking with the stakeholders. I was on top of the world when I received a job offer – I got to start my professional journey in Australia and was happy that the hard work finally paid off.
Since coming to CQUniversity has broadened my visions on what I can become as an engineer in manufacturing, mining, and teaching sectors. I know that wherever I go and whatever I do, CQUniversity has enabled me to become the best version of myself.
"

During my internship, it was a great experience working with different minds, which has enhanced my overall skills. I took the best decision ever to study with CQU and secured a job from my internship.

Master of Management for Engineers, Pakistan
Why choose an internship?
Transcript
Real-world skills & relevant, hands-on experience
Gain a competitive advantage with CQUni's internships.
Top 2% worldwide for Graduate Employability Rankings
No additional cost
No extension to course
No GPA hurdle
No need to find your own internship
Added value, yes
More reasons why internships are important?
Insight, Understanding, Experience, Networks
Insight into work practices and your field of interest.
Understanding of Australian workplace culture, and how it operates.
Experience in hands-on, practical settings to apply in Australia or overseas.
Networks that improve your contacts and connections.
Nearly 1000 international students placed.
Brisbane, Melbourne, Perth, Rockhampton, Sydney
Government, Private sector, Non-profit
Multi-national businesses, Small family-owned businesses, Innovative start-ups
Engineering, IT, Business and Accounting
Be experienced
Be in demand
Be more employable
Frequently Asked Questions
During the first term of study, students will be contacted via email to inform them of the Internships Program.
This email encourages interested students to contact the Course Advice team to develop a modified study plan that includes the internship. At the beginning of the term, prior to the internship term, students will be invited to apply for the internship via an email with a Student Internship Agreement form. This form must be completed and submitted by week two of the term prior to the internship term.
If a student has not received one of these emails or has been granted advanced standing, therefore altering their study plan, they should contact the Internship team to discuss the application process via internships@cqu.edu.au.
Students undertake the internship in the final term of their program as per schedules listed in the document 'Internship scheduling'.
Students generally undertake the internship in the final term of study, with the exception of Master of Engineering (CV82) students. Please contact the Course Advice Team or access the correct study plan via the following Course Planners.
Yes, in most cases you will need to study in Term 3; however, if you have been granted advanced standing, you should discuss this with the Course Advice team.
For CV82 Master of Engineering, if the student has reduced study load or previous failed units, the student may require to undertake the internship unit in Term 3.
Yes, in most cases you can. However, if you are enrolled in a postgraduate Business program you must have at least two electives (12 credit points) available to undertake the internship.
You should keep this in mind when applying for credit/advanced standing and discuss your options with the Academic Pathways team and the Course Advice team
The are no extra fees to undertake the internship, you will pay the normal fee for a 12 credit point unit.
Note: the internship in School of Business and Law is taken in place of two 6 credit point elective units and in ICT and Project Management courses it replaces the 12 credit point capstone unit.
No, the internships are unpaid.
Students will attend the workplace typical office hours, Monday to Thursday for a ten/twelve-week period. Fridays will be devoted to completing the academic assessments and attending assessment workshops required by the various internship units.
The internships units for Business, Information Technology, Information Systems and Project Management require students to have successfully completed all other units on the first attempt. If you have experienced a fail, you are no longer eligible.
CV82 Master of Engineering students need to achieve 36 credit points and pass a compulsory unit – ENEG 20001 (Australian Engineering Practice).
It is recommended students interested in the internship program follow the appropriate internship pathway course planner including term 3 study.
The internship must be undertaken on its own in the final term of study, failing to follow the appropriate planner risks non eligibility in the internship program.
Yes you are, as long as you are still able to complete the course as listed in the course schedule within the period of your visa.