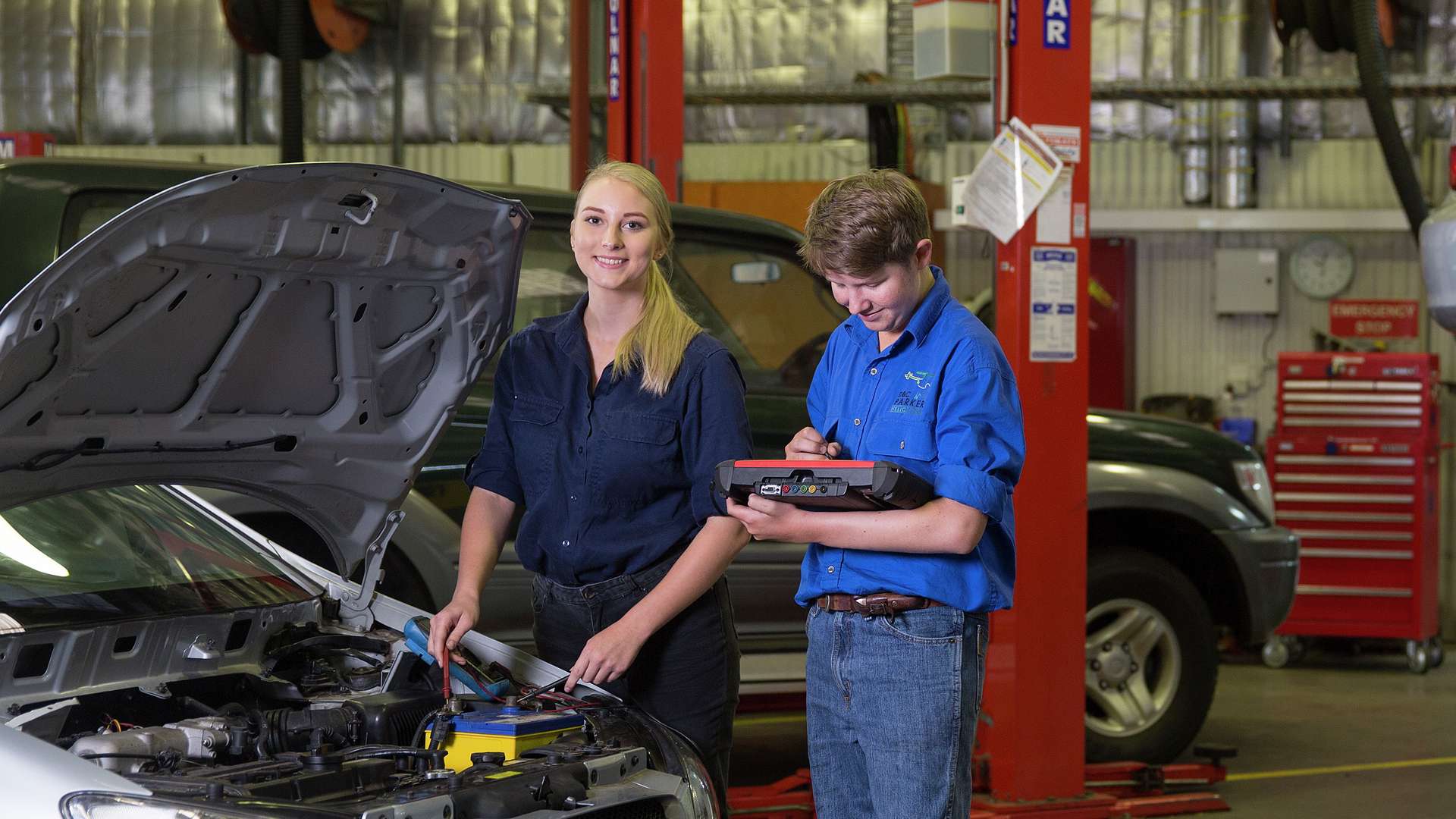 CQUniversity offers TAFE at school through our Start TAFE Now (STN) program, catering to Year 10*, 11, and 12 high school students. As a registered training organization, we provide the opportunity to commence your studies while still in school. You can choose from a diverse selection of vocational education and training (VET) courses that contribute towards your Queensland Certificate of Education (QCE).
Choose between a wide variety of study areas and enjoy a range of benefits.
practical hands-on training
valuable skills for greater employability
credit towards a Queensland Certificate of Education (QCE)
real trade skills and qualifications while completing high school
a competitive edge in the employment marketplace
credit towards further study
Plus, Year 11 students can include a Certificate III qualification or higher to contribute to their Australian Tertiary Admission Rank (ATAR).
*Applicants for Year 10 students may be considered if they meet the eligibility requirements and would like to study a course under the Start TAFE Now program. In this instance, please contact stn@cqu.edu.au prior to applying.
"

The training I received at CQU while still at school helped me get an idea what pathway I'd like to go down. Every day I looked forward to my Wednesday class at CQU, it felt like the first time school was trying to help me and I couldn't throw this away.

Certificate III in Engineering - Fabrication Trade
Frequently Asked Questions
We know that getting off to good start in any study is a great predictor for success, and Start TAFE Now is no exception. Here are our tips:
Know why you are doing this course – Everyone has different reasons and ways they go about choosing courses (and most things in life!). Even if this course was initially chosen for you, rather than by you, think about how it aligns with your strengths, interests, and career aspirations.  Knowing why you are doing this course – the purpose of it for you and how it will shape your life – will help you succeed, in particular during times when you might feel that is difficult.
Ask for help when you need to – One of the biggest differences between high school and TAFE/Uni study is that with the latter you often need to be the one who asks for help.  It isn't always just handed to you.  Having said that here at CQUni there is always someone to help.  Whether that it is asking our friendly Schools Engagement team (stn@cqu.edu.au) about your application, BKSB, enrolment or completion, your teacher about all of your learning and assessment, our IT team (TaSAC) for any tech issues you may face or any of our student support services.  Asking for help with something you don't know will get you closer to completing your course – don't ever hesitate to ask.
Have your resources ready to go – Read your CQU communications (make sure check your CQU email account often) prior to your course commencing, as well as listen carefully to what you are told on your first day.  Most courses will require some type of resource that is different to what you need for school, whether it is a pair of steel-capped boots or a type of software.  Do not delay in getting what you need to get your course done, and if you are stuck, refer to the above point (ask for help!).
Know your schedule and get into a routine – The schedule will be different for each course.  Some of you will have a day each school week when you are on campus; some of you will get to choose when you get online and engage with the learning material.  Either way, set and know your schedule, and remember to lock in time to complete your assessment as well.  The better planned you are and the sooner you get into a good study routine, the better.
Finally, do not forget to read and refer back to your Start TAFE Now Preparation for Term Guide which you will receive prior to classes commencing.
By completing a Start TAFE Now course you will receive credit (points) towards your Queensland Certificate of Education (QCE). You earn different points depending on what course level you complete. For information regarding Start TAFE Now QCE points refer to the STN Guide 2024.
The Basic Key Skills Builder (BKSB) is a Maths and English assessment tool. Once completed you will be assigned an Australian Core Skills Framework (ACSF) level. The ACSF level is then used to provide you with advice around the course of study and to identify if Maths and English support is required. You are required to complete the BKSB on your own.
Students should refer to their School VET Coordinator, Careers Counsellor or relevant school contact to discuss their SET plan and class timetable.
Students who are homeschooled or completing secondary study through alternative learning methods (distance education, Big Picture, Steiner etc) can apply for entry into STN.  Students who are home-schooled need to provide documentation showing evidence of registration with Home Education Unit. Students must be enrolled in a Queensland secondary school to be eligible to access the VETiS funding.
Start Uni Now
Get a headstart on your degree with our Start Uni Now (SUN) program. Study university-level units in Years 10, 11 and 12 at high school, and get a taste for uni life.
Want a Personal Chat?
Get your questions answered with a one-on-one conversation about your TAFE course of interest. Choose a time to connect with us via phone or video call, email or social media.