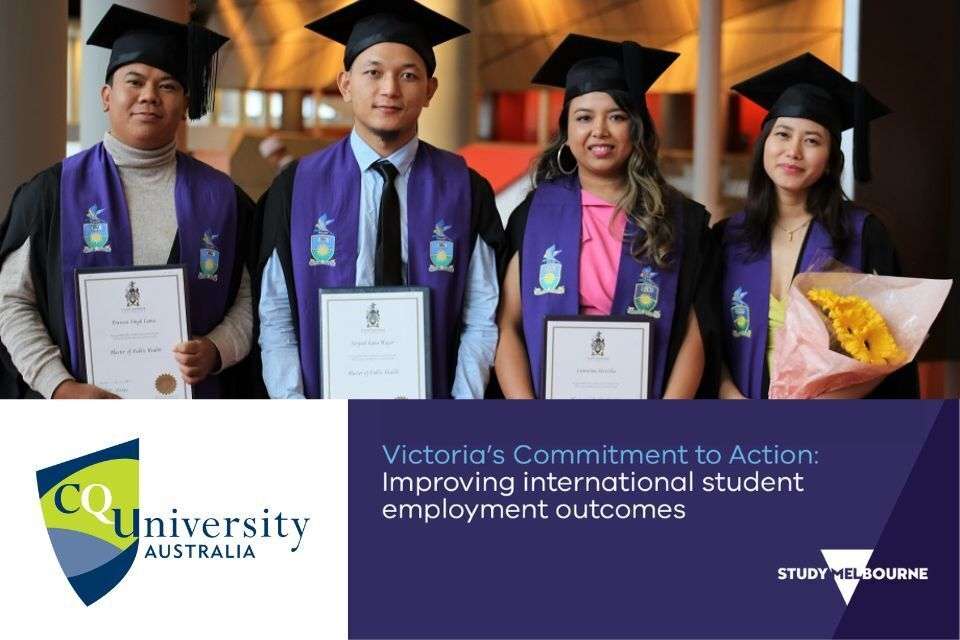 CQUniversity is proud to have joined the Victorian Government's Commitment to Action to improving international student employment outcomes.
CQU Melbourne, led by Associate Vice-President Will Alderton, has initiated CQU's role in the newly-announced partnership, which is led by international education initiative Study Melbourne.
The Commitment to Action sees the Victorian Government work with employers, industry bodies and education providers to address employment barriers and promote post-study pathways for global talent.
It encourages employers across Victoria to pledge to the following actions to improve the employment outcomes of international students in Victoria:
Employ more international students and graduates in their fields of expertise.
Offer more work experience to facilitate international students' access to quality and relevant work experience to build your talent pipeline and organisational diversity.
Set targets for international student and graduate employement.
Remove barriers by identifying and resolving any real or perceived barriers within the organisation and seek professional legal/migration advice as necessary.
Share success stories including employment statistics, employment case studies and advice for other employers.
CQUniversity Melbourne is home to more than 2000 international students, and the bustling inner-city campus partners with a range of employers and industry bodies to ensure students and graduates maximise their employment opportunities.
CQU's students are among more than 170,000 international students from over 170 countries who choose to come to Victoria to study, and CQU Acting AVP (Victoria Region) Annie Vassil said the determined young people are eager to contribute to the community.
"Skills shortages are placing pressure on employers across a range of sectors, but international students and graduates are a pool of high-calibre talent that can really make a difference in Victoria's skills base and business needs," she said.
"Employers who hire international students and graduates deepen their talent pool, develop an internationally-focused workforce and grow diversity and enthusiasm in the workplaces."
Earlier this year, the national 2022 Graduate Outcomes Survey report showed CQUniversity students have full-time employment levels well above Australian averages.
CQU's international undergraduate full-time employment rate had more than doubled compared to 2021, indicating a post-pandemic recovery in employment opportunities for international graduates.
International undergraduate median salaries remained above the national average and overall satisfaction increased substantially for international undergraduates compared to 2021.
"International postgraduates at CQUniversity have continued to report a high level of overall satisfaction with their courses, with satisfaction rates higher than the national average for both cohorts in 2022," Prof Klomp said.
"CQUniversity delivers courses that are informed by community and industry needs and our graduates are in high demand because of this."
Recently, nearly 250 CQU Melbourne graduates crossed the stage at the Melbourne Convention Centre, cheered on by family, friends, colleagues and CQUniversity supporters.
Most of the graduates had completed their studies across the past three years, facing all the challenges that the pandemic, prolonged lockdowns, and remote learning created.
But the event highlighted CQUniversity Melbourne's return to full operations, the resilience of students, staff and academics, and the employment outcomes that graduates are already achieving.
To learn more about the Commitment visit studymelbourne.vic.gov.au/industry/news.