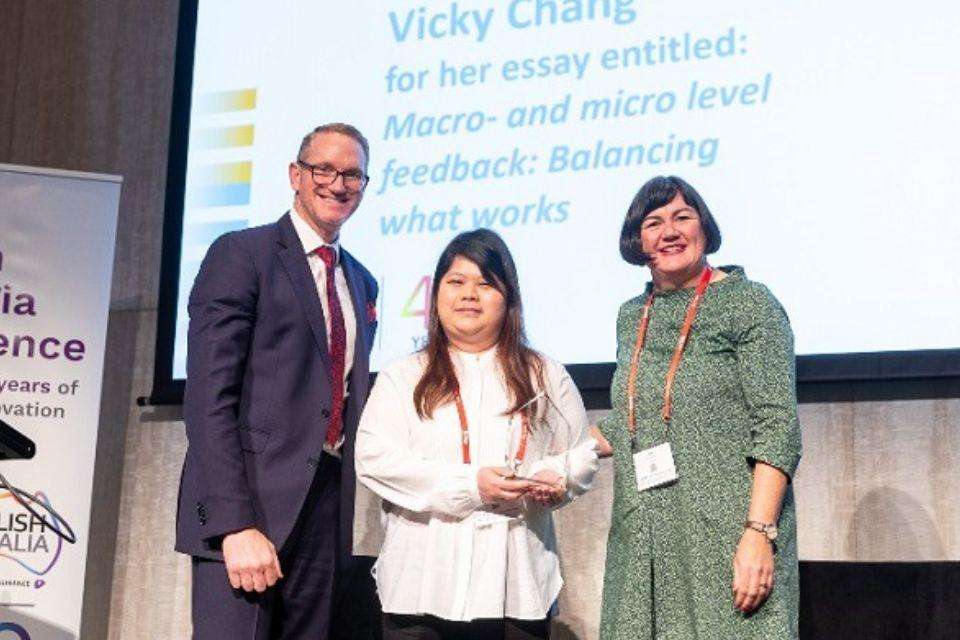 CQUniversity English teacher and Academic Learning Centre lecturer Vicky Chang has been recognised for her innovative teaching practice at the annual English Australia Awards, with three gongs recognising her passion for teaching practice.
The English Language Intensive Courses for Overseas Students (ELICOS) teacher conducted research as part of the CQUEnglish team in Melbourne, earning the Award for Action Research at the English Australia Conference on Friday 1 September 2023. 
Ms Chang explained the project focused on enhancing students' feedback literacy through peer interaction. 
"I introduced several interventions to the existing course structure, including connecting students earlier to peer reviewing concepts, and offering students more opportunities of peer reviewing," she explained. 
"I also provided feedback on peer reviews to offer extra student support and to ensure peer feedback quality. 
"The findings of this study showed that not only were students' levels of confidence boosted, their capability to provide peer reviews also greatly improved…leading to a notable enhancement in student feedback literacy."
Ms Chang also focused on feedback to earn both the Contribution to Professional Practice Award and Bright Ideas Award, with an essay and presentation entitled Macro- and micro- level feedback: balancing what works. 
Based on PhD research that she is doing at University of Melbourne, the passionate educator developed the approach during her 16 years of teaching English for academic purpose (EAP). 
"As teachers, we all know that feedback is critical for student learning, but more often than not we do not see students using feedback effectively," she explained.
"So I was curious in unpacking what it takes for students to be able to fully engage in feedback, and how to better balance teacher workload with what works for students." 
CQU Associate Vice President (Victoria Region) Will Alderton is the previous Director of Studies (CQUEnglish), and he congratulated Ms Chang on her awards.
"This is the second year running that a CQUEnglish teacher has won the Award for Contribution to Professional Practice, following Karen Tanizaka Pellegrino in 2022 – it's a huge achievement for the campus, and a wonderful effort by Vicky!" he said. 
"CQU Melbourne truly has some of the very best language teachers in the country working with us." 
CQUEnglish is an integral part of CQUniversity, with four English Language Centres across its bustling metropolitan campuses in Brisbane, Melbourne and Sydney.
Learn more about CQU's English Language Centres here.