Graduate Certificate in Social Innovation Leadership
| | |
| --- | --- |
| Duration | 0.5 years full-time, 1 year part-time |
| Location | Online |
| Next start term | Anytime |
| Study mode | Online |
| Course code | CV88 |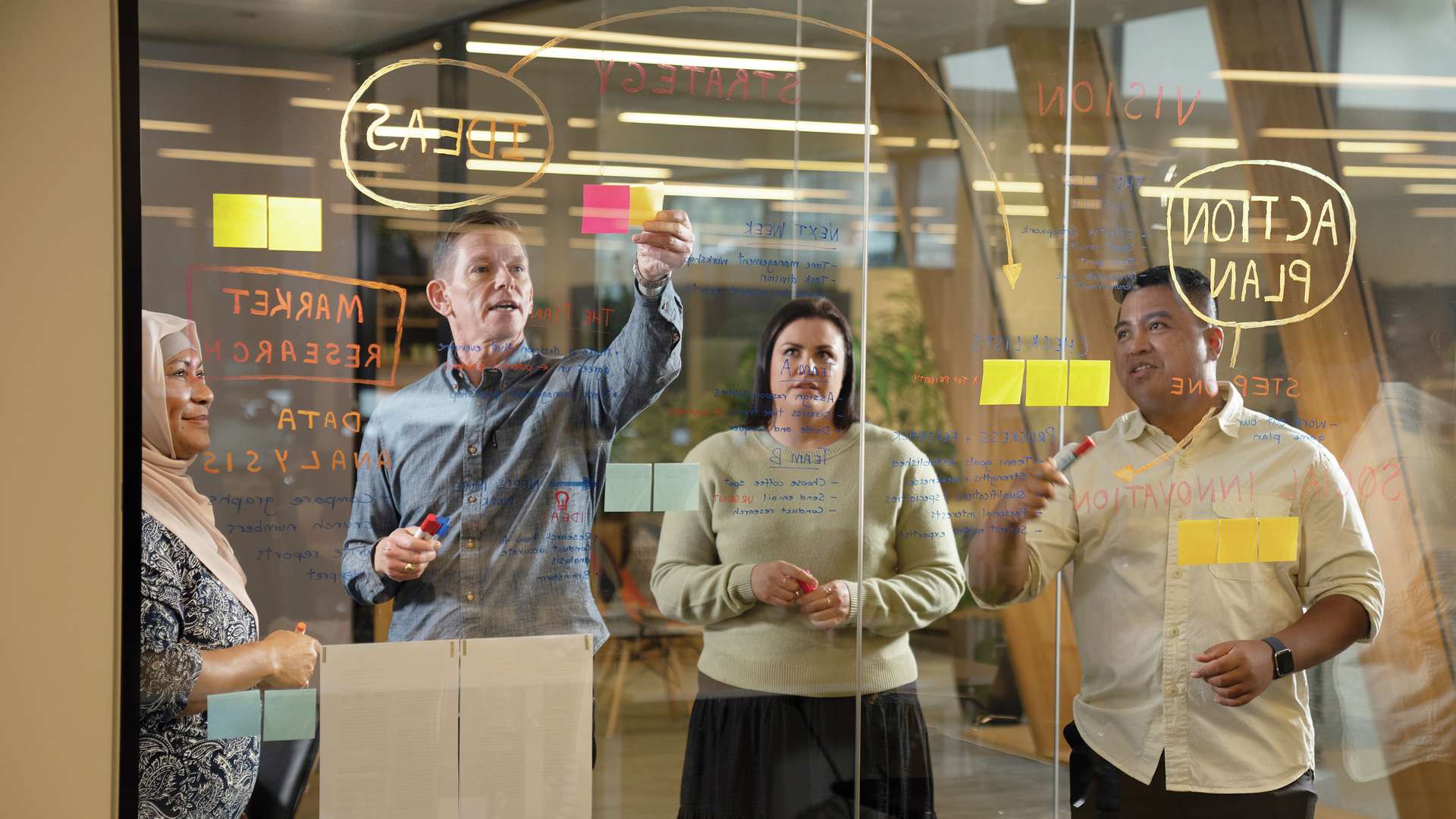 Overview
The Graduate Certificate in Social Innovation Leadership is ideal if you are an ambitious individual working in any field or discipline wanting to develop your capacity to lead and encourage social entrepreneurship, social intrapreneurial impact, and positive social change. Gain a strong foundational knowledge in social innovation, entrepreneurship, and leadership skills and study a range of topics including design thinking, disruptive innovation, group dynamics, innovation and entrepreneurship for leaders. This hyperflexible degree is not bound by term dates or submission deadlines, allowing you to study when and how it suits you.
The Graduate Certificate in Social Innovation Leadership is a multi-disciplinary course that equips you with a strong foundational knowledge about social innovation, entrepreneurship, and leadership skills. 
You will study three units that prepare you to meet social challenges through the creative and sustainable development of new ideas, products, models or systems. You will be introduced to design thinking and collaborative ways of using an eco-system approach to resolve complex problems by offering ways of providing social benefit. You will gain an understanding of leadership in the context of entrepreneurship, examining the drivers and behaviours of people, group dynamics, and organisational and leadership processes. You will draw on theoretical frameworks and insights from the disciplines of management, human resources, sociology and psychology. You will develop a practical understanding of facilitating disruptive innovations and entrepreneurship within an organisation and creating market value. Your studies culminate with an innovation project which can be tailored to your workplace or interest area. You will prepare, design and implement a professional innovation project proposal to build contextual skills for designing and leading innovative projects with a social impact. 
You will benefit from practical learning experiences throughout your studies, including case study analysis, real-world examples and your final project. 
Designed for maximum flexibility, this course is entirely self-paced and 100% online, hosted on our Be Different platform. Access your course content on any device, anytime, and experience the ultimate flexibility and convenience.
Study experience
Authentic Learning Experiences
Career Opportunities
The Graduate Certificate in Social Innovation Leadership focuses on building the professional capacity of managers and social entrepreneurs of the future across the corporate, government and third (not-for-profit) sectors. You will learn to lead organisations creating social and environmental value, developing your ability to operate in a changed cross-sector social landscape, where the dynamism of the market is also directed at social innovation. Specifically, as a graduate, you may seek employment in consulting and providing advice on business performance and improvements, including:
Social project design and management
New social venture developments, international venture assessment and capital raising in a social context
Corporate social innovation and social entrepreneurship
Social incubator and technological innovation, support services to new ventures in Not-For-Profit and small to medium enterprise (SME) sector
Design and development of teams and team dynamics working in social innovation Launchpad environments
Structure & Availability
Course structure
The Graduate Certificate in Social Innovation Leadership is comprised of three core units. These units are generally broken down into ten to twelve smaller, bite-sized modules for you to complete. If you choose to study all three units at once over a typical term duration of 12 weeks on a full-time basis, this equates to six months of full-time study for all units. After enrolling, you'll have access to all three units, and you can work through these in any order. 
Assessments
Assessments are completed at your own pace - no deadlines or due dates. Your assessments will range from portfolio activities, online quizzes, case studies and video presentations.
Unit information
You must complete the following units:
BUSN20022 Disruption, Innovation and Entrepreneurship (6 credit points) 
BUSN20031 Social Innovation (6 credit points)
BUSN28002 Innovation Project (12 credit points)
Unit overviews
Disruption, Innovation and Entrepreneurship
This unit examines the dynamics and interconnectedness of business disruption, innovation and entrepreneurship. 'Disruptive innovation' theory is considered the most influential business idea of the 21st century. The phrase was originally popularised by Clayton M. Christensen and colleagues in 1995. Ultimately, it denotes an innovation that generates a unique market and value proposition capable of disturbing established markets and value networks by displacing conventional market leaders, products and coalitions. Disruptive innovations are evident in both established and advanced economies at either end of complex markets. Nevertheless, while an innovation is revolutionary, it may not necessarily be disruptive. Entrepreneurs who bring disruptive innovations to the market are not necessarily disruptors. Business environments created by market leaders do not tend to encourage the pursuit of disruptive innovations or entrepreneurial initiatives. Primarily, this is because these products or services are initially unprofitable and divert scarce organisational resources from competing with existing competitors. Disruptive processes often require longer lead times to get to market than conventional approaches. In addition, the associated risks are higher than is evident for incremental approaches to innovation. Once deployed to the market, disruptive innovations achieve a faster penetration and higher impact into established markets. You will be challenged to conceive of environments where disruptive innovations and entrepreneurship can flourish. Case studies will be used to provide exemplars of entrepreneurs generating market value.
Social Innovation
This unit deals with how organisations and individuals confront the challenges of intransigent social problems. A basis for social innovation theory and practice will be explored. Social innovation solutions often work where traditional solutions fail, because social problems have become inured to traditional solutions. Social innovation solutions are designed to be relatively low-cost, sustainable, and disruptive. You will be introduced to design thinking and collaborative ways of using an eco-system approach to resolve complex problems by offering ways of providing social benefit. An introduction will be provided to the concept, practice and impact of measurement in a social innovation context. A grounding in empirical evidence will be provided to support effective change initiatives. A case study analysis approach will used to enable you to develop the ability to assess and design solutions to enduring global social issues. Social innovation's value is usually available to society rather than to individuals or individual organisations. A sophisticated understanding of how social innovation fits into the role of transformative global leadership will be provided. Finally, you will become equipped and adept at applying problem-solving skills, active/participatory research skills, and the notion of fast prototyping to 'live test' solutions.
Innovation Project
This unit enables you to design and lead innovative projects that have a social impact. You will research a social issue or problem and apply your innovation knowledge and expertise to design a project proposal that addresses this issue. You will then implement the proposed project and evaluate its social impact. You will draw upon your area of specialisation and advanced knowledge of innovation and entrepreneurship, applying what you have learned in a practical and real-life context to address social change. The project will be designed in consultation with an organisation or social change group. You may focus on challenges within your existing workplace, or professional life or be involved in one of CQUniversity's social innovation initiatives.
Credit transfer information
If you have already completed a study relevant to the course you have enrolled in, you may be eligible for credit transfer.
Online Availability
| Intake | Locations |
| --- | --- |
| Hyperflexible Annual Term, 2023 | Available Online |
| Hyperflexible Annual Term, 2024 | Available Online |
Majors and minors are not applicable to this course.
This course has no residential schools.
Innovation Project - BUSN28002
Students are required to complete a project that addresses a social problem in consultation with an organisation or social change group. Students may focus on challenges within their existing workplace, professional life or be involved in one of CQU's social innovation initiatives.
Requirements
Recommended study
Recommended study structure follows:
1. Disruption, Innovation and Entrepreneurship (BUSN20022)
2. Social Innovation (BUSN20031)
3. Innovation Project 
To be eligible for entry into this course, applicants must hold one of the following:
A completed Australian Qualifications Framework (AQF) equivalent Bachelor degree, or higher equivalent qualification; or
A completed AQF Diploma with two years relevant business experience*; or
A minimum of five years relevant business experience*.
* Relevant work experience should include an understanding of how a business operates, which includes, project management, process management or other relevant professional experience.
Employment experience must be shown in a letter of employment which is presented on a company letterhead as well as signed and dated by a delegated authority. The letter must contain position title, duties performed and length of service.
English Language Proficiency Requirements:
If you were not born in Australia, Canada, New Zealand, United Kingdom, Ireland, South Africa or United States of America you are required to meet the English Language Proficiency requirements set by the University. Applicants are required to provide evidence of completion of:
A secondary qualification (Year 11 and 12, or equivalent), or
An Australian Qualifications Framework (AQF) diploma level qualification, or
Bachelor level qualification study for a period of at least 2 years fulltime with a minimum overall GPA 4.0
Completed within Australia, Canada, New Zealand, United Kingdom, South Africa, Ireland, or United States of America, which will meet the English proficiency.
If you do not satisfy any of the above you will need to undertake an English language proficiency test and achieve the following scores as below:
An International English Language Testing System (IELTS Academic) overall band score of at least 6.0 overall with a minimum 5.5 in each subset; or
Test of English as a Foreign Language (TOEFL) - Requires 550 or better overall & minimum TWE score of 4.5 (Paper Based Test), or 75 or better overall and no score less than 17 (Internet Based Test); or
Pearson Test of English Academic (PTE Academic) - Requires an overall score of 54 with no sub-score less than 46; or
An Occupational English Test with Grades A or B only in each of the four components.
English test results remain valid for no more than two years between final examination date and the date of commencement of study, and must appear on a single result certificate.
If you are an International student, please visit International students English requirements for further information.
Each student will be assessed individually.
You will have to meet this course's
inherent requirements
by demonstrating essential skills and attributes.
Fees & Scholarships
2024 Indicative Fees
| Fee Type | Fees |
| --- | --- |
| International Indicative First Year Fee | A$17,040.50 |
Please note the following important information:
Fees are in Australian dollars (A$).

Fees are indicative only and do not cover additional costs such as textbooks, accommodation, visa applications, OSHC, general living etc.

F

ees are based on a full-time study load and the final fee payable will be determined by your selection of units and if any credit was awarded for recognition of prior learning.
The University reserves the right to amend fees at any time during the course. Fees are reviewed yearly and may increase in the following year to enable CQUniversity to continue to provide quality services and facilities to students.
Courses are subject to change at the discretion of the University.
It is your responsibility to make yourself aware of the entry requirements and prerequisites of the courses you wish to undertake.

The typical annual fee shown provides an estimate of the tuition fees for the first year of the course in the same academic year. This estimate assumes a full-time study load of 4 units per term (based on two terms).

S

tudents not on an Australian student visa can only undertake courses online from an overseas location

.

C

ourses undertaken online may be studied on a full-time or part-time mode.
International students studying on-campus in Australia may take no more than 33 per cent of their entire course by online education, and this option cannot be taken in its entirety during a compulsory term (Term 1 and Term 2).
Please refer to our international course fees page.
Scholarships are not available for this course.
How to apply
Our easy to use online application system for international students will guide you through the process of applying for a course at CQUniversity Australia.
Apply now
This course is open for applications all year round and you can start your studies anytime.