UEE30820 - Certificate III in Electrotechnology Electrician
| | |
| --- | --- |
| Duration | Delivered over 4 years with face to face delivery and on the job training, as determined by the individual training plan. |
| Study mode | On Campus, Online, RPL/RCC/Credit |
| Total units | 30 |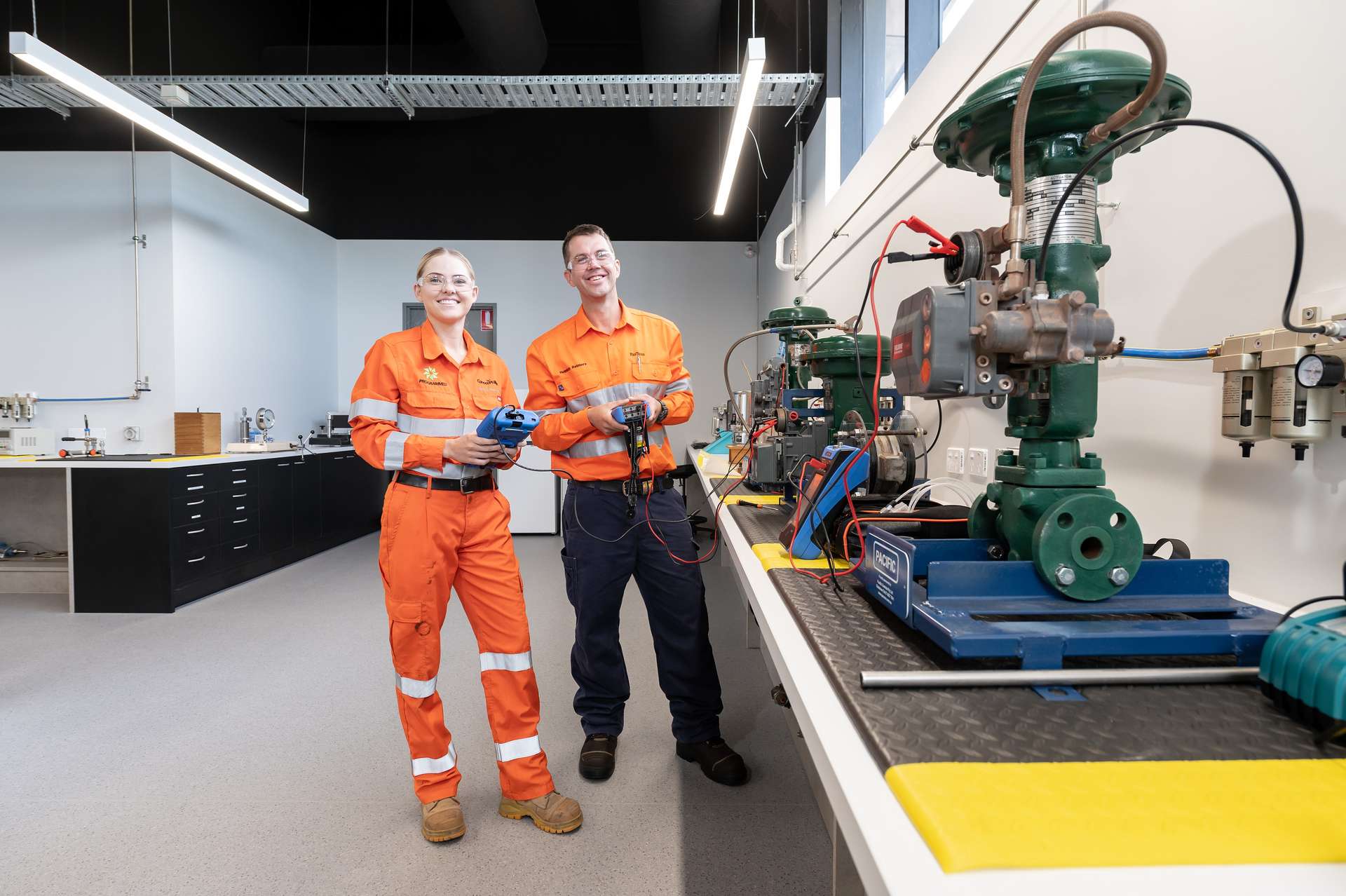 Overview
Are you looking for training in the electrical trade? This qualification is for indentured apprentices who are currently employed as apprentice electricians.
This qualification provides individuals with the skills and knowledge to select, install, set up, test, fault find, repair and maintain electrical systems and equipment in buildings and premises. It includes Electrical Regulatory Authority Council (ERAC), or their successor's, Essential Performance Capabilities for an 'Unrestricted Electrician's license'.The skills and knowledge described in this qualification require a licence or permit to practice in the workplace where work is carried out on electrical installations which are designed to operate at voltages greater than 50 volt (V) alternating current (a.c.) or 120 V direct current (d.c.).Competency development activities in this qualification are subject to regulations directly related to licensing. Where a licence or permit to practice is not held, a relevant contract of training through an Australian Apprenticeship, may be required. To obtain an Unrestricted Electrician's Licence in most jurisdictions the qualification must be completed as an apprenticeship or Trades Recognition Australia (TRA) pathway. Where required for Licencing, the certification documentation issued must indicate if the qualification was completed as an apprenticeship or Trades Recognition Australia (TRA) pathway.
This is a nationally recognised accredited course.
QUALITY EDUCATION, WHEREVER YOU ARE
Between our reputation for learning, teaching and research, our renowned online education offering, and our status as Australia's largest regional university, rest assured you will get a world-class education when you choose CQUniversity.
A UNI THAT KNOWS CREDIBILITY IS KEY
In just 25 years, CQUniversity has achieved some amazing feats and emerged as one of Australia's truly great universities. We have been ranked among the best in the world for our teaching and learning, and are internationally recognised for our focus on Social Innovation. Our graduates are some of the most sought-after in Australia, due to our reputation for work integrated learning and industry-aligned courses, and experience some of the nation's best graduate outcomes in terms of full-time employment and starting salary. CQUni is also regarded as the nation's most inclusive and engaged university, with our award-winning academic and research staff making a real impact on the communities and industries we serve.
A UNI THAT LEADS IN ONLINE EDUCATION
A pioneer in online study, CQUniversity has more than two decades of experience providing high quality online learning experiences across the country and even internationally. We work hard to deliver the latest techniques in online study, and have even planned our physical sites to provide more services to our widespread online study cohort.
A UNI THAT KNOWS CONVENIENCE COUNTS
CQUniversity is truly focused on our students' needs, and that means responding to what, how and where they want to study. It is why we are now Australia's largest regional university, with more than 20 metropolitan and regional locations across five states, delivering TAFE and university qualifications in on-campus, online and supported online modes to more than 30 000 students.
A UNI THAT KNOWS YOUR EXPERIENCE MATTERS
CQUniversity's strong focus on student experience ensures that you are prepared and supported on your student journey. Support services include on-campus or online orientation to assist your transition into university life, course and career advice, financial support options, study support, ongoing assistance through the Student Mentor program, counselling services, support for students with disability or medical conditions, Indigenous student support and more.
"

I enjoyed the amount of practical lessons we got to do. There's nothing worse than sitting in a classroom day-in, day-out. At CQU TAFE we get to do a lot of practical lessons which is great.

Certificate III in Electrotechnology
Career Opportunities
Electrical Trades Person, Electrical Contractor.
Successfully completing UEE30820 may gain recognition of studies towards Certificate IV and Diploma in Electrical.
Structure & Availability
Standard Course Structure
Duration:
Delivered over 4 years with face to face delivery and on the job training, as determined by the individual training plan.
Core
| Unit Code | Unit Name |
| --- | --- |
| HLTAID009 | Provide cardiopulmonary resuscitation |
| UEEEL0012 | Install low voltage wiring, appliances, switchgear and associated accessories |
| UEECD0016 | Document and apply measures to control WHS risks associated with electrotechnology work |
| UEERE0001 | Apply environmentally and sustainable procedures in the energy sector |
| UEECD0046 | Solve problems in single path circuits* |
| UEECD0044 | Solve problems in multiple path circuits |
| UEECD0019 | Fabricate, assemble and dismantle utilities industry components |
| UEECD0020 | Fix and secure electrotechnology equipment |
| UEECD0051 | Use drawings, diagrams, schedules, standards, codes and specifications |
| UEECD0007 | Apply work health and safety regulations, codes and practices in the workplace |
| UEEEL0023 | Terminate cables, cords and accessories for low voltage circuits |
| UEEEL0021 | Solve problems in magnetic and electromagnetic devices |
| UEEEL0020 | Solve problems in low voltage a.c. circuits |
| UEEEL0019 | Solve problems in direct current (d.c.) machines |
| UEEEL0008 | Evaluate and modify low voltage heating equipment and controls |
| UEEEL0009 | Evaluate and modify low voltage lighting circuits, equipment and controls |
| UEEEL0010 | Evaluate and modify low voltage socket outlets circuits |
| UEEEL0003 | Arrange circuits, control and protection for electrical installations |
| UEEEL0024 | Test and connect alternating current (a.c.) rotating machines |
| UEEEL0025 | Test and connect transformers |
| UEEEL0005 | Develop and connect electrical control circuits |
| UEEEL0047 | Identify, shut down and restart systems with alternate supplies |
| UEEEL0014 | Isolate, test and troubleshoot low voltage electrical circuits |
| UEEEL0018 | Select wiring systems and select cables for low voltage electrical installations |
| UEECO0023 | Participate in electrical work and competency development activities |
| UEEEL0039 | Design, install and verify compliance and functionality of general electrical installations |
| UETDRRF004 | Perform rescue from a live LV panel |
Elective
| Unit Code | Unit Name |
| --- | --- |
| UEEIC0013 | Develop, enter and verify discrete control programs for programmable controllers |
| UEEEL0016 | Provide advice on effective and energy efficient lighting products |
| UEEAS0009 | Mount and wire control panel equipment |
Apprentices can be accepted throughout the year. Training dates are structured upon intake. On-campus training is conducted on the CQUniversity's Rockhampton City, Emerald, Mackay and Gladstone Campuses.
This course has no residential schools.
Requirements
Completion of the bksb (Basic Key Skills Builder) online literacy and numeracy assessment prior to enrolment, unless the student has completed an equal or higher level course.
This course is for Electrical apprentices and those individual that hold an electrical training permit issued by the Electrical Safety Office.
Fees & Scholarships
2023 Indicative Fees
| Fee Type | Fees |
| --- | --- |
| Fee for service | $32,022.60 |
| Fee for service per unit | $1,047 |
2024 Indicative Fees
| Fee Type | Fees |
| --- | --- |
| Fee for service | $33,623 |
| Fee for service per unit | $1,100 |
| RPL Fee for service per Unit | $550 |
Queensland Government subsidies are available for eligible applicants to greatly reduce the cost of apprentice and trainee training.
User Choice funding provides a contribution that reduces the cost of training. Eligible apprentices and trainees will be charged $1.60 per nominal hour. Concession rates apply for students who hold a current Health Care Card or who identify as Aboriginal or Torres Strait Islander.
Free apprenticeships for under 25s will cover the cost of training for employers who commence an eligible new apprentice or trainee, or already have an existing apprentice or trainee aged under 25. Find out more.
For further information please refer to the VET student fees price lists, eligibility criteria applies for subsidised funding. If you are unsure, please call us on 13 27 86.
At CQUniversity, we believe higher education should be for everyone. No matter your situation, we know that everyone needs a helping hand from time to time, and we are proud to offer a wide range of scholarships, bursaries and stipends.
Our scholarships could help you pay for things like relocation, living on campus, laptops and technology, childcare, study and living expenses, travel and more. 

How to apply
Traineeships and apprenticeships need to be secured with an employer before you can start your study. Your employer will then work with CQUniversity on the training program that is right for you. If you would like to become an apprentice or trainee, visit the Australian Government Australian Apprenticeships website.