Bachelor of Information Technology
| | |
| --- | --- |
| Duration | 3 years full-time, 6 years part-time |
| Location | |
| Next start term | Term 1, 2024 |
| Internship | Yes |
| Study mode | On Campus, Online |
| Course code | CQ18 |
| CRICOS | 003401C |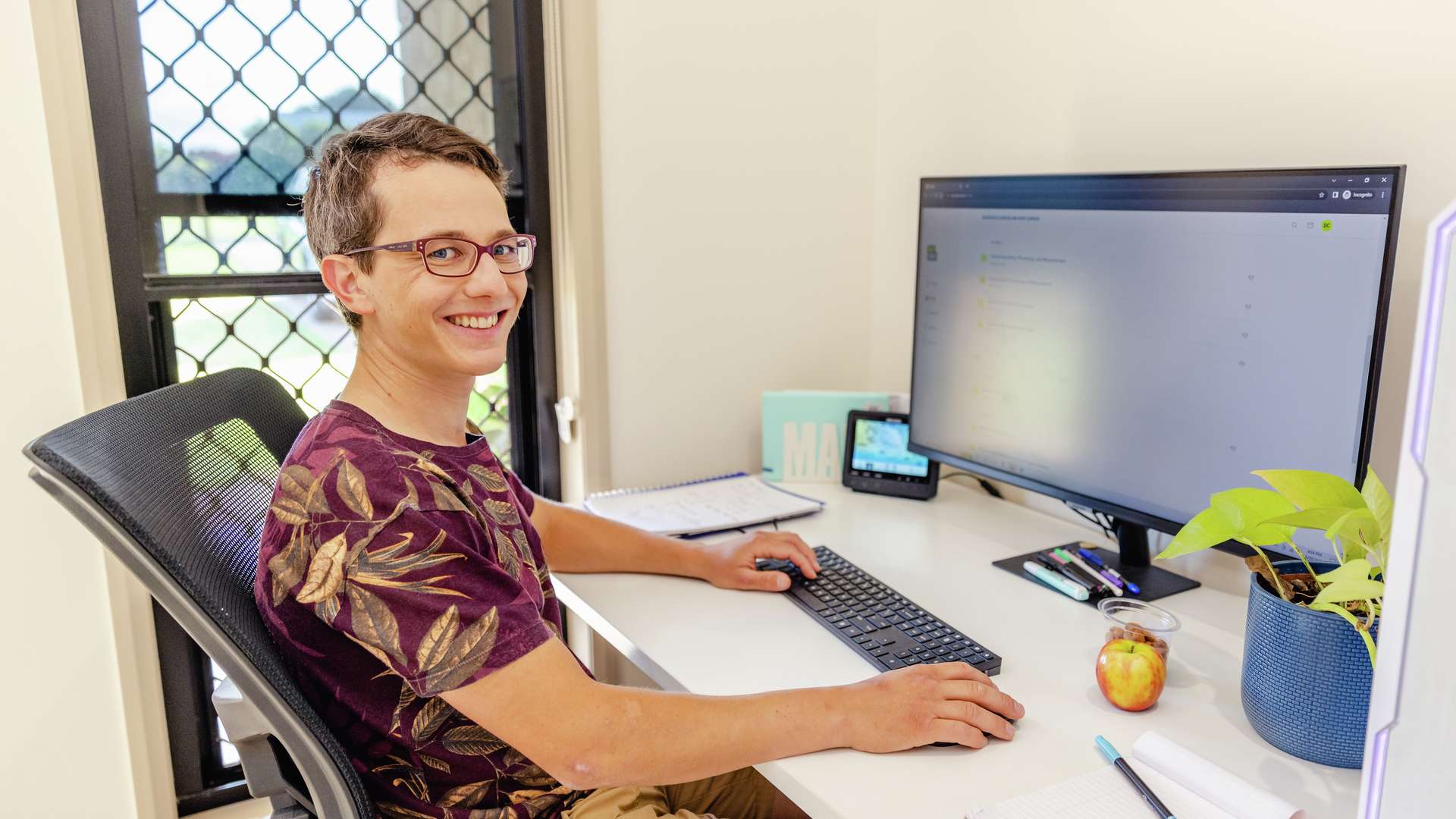 Overview
Kickstart your IT career with our Bachelor of Information Technology and benefit from real-world experience and the support of our experienced course leaders. Develop in-demand industry skills valued by employers through authentic learning experiences. Accredited by the Australian Computer Society and designed in consultation with industry, you can choose to major in Application Development, Business Analysis, or Cyber Security. Customise your studies further with a wide range of minors, offering depth in complementary disciplines and aligning with emerging IT fields to align with your career aspirations.
Within this highly practical degree, you'll develop a broad foundation of IT knowledge and skills, plus gain access to work-integrated learning opportunities that prepare you for a successful IT career. Designed with input from our industry partners, benefit from innovative, up-to-date and industry-relevant units, as well as in-built practical experiences.
During your studies, your core units will provide you with a comprehensive understanding of key IT and computer-based systems areas. From your second term, you will begin to study units from your chosen major. You also have the choice of a minor that complements your major and career aspirations which reflect emerging fields and industry demands within the IT sector are available.
Decide what suits you with either a project or internship in your final year. If you choose the capstone project unit, you'll enhance your collaboration skills in the production of project management artefacts typically required of a small-scale commercial project appropriate to your major. Alternatively, the internship allows you to gain real-world experience before you graduate and multiply your professional networks. 
Transcript
The Bachelor of IT suits students who are really curious minded and passionate about technology.
This degree provides students with the opportunity to become a skilled, innovative and work-ready professional in the field of IT.
We have three majors, andwe make sure these majors are designed with consultation with the industry, so that when they get the experience they're actually work-ready for the real world.
We also evaluate our course curriculum almost every year and in consultation with industries because IT is developing and changing frequently.
All our units and subjects in the Bachelor of IT are accredited by ACS.
We make sure that our courses are designed according to the guidance and the instructions of SFIA. So that can be matched whenever they're applying for jobs and that matches their skill level.
The one thing that makes our bachelor very different is that we provide active and engaged industry placements to the students or do a capstone project.
We have partnerships and engagement with different kinds of industries like networking, database development software, software development industries…
We find every year they're offered some jobs after the internship placement.
So, once they are doing either a capstone project or internship, they are applying the skills and knowledge they have learned, and completing the course successfully and in future careers, as well.
I gained the opportunity to do my placement with CQUniversity. This opportunity has given me the advantage of learning different skillsets from industry professionals.
As part of my placement, some of my activities consists of programming and analysing, testing, as part of the data management team.
My confidence improved by communicating with everyone and doing my programming languages, as I learn new programming skills every day.
We started a partnership with people who are in the Bachelor of Information Technology and as a part of that students would do a project within their degree.
But what we've found over the years is that these staff come and work with us and they really tend to be very good and motivated, and they essentially become part of the team.
For a student, there is a huge advantage to getting involved in these programs. When they come into the University, they're working on real-world projects and they're working in teams where other people have to perform.
As you go into your degree, it's not just about studying the content and the materials, but it's also about forming those connections and building up your soft skills as well.
My advice for students that want to study Bachelor of Information Technology is network with like-minded people and to take advantage of the work experience and placement offers outside or inside CQUniversity.
I'd like to advise the future IT students that is, be curious and be passionate about technology and if possible, have some basic mathematical backgrounds and that will be awesome if you have some basic programming language that can be C, C++ or C# or Python, anything so that will help you a lot.
Study experience
Authentic Learning Experiences

Real-world Learning Facilities
"

The course offers work integrated learning, such as a placement internship which actually provides you with experience of what to expect in the workplace, which is really good for students.

Bachelor of Information Technology (Co-op) | Philippines
Career Opportunities
On completion of the Bachelor of Information Technology you will be qualified to work in both public and private sectors and in roles such as:
application programmer
analyst programmer
database administrator
ICT customer support technician
ICT support engineer
ICT support technician
information technology project manager
network administrator
security analyst
systems administrator
systems analyst
web developer.
Structure & Availability
Course structure
You are required to complete a total of 23 units including eight core units, seven major units, four minor units, plus four electives.
Unit information
For information on the units, you could study as part of this course, visit the
Handbook
and select the "Course Structure" tab.
Credit transfer information
If you have already completed a study relevant to the course you have enrolled in, you may be eligible for
credit transfer.
On-Campus Availability
| Intake | Locations |
| --- | --- |
| Term 1, 2024 | Brisbane, Cairns, Melbourne, Rockhampton, Sydney |
| Term 2, 2024 | Brisbane, Cairns, Melbourne, Sydney |
| Term 3, 2024 | Brisbane, Cairns, Melbourne, Sydney |
Online Availability
| Intake | Locations |
| --- | --- |
| Term 1, 2024 | Available Online |
| Term 2, 2024 | Available Online |
| Term 3, 2024 | Available Online |
Application Development major
Application Development involves using tools, techniques, and programming languages to develop systems. In this major, you will study concepts such as the architectural design of an application including how to break up an application and distribute its components across a networked system and the development of mobile and internet applications. You'll graduate an advanced, enterprise-ready developer.

Business Analysis major
With this major, you will delve into the world of enterprise analysis. You'll use a variety of tools and techniques for data modelling, visualisation, and analysis skills to become an expert in identifying and managing the changes needed to introduce an information system into an organisation.

Cyber Security major
In the evolving area of cyber security, you will develop your understanding of information, networks, and system security issues whilst cultivating your skills to detect and prevent different types of security attacks. Plus, your expertise will span to include digital forensics in the investigation of eCrime activities.
Animation and Motion Graphics minor
Enhance your technological creativity with skills in animation, motion graphics, 3D computer graphics and 3D character design using industry-standard software. 

Application Development minor
Tailor your studies with this minor to equip yourself with the foundational skills and knowledge for software design, internet applications and programming language. 

Business Analysis minor
An in-demand skillset, business analysis requires the ability to determine and specify ICT business requirements using data modelling. Tailor your studies with this minor to widen your employment options. 

Cyber Security minor
This minor introduces you to the skills needed to detect and prevent different types of cyber security attacks and the information, networks and systems at risk. 

Emerging Technologies minor
Available to pair with any major, this minor explores the main emerging technologies including artificial intelligence, data science and blockchain technologies.

Entrepreneurship minor
This minor allows you to explore the integration of your IT skillset with the successful development, launch and management of innovative ideas. 

ICT Management minor
The introduction of ICT systems requires organisations to change and this minor provides you with the foundations to contribute the change management. 

Interactive Media Development minor 
This minor is a comprehensive introduction to coding, web application development, game design and game development. Plus, increases your experience with industry-standard software tools. 

Mathematics minor
Information Technology combined with the mathematics minor provides you with a powerful foundation of analytical and quantitative skills for decision-making. 
 
Undergraduate ICT Internship - COIT13239
Students have the option of undertaking an internship instead of the capstone units COIT13230, COIT13232, and COIT13236.
Students are able to undertake discipline capstone units while working with industry partners. The capstone units are COIT13230 Application Development Project, COIT13232 Business Analysis Project, and COIT13236 Cyber Security Project.
Requirements
Recommended study
Students studying at an Indonesian Location
You will be required to undertake national curriculum studies as required by the Indonesian Ministry of Education, Culture, Research and Technology.
English (Units 3 & 4, C) or equivalent

English Language Proficiency Requirements
If you were not born in Australia, Canada, New Zealand, United Kingdom, Ireland, South Africa or United States of America, you are required to meet the English Language Proficiency requirements set by the University. Applicants are required to provide evidence of completion of:
A secondary qualification (Year 11 and 12, or equivalent), or
An Australian Qualifications Framework (AQF) diploma level qualification, or
Bachelor level qualification study for a period of at least 2 years fulltime with a minimum overall GPA 4.0
completed within Australia, Canada, New Zealand, United Kingdom, South Africa, Ireland, or United States of America, which will meet the English proficiency.
If you do not satisfy any of the above, you will need to undertake an English language proficiency test and achieve the following scores:
An International English Language Testing System (IELTS Academic) overall band score of at least 6.0 with a minimum 5.5 in each subset; or
Test of English as a Foreign Language (TOEFL) - Requires 550 or better overall and minimum TWE score of 4.5 (Paper Based Test), or 75 or better overall and no score less than 17 (Internet Based Test); or
Pearson Test of English Academic (PTE Academic) - Requires an overall score of 54 with no sub-score less than 46; or
An Occupational English Test with Grades A or B only in each of the four components.
English test results remain valid for no more than two years between the final examination date and the date of commencement of study, and must appear on a single result certificate.
International Students should visit http://www.cqu.edu.au/international for further information.
Each student will be assessed individually.
You will have to meet this course's
inherent requirements
by demonstrating essential skills and attributes.
Fees & Scholarships
2023 Indicative Fees
| Fee Type | Fees |
| --- | --- |
| International Indicative First Term Fee | A$16,680 |
| International Indicative First Year Fee | A$33,360 |
2024 Indicative Fees
| Fee Type | Fees |
| --- | --- |
| International Indicative First Term Fee | A$17,520 |
| International Indicative First Year Fee | A$35,040 |
Please note the following important information:
Fees are in Australian dollars (A$).

Fees are indicative only and do not cover additional costs such as textbooks, accommodation, visa applications, OSHC, general living etc.

F

ees are based on a full-time study load and the final fee payable will be determined by your selection of units and if any credit was awarded for recognition of prior learning.
The University reserves the right to amend fees at any time during the course. Fees are reviewed yearly and may increase in the following year to enable CQUniversity to continue to provide quality services and facilities to students.
Courses are subject to change at the discretion of the University.
It is your responsibility to make yourself aware of the entry requirements and prerequisites of the courses you wish to undertake.

The typical annual fee shown provides an estimate of the tuition fees for the first year of the course in the same academic year. This estimate assumes a full-time study load of 4 units per term (based on two terms).

S

tudents not on an Australian student visa can only undertake courses online from an overseas location

.

C

ourses undertaken online may be studied on a full-time or part-time mode.
International students studying on-campus in Australia may take no more than 33 per cent of their entire course by online education, and this option cannot be taken in its entirety during a compulsory term (Term 1 and Term 2).
Please refer to our international course fees page.
We offer a range of scholarships to support international students and encourage you to apply for one that's right for you.
How to apply
Our easy to use online application system for international students will guide you through the process of applying for a course at CQUniversity Australia.