Bachelor of Nursing
| | |
| --- | --- |
| Duration | 3 years full-time, 6 years part-time |
| Location | Brisbane |
| Next start term | Term 1, 2024 |
| Study mode | On Campus |
| Course code | CL91 |
| CRICOS | 102338C |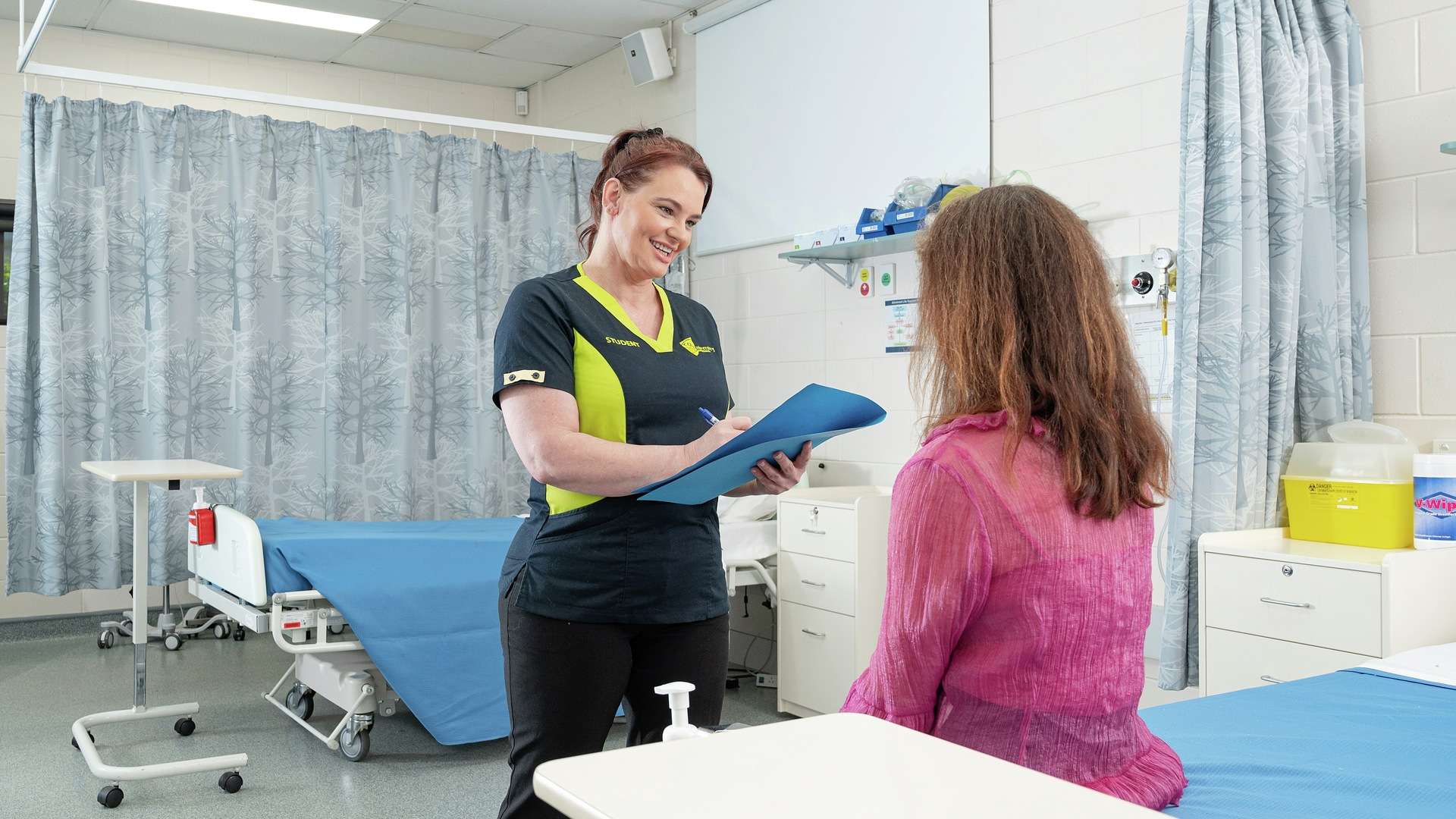 Overview
Study the Bachelor of Nursing and gain the knowledge and skills needed to become a Registered Nurse (Division 1). This course prepares you to be reflective about your practice as a nurse and develop clinical reasoning skills in order to confidently and safely engage in contemporary nursing practice in a variety of environments and contexts and adapt to the needs of people from diverse backgrounds.
Through this course, you will acquire skills to provide person-centred care and collaborate with other members of the interdisciplinary healthcare team. You will seek evidence to ensure safe quality practice and act in a professional, ethical and compassionate manner. In addition, you will learn to nurture the development of nursing as a practice discipline and demonstrate leadership in healthcare. You will explore how life-long learning skills can facilitate continuing professional development.
Clinical learning is a key element of the Bachelor of Nursing and you will be required to undertake 800 hours of professional experience placement in a variety of settings with different health organisations. You must meet specific mandatory health, safety and security requirements to be eligible to attend each professional experience placement. Professional experience placements may be limited in your community. This means that you may be placed in other locations and you may be required to relocate to complete your placements.
This course is accredited by the Australian Nursing and Midwifery Accreditation Council (ANMAC).
Transcript
I've always known I wanted to be a nurse, and I've achieved this back in my country. Now I want to leap further and make this a reality in Australia.
[Speaks in Tagalog] I'm Ivy Vana and I'm from Mindanao, in the southern part of the Philippines.
I studied nursing back home and upon completion, I worked as a theatre nurse in a private hospital for three years. My nursing background has propelled me to where I am, studying the Bachelor of Nursing at CQUniversity, so I can gain a qualification to become a registered nurse here in Australia.
One of the best things about my course is the opportunity to do placements. It's like going in different clinic settings to practise the nursing skills that are taught at the Uni. I must admit my first placement was daunting because although I do have previous experience in nursing, the differences in environment, culture and language were my main concerns. But as I go through placement by placement each term, I gain more confidence. What I like most about my placements is that the nursing staff were so accommodating, and the patients were so willing to be involved in the learning of Registered Nursing students like me.
I want to continue on this journey when I graduate, and I want to be a part of the nursing workforce in this country. I believe becoming a registered nurse in Australia gives you great career opportunities. There are many choices to choose from depending on what interests you the most. As for me, I've always wanted to become a nurse anaesthetist someday.
What I love the most about living in Australia is that there is balance in work, study and recreation. When I first came here, I was surprised at how friendly Aussies were. I used to do a little bit of walk every early morning, and people would be smiling, waving, or even stopping to have a chat. CQUniversity provides excellent support to their students. If I need anything, I would ask for the International Support Team and they would always help me to the best of their ability.
I'm still learning as I go, but one of the most important things I've learnt so far is that I've become more independent and I've figured how to do things myself. By that, I think I have improved a lot in my decision-making skill. I would definitely recommend CQUniversity to my friends, and anyone who aspires to come and study in Australia. For nursing, the University offers theoretical, practical and research components to enable a student to become an effective nurse professional. I am on my way to getting to where I want to be in terms of my nursing career, and I have CQUniversity to thank for that.
Study experience
Authentic Learning Experiences

Real-world Learning Facilities
Career Opportunities
In the final year of the course, students usually apply for a new graduate nursing position in a hospital and health service or other healthcare organisation where they will have the opportunity to further consolidate their knowledge and skills in nursing.  The broad nature of nursing and healthcare allows opportunities for employment and/or specialisation in environments such as acute hospital services, community health, mental health, residential and aged care, indigenous health, and rural and remote health.
Structure & Availability
COURSE STRUCTURE
The Bachelor of Nursing requires you to complete 23 core units, a total of 144 units of credit.

UNIT INFORMATION
For information on the units, you could study as part of this course, visit the Handbook and select the "Course Structure" tab. The units in the handbook are listed in the order that you should complete them. By completing these units in a different order, you may delay your progress and extend the length of your study. 

CREDIT TRANSFER INFORMATION
If you have already completed a study relevant to the course you have enrolled in, you may be eligible for credit transfer.
On-Campus Availability
| Intake | Locations |
| --- | --- |
| Term 1, 2024 | Brisbane |
| Term 2, 2024 | Brisbane |
For international students commencing at the University in 2023 – please note our Rockhampton North campus is restricted to students eligible for advanced standing or recognition of prior learning (RPL).

All other international students commencing in 2023 will be admitted to our Brisbane campus.
Majors and minors are not applicable to this course.
Professional Practice - Australian Nursing and Midwifery Accreditation Council (ANMAC)
Core
The Bachelor of Nursing is accredited by the Australian Nursing and Midwifery Accreditation Council (ANMAC). The Bachelor of Nursing leads to eligibility for registration as a nurse (Division 1) in Australia.
Professional Experience Placement 1 - NURS11170
Professional Experience Placement
Professional Experience Placement 2 - NURS12161
Professional Experience Placement
Mental Health Nursing with Professional Experience Placement - NURS12162
Professional Experience Placement
Professional Experience Placement 3 - NURS12164
Professional Experience Placement
Professional Experience Placement 4 - NURS13142
Professional Experience Placement
Professional Experience Placement 5 - NURS13145
Professional Experience Placement
Depending on clinical placement availability, you may need to travel within or outside of your state for your clinical placement.

Requirements
Recommended study
Domestic students
Students without Senior English, Senior Science and Senior Mathematics are strongly recommended to undertake a bridging course such as Skills for Tertiary Education Preparatory Studies (STEPS).
When applying, you must demonstrate that you have met the listed Entry Requirements and English Language Proficiency requirements.
After you have applied and enrolled in this course, you will need to be able to meet the Security and Health Requirements as these generally relate to work-integrated learning activities that form part of your course. You will be provided with more information about security and health requirements after enrolling in the relevant units that these relate to. 
COVID-19 Vaccination Requirement
The COVID-19 vaccination is mandatory to be eligible to attend a WIL placement for this course. Students will be required to provide evidence of having completed a COVID-19 vaccination schedule by the closing date prior to a WIL placement. The vaccine received must be a vaccine approved by the Therapeutic Goods Administration (TGA) of Australia.
Entry Requirements
English Language Proficiency Requirements:
The English Language Skills requirements listed below are those specified by the Nursing and Midwifery Board of Australia as required for initial registration.
As an applicant for the Bachelor of Nursing, you are required to demonstrate your English language competency in one of the following ways:
English is your primary language and you have satisfactorily completed at least six years of primary and secondary education, taught and assessed solely in English – including at least two years completed between grades 7 and 12 - in a recognised country. (Recognised countries: Australia, Canada, New Zealand, Republic of Ireland, South Africa, United Kingdom or United States of America); OR

You are currently registered as an Enrolled Nurse with the Australian Health Practitioner Agency (AHPRA)
If you do not satisfy any of the above you will need to undertake an English language proficiency test and achieve the following scores as below:
An International English Language Testing System (IELTS Academic) overall band score of at least 7.0 overall with a minimum 7.0 in each subset; OR

An Occupational English Test with Grades A or B only in each of the four components; OR

Pearson Test of English Academic (PTE Academic) – requires an overall score of 65 with no sub-score less than 65; OR

Test of English as a Foreign Language (TOEFL) iBT – requires 94 or better overall and no score less than 27 for writing, 23 for speaking and 24 for listening and reading.
English test results remain valid for no more than two years between the final examination date and the date of commencement of the study and must appear on a single result certificate.
If you are an International student please visit International students English requirements for further information.
Each student will be assessed individually.
Nursing students' English language skills are directly aligned with the requirements of the Australian Health Practitioner Regulation Agency (AHPRA).
The COVID-19 vaccination is mandatory to be eligible to attend a WIL placement for this course. Students will be required to provide evidence of having an up-to-date COVID-19 vaccination status by the closing date prior to a WIL placement. The vaccine received must be a vaccine approved by the Therapeutic Goods Administration (TGA) of Australia.
Work-Integrated Learning (WIL) placements apply to this course and as such are subject to compulsory pre-placement conditions referred to as mandatory checks and are outlined in the health, security and other compulsory requirements sections. Mandatory checks are determined by industry, organisations, legislation, regulations, policies, and procedures. To be eligible for a WIL placement, students must first achieve compliance with mandatory checks by each closing date prior to a WIL placement and maintain current evidence for the duration of the course. 
Mandatory health requirements include immunisation and vaccination evidence (and serology where required) to the following diseases: COVID-19 (up-to-date status), Hepatitis B, Measles, Mumps and Rubella, Varicella, Pertussis, Influenza, and Tuberculosis screening. Respirator mask fit testing is also an annual requirement for this course. 
Mandatory security requirements include an Australian Federal Police clearance, working with children check, and NDIS worker screening clearance. 
Other mandatory requirements include a First Aid and CPR certificate, student agreement to privacy and confidentiality, adherence to Ahpra policies for a registered student professional, fitness to participate in WIL student declaration, jurisdictional and site-specific compulsory requirements, and other training modules. 
It is mandatory for a minimum of 800 hours WIL placement in an off-campus health care setting to be undertaken for the Bachelor of Nursing course. Students may be required to complete more than 800 hours due to an organisation's make up of absence policy.
It is important for students to be aware that you may be required to travel to complete your WIL placement.
WIL placements are organised in blocks of time as per the WIL unit requirement, are in various health organisations throughout Australia where a service agreement is in place, subject to availability and capacity of the organisation, and are not negotiable.
You will have to meet this course's
inherent requirements
by demonstrating essential skills and attributes.
Fees & Scholarships
2023 Indicative Fees
| Fee Type | Fees |
| --- | --- |
| International Indicative First Term Fee | A$17,010 |
| International Indicative First Year Fee | A$33,450 |
Please note the following important information:
Fees are in Australian dollars (A$).

Fees are indicative only and do not cover additional costs such as textbooks, accommodation, visa applications, OSHC, general living etc.

F

ees are based on a full-time study load and the final fee payable will be determined by your selection of units and if any credit was awarded for recognition of prior learning.
The University reserves the right to amend fees at any time during the course. Fees are reviewed yearly and may increase in the following year to enable CQUniversity to continue to provide quality services and facilities to students.
Courses are subject to change at the discretion of the University.
It is your responsibility to make yourself aware of the entry requirements and prerequisites of the courses you wish to undertake.

The typical annual fee shown provides an estimate of the tuition fees for the first year of the course in the same academic year. This estimate assumes a full-time study load of 4 units per term (based on two terms).

S

tudents not on an Australian student visa can only undertake courses online from an overseas location

.

C

ourses undertaken online may be studied on a full-time or part-time mode.
International students studying on-campus in Australia may take no more than 33 per cent of their entire course by online education, and this option cannot be taken in its entirety during a compulsory term (Term 1 and Term 2).
Please refer to our international course fees page.
We offer a range of scholarships to support international students and encourage you to apply for one that's right for you.
How to apply
Our easy to use online application system for international students will guide you through the process of applying for a course at CQUniversity Australia.