Master of Clinical Chiropractic
| | |
| --- | --- |
| Duration | 2 years full-time |
| Location | Brisbane and Mackay |
| Next start term | Term 1, 2024 |
| Study mode | On Campus |
| Course code | CC71 |
| CRICOS | 0101879 |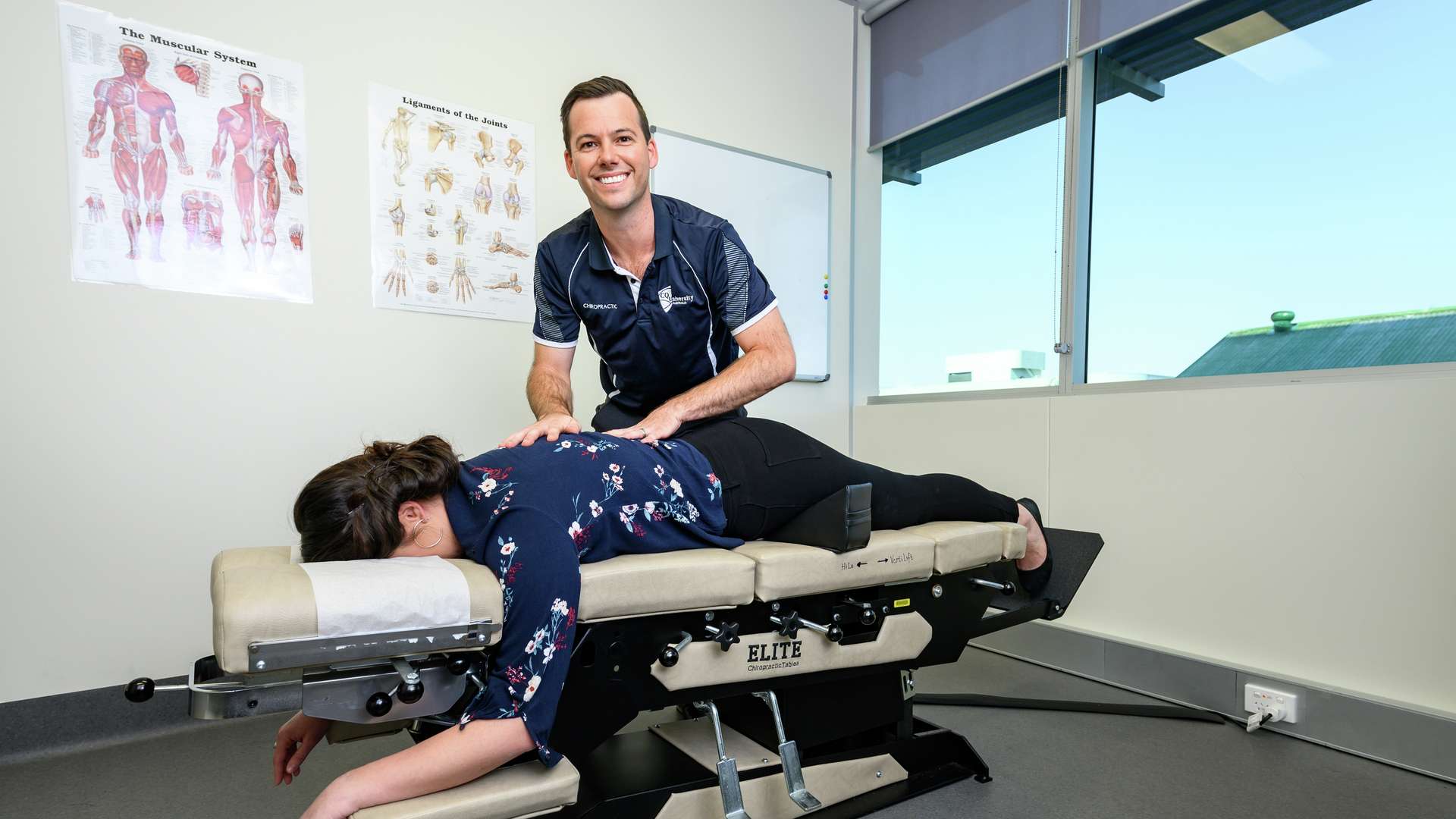 Overview
Study the Master of Clinical Chiropractic and equip yourself with the knowledge and clinical skills to meet the competencies required by the Council on Chiropractic Education Australasia (CCEA) and therefore apply for registration as a chiropractor in all states and territories in Australia and New Zealand.
The Master of Clinical Chiropractic is designed as an extended (six-term) Masters to maximise clinical learning, which is largely undertaken in approved chiropractic clinics in the community and complemented by the availability of theoretical content by flexible learning.
Chiropractic training is the process of reaching a logical diagnosis, planning a patient's treatment and assessing the effectiveness of that therapeutic intervention. As a graduate of the Master of Clinical Chiropractic, you will develop the knowledge, skills, values and behaviours necessary to become a primary care chiropractic practitioner in the delivery of patient-centred care.
The course emphasises evidence-based practice, which is the combination of the best scientific information, clinical expertise, and patient's values and circumstances.
As a primary healthcare practitioner, you will:
gain high-level practical skills integrating assessment, diagnosis and management with the clinical sciences;
be taught rehabilitation and prevention of pain and disability of the spine and extremities;
learn how to run a private practice and operate X-ray equipment;
conduct supervised patient care as part of practice-integrated learning involving University teaching clinics and industry work placement;
deliver chiropractic care safely, competently and ethically and;
be able to analyse and synthesize complex information by creating and implementing a research project and articulating the outcomes.
"

I love exercising and value the human body and its incredible potential. I am greatly satisfied with my decision to study at CQU. The learning experience is very pleasant. Being part of a small class, the tutor is fully available for any clarification about the theory and the practical techniques.

Bachelor of Science (Chiropractic), Italy
Career Opportunities
Completion of the Master of Clinical Chiropractic will prepare you to peruse employment opportunities in fields/roles such as private practice, sports medicine, occupational health and safety, and rehabilitation. Opportunities are provided for international placement, regional and rural health engagement, and indigenous health care.
Structure & Availability
COURSE STRUCTURE
You are required to complete 18 core units.

UNIT INFORMATION
For information on the units, you could study as part of this course, visit the Handbook and select the "Course Structure" tab.

CREDIT TRANSFER INFORMATION
If you have already completed study relevant to the course you have enrolled in, you may be eligible for credit transfer.
On-Campus Availability
| Intake | Locations |
| --- | --- |
| Term 1, 2024 | Brisbane, Mackay |
Majors and minors are not applicable to this course.
Clinical Practice 1 - CHIR20002
Placement in an approved Chiropractic clinic
Clinical Practice 2 - CHIR20003
Placement in an approved Chiropractic clinic
Clinical Practice 3 - CHIR20006
Placement in an approved Chiropractic clinic
Clinical Practice 4 - CHIR20009
Placement in the University Chiropractic clinic
Clinical Practice 5 - CHIR20011
Placement in the University Chiropractic clinic
Clinical Practice 6 - CHIR20013
Placement in the University Chiropractic clinic
Requirements
Successful completion of the CQUniversity Bachelor of Science (Chiropractic) CB77. Applicants who have completed an undergraduate chiropractic course from another university which has been accredited by the Council on Chiropractic Education Australasia (CCEA) will be considered on a case by case basis.
English Language Proficiency Requirements
If you were not born in Australia, Canada, New Zealand, United Kingdom, Ireland, South Africa or United States of America, you are required to meet the English Language Proficiency requirements set by the University.
Applicants are required to provide evidence of completion within the last 5 years of:
A secondary qualification (Year 11 and 12, or equivalent), or
Bachelor level qualification study for a period of at least 2 years fulltime with a minimum overall GPA of 4.0
Completed within Australia, Canada, New Zealand, United Kingdom, South Africa, Ireland, or United states of America, which will meet the English proficiency.
If you do not satisfy any of the above you will need to undertake an English language proficiency test and achieve the following scores:
An International English Language Testing System (IELTS Academic) overall band score of at least 7.0 with a minimum 7.0 in each subset; or
An Occupational English Test with Grades A or B only in each of the four components; or
Test of English as a Foreign Language (TOEFL) iBt - 94 or better overall and no score less than 24 for listening and reading, 27 for writing, and 23 for speaking; or
Pearson Test of English Academic (PTE Academic) - Requires an overall score of 65 with no sub-score less than 65.
English test results remain valid for no more than two years between final examination date and the date of commencement of study, and must appear on a single result certificate.
If you are an International student please visit International students English requirements for further information.
Each student will be assessed individually.
Chiropractic students' English language skills are directly aligned with the requirements of the Australian Health Practitioner Regulation Agency (AHPRA).
Work-Integrated Learning (WIL) placements apply to this course and as such are subject to compulsory pre-placement conditions referred to as mandatory checks and are outlined in the health, security and other compulsory requirements sections. Mandatory checks are determined by industry, organisations, legislation, regulations, policies, and procedures. To be eligible for a WIL placement, students must first achieve compliance with mandatory checks by each closing date prior to a WIL placement and maintain current evidence for the duration of the course.
Health requirements for this course are recommended only, and not mandatory. These include immunisation and vaccination evidence (and serology where required) as a recommendation only to the following diseases: COVID-19, Hepatitis B, Measles, Mumps and Rubella, Varicella, Pertussis, Influenza, and Tuberculosis screening. 
Mandatory security requirements include an Australian Federal Police clearance and working with children check.
Other mandatory requirements include a First Aid and CPR certificate, student agreement to privacy and confidentiality, fitness to participate in WIL student declaration, jurisdictional and site-specific compulsory requirements, and other training modules.
You will have to meet this course's
inherent requirements
by demonstrating essential skills and attributes.
Fees & Scholarships
2023 Indicative Fees
| Fee Type | Fees |
| --- | --- |
| International Indicative First Term Fee | A$22,500 |
| International Indicative First Year Fee | A$45,000 |
2024 Indicative Fees
| Fee Type | Fees |
| --- | --- |
| International Indicative First Term Fee | A$15,360 |
| International Indicative First Year Fee | A$30,720 |
Please note the following important information:
Fees are in Australian dollars (A$).

Fees are indicative only and do not cover additional costs such as textbooks, accommodation, visa applications, OSHC, general living etc.

F

ees are based on a full-time study load and the final fee payable will be determined by your selection of units and if any credit was awarded for recognition of prior learning.
The University reserves the right to amend fees at any time during the course. Fees are reviewed yearly and may increase in the following year to enable CQUniversity to continue to provide quality services and facilities to students.
Courses are subject to change at the discretion of the University.
It is your responsibility to make yourself aware of the entry requirements and prerequisites of the courses you wish to undertake.

The typical annual fee shown provides an estimate of the tuition fees for the first year of the course in the same academic year. This estimate assumes a full-time study load of 4 units per term (based on two terms).

S

tudents not on an Australian student visa can only undertake courses online from an overseas location

.

C

ourses undertaken online may be studied on a full-time or part-time mode.
International students studying on-campus in Australia may take no more than 33 per cent of their entire course by online education, and this option cannot be taken in its entirety during a compulsory term (Term 1 and Term 2).
Please refer to our international course fees page.
We offer a range of scholarships to support international students and encourage you to apply for one that's right for you.
How to apply
Our easy to use online application system for international students will guide you through the process of applying for a course at CQUniversity Australia.