Master of Information Technology
| | |
| --- | --- |
| Duration | 2 years full-time, 4 years part-time |
| Location | |
| Next start term | Term 3, 2023 |
| Internship | Yes |
| Study mode | On Campus, Online |
| Course code | CC54 |
| CRICOS | 083576F |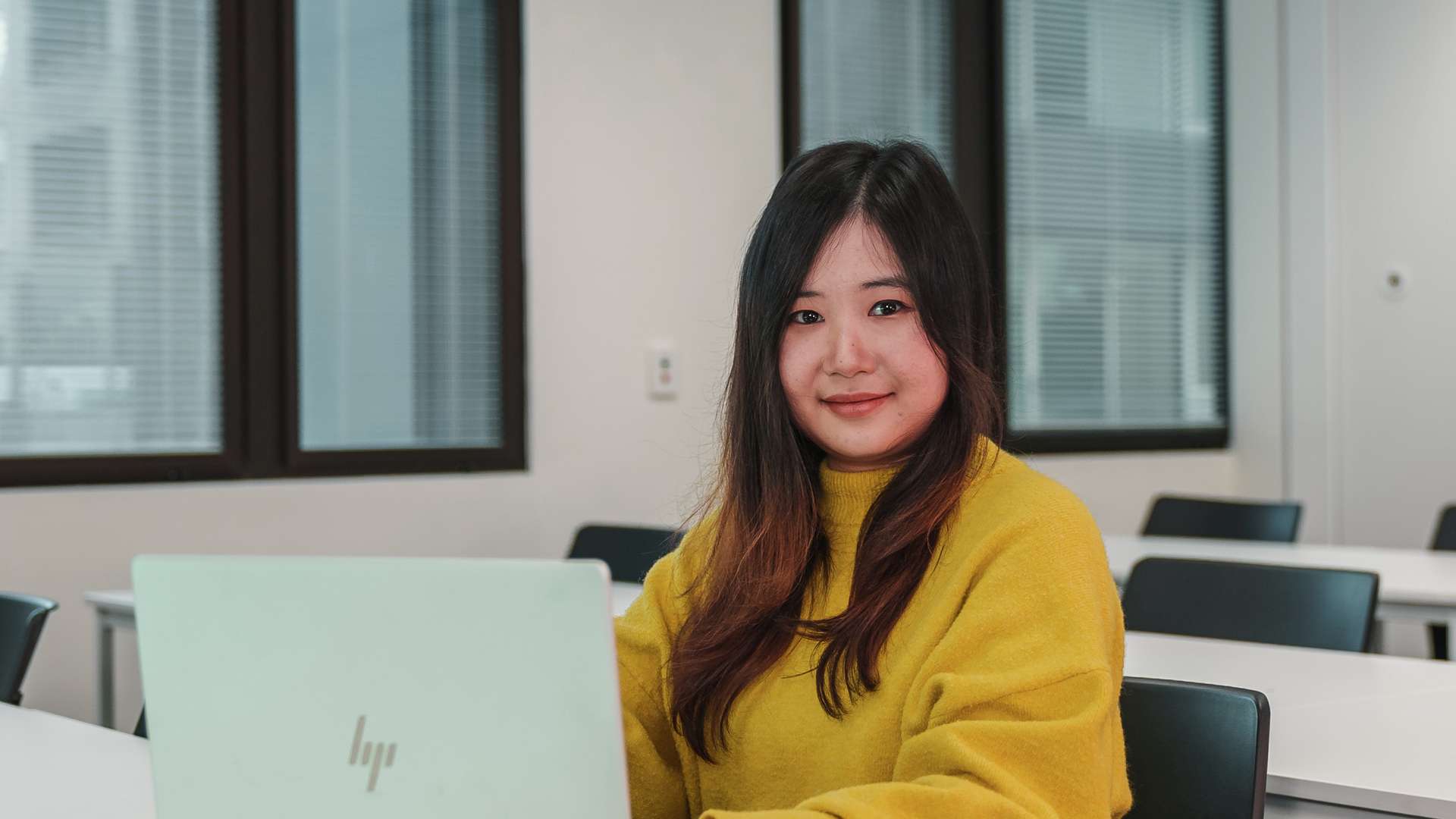 Overview
If you're an established or aspiring information technology (IT) professional the Master of Information Technology will expand your professional knowledge and skills in information technology (IT). Accredited by the Australian Computer Society, you will benefit from a highly practical course that meets international standards of ICT allowing you to develop your career globally.
During the course, you will study a common first term made up of four units covering project management, introductory programming, ICT services management and information systems analysis and design. Following completion of your first four units, you will begin studying in your chosen major: networks and information security; mobile application development; and software design and development. Tailor the Master of Information Technology even further to suit your interests and career goals with the option to select one of multiple industry-driven minors:
artificial intelligence
information systems and analysis
internet-of-things
mobile application development
networks and information security
project management
software design and development.
Minors cover new technologies such as blockchain, neural networks, machine learning, internet-of-things, sustainable practices with IT, and big data. The project management minor provides a unique opportunity to complete a minor in project management and study set elective units to graduate with both the Masters degree and a Graduate Certificate in Project Management (within the standard two years).
You will gain experience using the latest software tools and techniques while having the opportunity to gain exposure to real-world industry case studies based on the experience of practitioner academics. Cement your skills alongside industry with the option of completing a 12-week internship in the final term of study or capstone project.
You will learn from specialist teaching staff including academics with international research reputations in artificial intelligence, internet-of-things and cyber security, current IT practitioners, and academics recognised for their teaching excellence.
Enjoy the flexibility to study online or on-campus, with full-time and part-time study options available. Plus, take advantage of CQUni's three terms across the year to study the Master of Information Technology, when and how it suits you. The flexible course structure also allows you to exit after completion of four units with the Graduate Certificate of Information Technology, or the Graduate Diploma of Information Technology after completion of eight units.
Transcript
If you believe in yourself and in hard work, definitely, you can achieve your goals.
[Speaks in Tamil]
Hi, my name is Kamalambigai Gnanasekaram.
I have actually been exposed to a very western culture so coming here wasn't that much of a culture shock.
I researched about universities in Australia and found CQUniversity is a university that supports and encourages social thinkers.
I feel that this really aligns with what I am and who I hope to be, because I believe great social thinkers are visionaries for social advancement.
I have participated in some workshops and have volunteered to organise the welcome event for our new international students. I am also proud to say that I am a member and the treasurer for the Social Innovation Hub at Sydney campus.
I have received support from CQUniversity as much as any international student can receive. I'd like to mention the Academic Learning Centre in particular for all their help with my assignments.
I have learnt to improve on my organisational and time management skills, and this helps me a lot in my everyday life. Even though university study is busy, I always find time to enjoy different hobbies such as creating cool nail arts and reading.
I believe in hard work and I enjoy what I do. Once I have graduated, I hope I'll be able to gain work experience in the IT field and get the chance to apply my learnings.
I will always recommend CQUniversity to all of my friends and future students because of the experience I have had so far. CQUniversity offers an environment where you can enjoy learning and explore your career options.
My advice to any future students is come out and explore the world. But one thing is, whatever you choose to study, make sure that you enjoy it and have fun on the journey.
For me, my thoughts completely changed after coming here. Even though I didn't have that much of a culture shock, I did question myself how I was going to tackle my studies, let alone a masters degree!
But now I realise that if you have the willpower, anything could be achieved. If you try hard and put in 100% work, you can get what you want.
[Speaks in Tamil]
Be what you want to be.
Study experience
Authentic Learning Experiences

Experienced Teaching Team

Real-world Learning Facilities
Career Opportunities
On completing a Master of Information Technology, you can choose a career in a wide variety of roles including;
analyst programmer
computer network systems engineer
database administrator
developer programmer
ICT architect
ICT consultant
ICT customer support officer
ICT security specialist
ICT support engineer
ICT support technician
ICT systems test engineer
network administrator
project manager
software and apps programmer
software engineer
systems administrator
web developer.
Structure & Availability
COURSE STRUCTURE
You are required to complete 15 units, comprising of 11 discipline units within a selected major and four electives. Majors can be selected from:
Mobile Application Development
Networks and Information Security
Software Design and Development.
The course also offers a 12 credit point capstone project where you demonstrate your knowledge by completing a discipline project.
As part of your choice of electives, you can choose four units from a select group of elective units, three units from within the Graduate Certificate in Project Management plus a general elective unit, or you can choose to complete a four-unit minor in:
Artificial Intelligence
Information Systems and Analysis
Internet-of-Things
Mobile Application Development
Networks and Information Security
Software Design and Development.
Project Management
UNIT INFORMATION
For information on the units, you could study as part of this course, visit the Handbook and select the "Course Structure" tab.
CREDIT TRANSFER
If you have already completed study relevant to the course you have enrolled in , you may be eligible for credit transfer.
On-Campus Availability
| Intake | Locations |
| --- | --- |
| Term 3, 2023 | Brisbane, Melbourne, Sydney |
| Term 1, 2024 | Brisbane, Melbourne, Rockhampton, Sydney |
| Term 2, 2024 | Brisbane, Melbourne, Rockhampton, Sydney |
| Term 3, 2024 | Brisbane, Melbourne, Sydney |
Online Availability
| Intake | Locations |
| --- | --- |
| Term 3, 2023 | Available Online |
| Term 1, 2024 | Available Online |
| Term 2, 2024 | Available Online |
| Term 3, 2024 | Available Online |
Mobile Application 
Development Specialise in mobile app development and study techniques for designing and developing mobile software and web applications that are user-friendly, responsive, robust and ready for the app marketplace. You'll analyse and model organisation requirements and test your systems with industrial hardware and software platforms. 

Networks and Information Security major
In this major, you'll advance your expertise in internetworking, and cyber security technologies and frameworks to design computer networks and information security policies to ensure secure and reliable business operations. Along with taking your skills to the next level, you will be equipped to work as a leader and professional team member. 

Software Design and Development major
Take your expertise to the next level and study techniques for designing and developing reliable and high-performance software with modern architectures so you can build enterprise-grade business applications.
 
Artificial Intelligence minor
In this minor, you'll develop practical and theoretical skills to apply artificial intelligence techniques to develop intelligent systems with advanced capabilities.

Information Systems and Analysis minor
Develop skills in optimising information systems to solve business problems. Extend your expertise to include business process management and emerging technologies in e-business. Plus, you'll gain experience with big data and business intelligence analysis. 

Internet of Things minor 
In this minor, you learn cloud computing, blockchains and the Internet of Things (IoT) to design smart applications and services for the future to lead with efficiencies.

Mobile Application minor
Development Build responsive and engaging mobile apps, including games, and web services with this minor. 

Networks and Information Security minor
This minor introduces you to computer network design and cyber security technologies to ensure secure and reliable business operations.

Project Management minor
Broaden your skills in delivering successful IT projects from the planning phase to executing and closing. Plus, you'll explore methodologies for leading lean projects utilising project, program, and portfolio managers (PPPM). 

Software Design and Development minor
Strengthen your skillset and incorporate designing and building software applications for enterprise systems into your speciality.
Postgraduate ICT Internship - COIT20276
Students have the option of undertaking an internship instead of the capstone units COIT20265, COIT20272 or COIT20273.
Students are able to undertake discipline capstone units while working with industry partners. The capstone units are COIT20273 Software Design and Development Project, COIT20272 Mobile Application Development Project and COIT20265 Networks and Information Security Project.
Requirements
Recommended study
Domestics and international students please see the CQUniversity Handbook.

To be eligible for entry into this course, applicants must hold one of the following:
A completed Australian Qualifications Framework (AQF) equivalent Bachelor degree, or higher equivalent qualification; or
A completed CQUniversity Graduate Diploma in Information Systems, or equivalent; or
A completed CQUniversity Graduate Diploma in Information Technology, or equivalent.
English Language Proficiency Requirements:
If you were not born in Australia, Canada, New Zealand, United Kingdom, Ireland, South Africa or United States of America you are required to meet the English Language Proficiency requirements set by the University. Applicants are required to provide evidence of completion of:
A secondary qualification (Year 11 and 12, or equivalent), or
An Australian Qualifications Framework (AQF) diploma level qualification, or
Bachelor level qualification study for a period of at least 2 years fulltime with a minimum overall GPA 4.0
Completed within Australia, Canada, New Zealand, United Kingdom, South Africa, Ireland, or United States of America, which will meet the English proficiency.
If you do not satisfy any of the above you will need to undertake an English language proficiency test and achieve the following scores as below:
An International English Language Testing System (IELTS Academic) overall band score of at least 6.0 overall with a minimum 5.5 in each subset; or
Test of English as a Foreign Language (TOEFL) - Requires 550 or better overall & minimum TWE score of 4.5 (Paper Based Test), or 75 or better overall and no score less than 17 (Internet Based Test); or
Pearson Test of English Academic (PTE Academic) - Requires an overall score of 54 with no sub-score less than 46; or
An Occupational English Test with Grades A or B only in each of the four components.
English test results remain valid for no more than two years between final examination date and the date of commencement of study, and must appear on a single result certificate.
International Students should visit http://www.cqu.edu.au/international for further information.
Each student will be assessed individually.
You will have to meet this course's
inherent requirements
by demonstrating essential skills and attributes.
Fees & Scholarships
2023 Indicative Fees
| Fee Type | Fees |
| --- | --- |
| International Indicative First Term Fee | A$16,830 |
| International Indicative First Year Fee | A$33,990 |
Please note the following important information:
Fees are in Australian dollars (A$).

Fees are indicative only and do not cover additional costs such as textbooks, accommodation, visa applications, OSHC, general living etc.

F

ees are based on a full-time study load and the final fee payable will be determined by your selection of units and if any credit was awarded for recognition of prior learning.
The University reserves the right to amend fees at any time during the course. Fees are reviewed yearly and may increase in the following year to enable CQUniversity to continue to provide quality services and facilities to students.
Courses are subject to change at the discretion of the University.
It is your responsibility to make yourself aware of the entry requirements and prerequisites of the courses you wish to undertake.

The typical annual fee shown provides an estimate of the tuition fees for the first year of the course in the same academic year. This estimate assumes a full-time study load of 4 units per term (based on two terms).

S

tudents not on an Australian student visa can only undertake courses online from an overseas location

.

C

ourses undertaken online may be studied on a full-time or part-time mode.
International students studying on-campus in Australia may take no more than 33 per cent of their entire course by online education, and this option cannot be taken in its entirety during a compulsory term (Term 1 and Term 2).
Please refer to our international course fees page.
We offer a range of scholarships to support international students and encourage you to apply for one that's right for you.
How to apply
Our easy to use online application system for international students will guide you through the process of applying for a course at CQUniversity Australia.