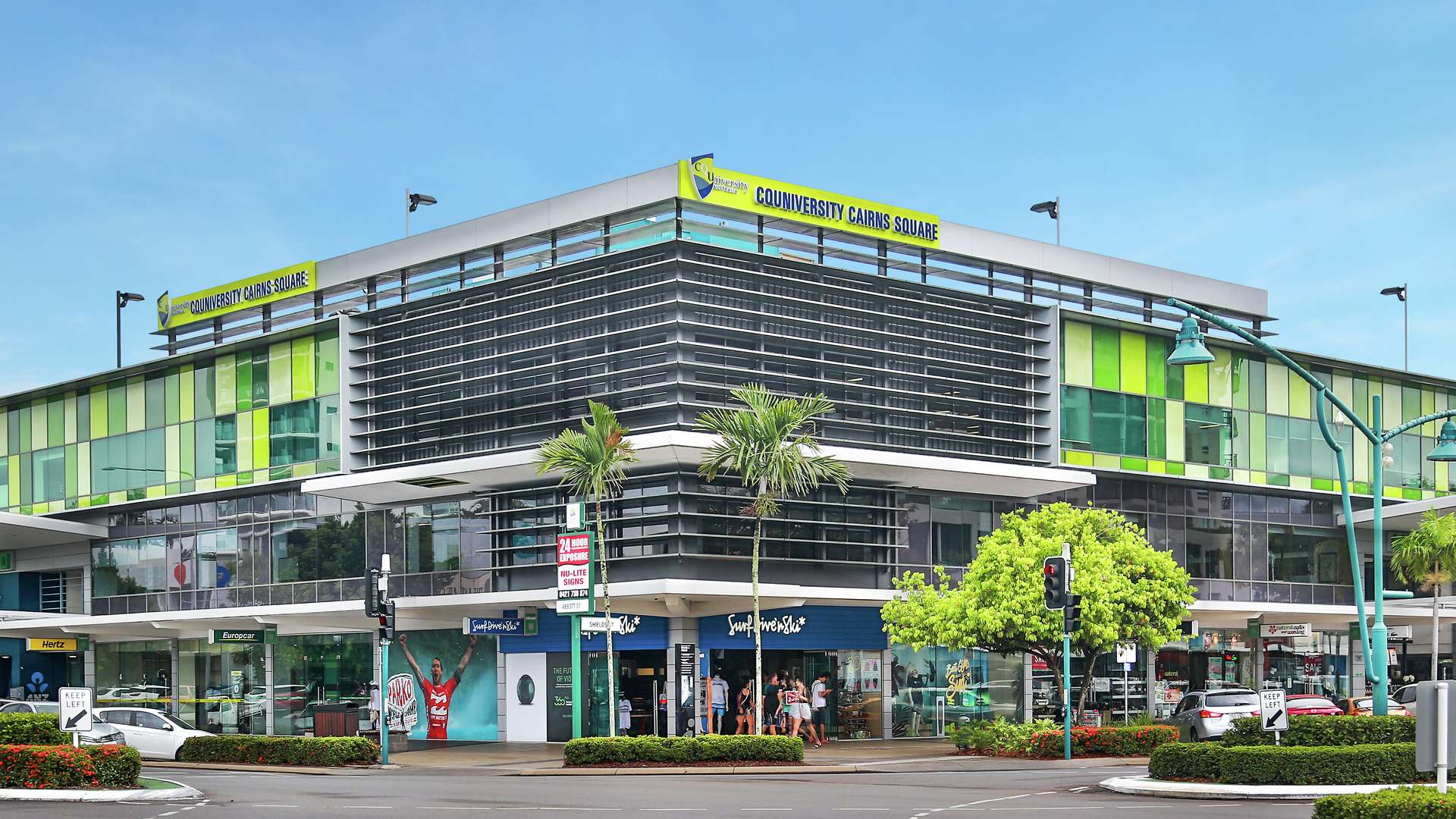 Cairns campus is one of the newest campuses in our University's network of 20+ locations across Australia. The campus supports more than 2 000 on-campus and online students across the Cairns region. Set in the heart of the CBD, students are a short walk away from the famous Cairns Lagoon, esplanade walking paths, sports grounds, retailers and many cafés, restaurants and bars.
At the Cairns campus, students enjoy a fresh and individualised learning experience coupled with small class sizes, the latest teaching technology and expert lecturers, all within a supportive and inclusive learning environment. With flexible learning options, students can choose to study on-campus, online or 'mixed mode' – a combination of both.
Whilst we are proud to offer students a great on-campus experience, at our University, we value and pride ourselves on our online delivery, helping students from remote and regional parts of Australia, including Cairns and surrounds access quality education and thrive in an online environment.
Cairns is a global, coastal city located in tropical North Queensland and is the economic hub for the Cairns region. Nestled between two world heritage icons, the Wet Tropics Rainforest and Great Barrier Reef Marine Park, Cairns is a unique environment renowned nationally and internationally as a premier tourist destination. With an SA4 population of approx. 257,000 persons (as at June 2021) from across more than 47 nations, Cairns is one of Australia's most vibrant multicultural cities.
With an international airport, Cairns city is connected domestically and globally making it an attractive study destination for both domestic and international students alike. Boasting world-class food, affordable accommodation and a diverse cultural scene, Cairns attracts more than 2.7 million domestic and international holiday-makers each year.
Cairns has an eclectic art and cultural scene. The region is brought to life with a host of festivals, events and experiences. These include annual Chinese New Year celebrations, the Cairns Airport Adventure Festival, Ironman Asia-Pacific Championships, Cairns Festival, Cairns Food and Wine Festival, Cairns Amateurs, and the Cairns Indigenous Art Fair . CQU Cairns is a proud sponsor of the Understory Film Festival – a short film festival for FNQ filmmakers. Weekend markets present a celebration of the senses with colour, fashion, arts, crafts, textiles and tasty tropical fruits and homemade treats. Each year Cairns is host to a talented line-up of local and touring live performances to further enhance the vibrant arts and cultural scene.
Cairns acts as a gateway to the nearby Atherton Tablelands, Daintree and Wet Tropics rainforest, and the outback Savannah region beyond the Great Dividing Range. Our environment encourages outdoor activities and adventure, and Cairns' boasts a plethora of outdoor experiences through its sporting clubs and facilities, extensive cycleways, botanical gardens and parklands, tropical beaches, rainforest walking trails, hiking trails and waterfalls.
Local history and heritage are important aspects of any community and the Cairns region has a rich and diverse history. Cairns is the traditional homeland of the Yidinji, Djabugay, Gunggandji and Yirrganydji peoples.
There are many opportunities to embrace our unique tropical culture through art exhibitions at the Tanks Arts Centre, Cairns Regional Gallery and Bulmba-ja or through historic artefacts and stories told through the Cairns Museum.
Ms Jodie Duignan-George
Jodie Duignan-George is the Associate Vice-President for the Cairns and Far North Queensland Region.
As head of the campus, Jodie is responsible for the management of the Cairns campus operations and is committed to working with community and industry to ensure that the University positively contributes to the region's development through the establishment of mutually beneficial relationships and projects that make a difference.
Cairns campus offers a range of courses across many discipline areas including:
health
education
engineering
IT
business
aviation
Jodie is always open to discussions with industry in relation to course development, course feedback, opportunities for partnerships around student placements and general research opportunities. Local research strengths include tourism, economic development, renewable energy, smart grid, waste recycling, agtech, education, public health, aviation Indigenous leadership and Indigenous health, along with access to the broader University research network. To make an appointment to see Jodie please contact the Cairns campus reception on 07 4037 4777.
The Cairns campus has strong links to both community and industry and is committed to playing a pivotal role in the economic and social development of the Cairns region through its partnerships and research capacity. Some of these connections include the CQUniversity Cairns Taipans, a community partnership that spans more than 9 years and is a valuable component of not only our community engagement, but also our Sports and Exercise Science degree to which the Taipans are a partner. The Cairns campus continues to support local organisations and initiatives such as:
The Business Liaison Association
Cairns Chamber of Commerce
Chamber of Commerce and Industry Queensland (CCIQ)
Advance Cairns
Study Cairns
Regional Development Australia (RDA)
With significant local research capability in built environment, renewable energies, automation and smart grid, artificial intelligence, internet of things, health and mental health, psychological science, education, sport and exercise science and digital media/arts technologies, the Cairns campus and our University makes a great partner for local industries to thrive through connection to new knowledge and commercialisation potential.
The CQU Cairns campus operates across four sites each intended to provide innovative and positive learning facilities.
Facilities include:
Nursing and engineering labs on the main campus
Exercise and Sport Science lab (offsite)
Aviation Centre with state of the art simulators (Cairns Airport)
Paramedic Science facilities, located at CQU Aviation Centre (Cairns Airport)
Engineering lab (offsite)
Creative and performing arts studios including recording studios, production facility, film studio, digital media editing suite and professional rehearsal studio
PC and Mac labs
Student facilities including student kitchen, social and recreational spaces, printing equipment, designated quiet study spaces, meeting rooms with conferencing capabilities for group work
Reserve library collection and library services
A multi-faith room
Transcript
Welcome to Cairns, a city best enjoyed outdoors.
Enjoy vibrant cafes, tropical fruits and fresh seafood. Visit bustling markets and learn about Aboriginal culture. With its rich, diverse, and multicultural heritage, Cairns is an ideal destination for students.
CQUniversity's Cairns campus has strong links to community and industry, and is located in the heart of the city, within short walking distance from the relaxing esplanade and lagoon, and close to the bus terminal.
One of Australia's premium tourist destinations, the natural surroundings of the reef and rainforest are living laboratories for students to learn from.
Embrace hands-on, practical learning in a campus equipped with collaborative and contemporary teaching spaces, including engineering, computer, paramedic and nursing labs, aviation, sports science, digital media and recording studios.
Find a range of support services, from assistance with your assignments, career advice and networking opportunities.
Connect with a diverse student population, and enjoy social activities all year round.
And housing is not a problem. Choose from a variety of accommodation options, including homestays, shared housing, or private rentals.
Diversity and natural wonders. Welcome to Cairns.