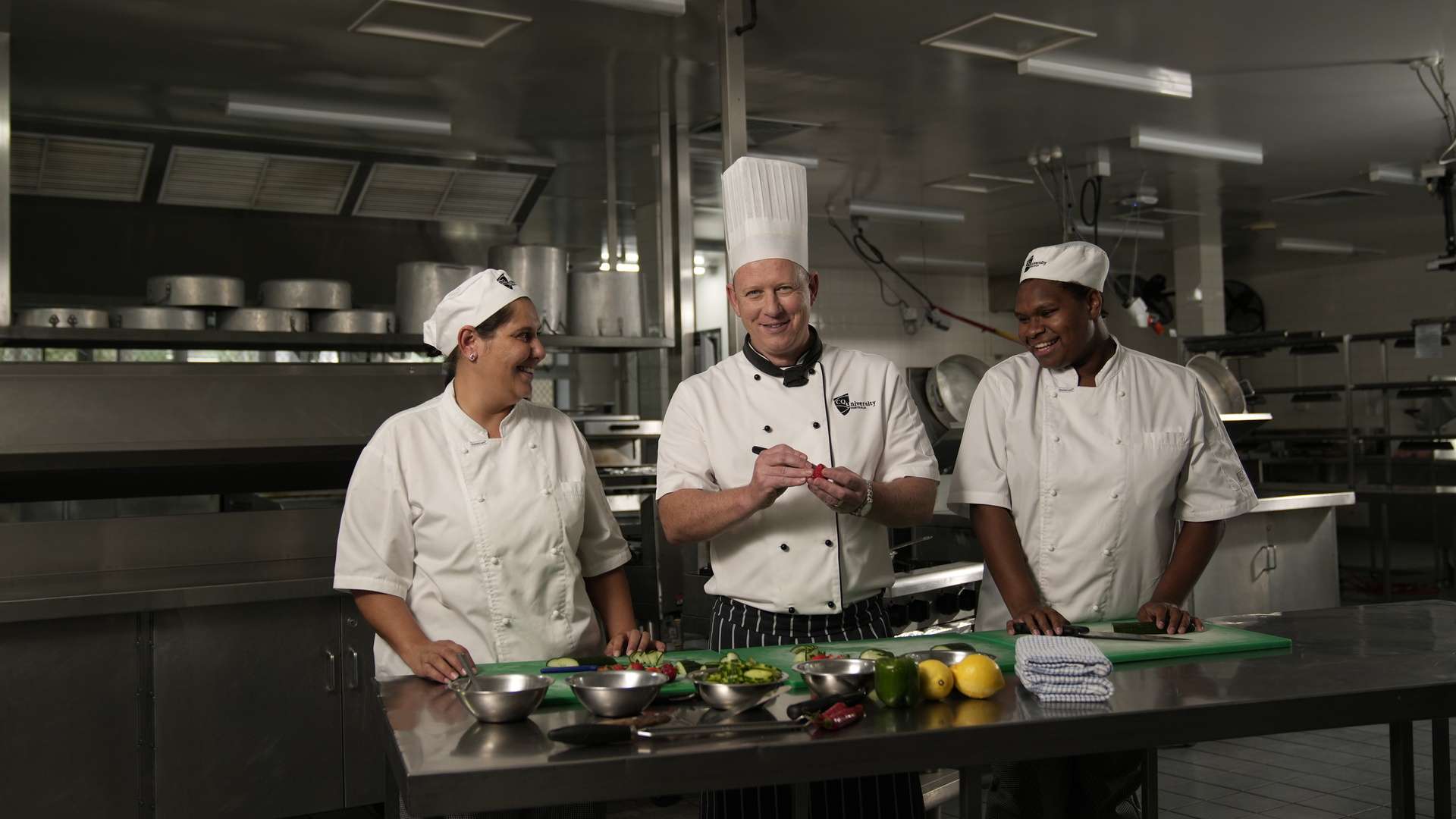 As Central Queensland's official TAFE provider we're proud to be a part of this year's National Skills Week from 21-27 August, 2023.
Join us to celebrate and explore the diversity, benefits and achievements of Vocational Education and Training (VET) at National Skills Week. Discover the skills and careers a VET qualification can offer and find out more about how we can help power your future with TAFE at CQUniversity.
Hear from our TAFE students about their experiences.
Transcript
My name is Sheree Sarmiento. I'm studying Diploma of Early Childhood.
[Music]
Why did you choose to study childcare?
I chose to study childcare because I felt that it was um like a rewarding job for me and it was very I felt like it was my um purpose to do it and just to study with kids and I feel like it was a very unfulfilling job to do um in the future. um This is um useful because it will help me to get a full-time job after I study but also um will help me with my bachelors if I want to study a Bachelor of Early Childhood.
Why did you choose CQUni?
I chose CQUni because they actually do a bachelors for um the course that I'm doing sort of an easy um pathway for me to do my bachelors if ever I'm gonna do it. For me um studying at CQUni um was picking out my um placement so that it's from near to my place, especially during um COVID it was um so easy for me to do it myself and also doing um the online work was is so easy than just going to campus.
How have you found studying online?
Oh I find it very easy just everything's laid out properly and so easy to do it. um The best thing studying at CQUni is probably yeah like the online classes. It's very easy um the portal the portal was very easy to access um everything is given um how it was laid out.
What were your teachers like?
Yeah my experiences with the teaching staff is they're very friendly nice they've really helped me and supported me with my school work and all my assessments. Yeah I have constant contact with my teachers through emails they always try to check up on me.
What have you gotten out of your course?
Studying here I like that I get to know more about kids and how um they are and how what I need to do. um What their needs are and how I should um be the best person for them. I think they've really helped me be what I want to be in a sense of where I want to be in my career like helping me um equipping me and moulding me to the person that I want to be in the future which is my um goal which is to get work in child care or in primary school.
Transcript
Our conservation horticultural students are doing a unit called maintain natural areas so we're removing exotic weeds at present, which will be most of today and then tomorrow we'll start re-vegetating some area.
So, we're doing maintain natural areas re-vegetation and soil erosion units they are fairly normal, but they are exotic weeds which are bad for the environment because they propagate so quickly and spread so quickly so it is best to remove them especially in national park areas and that.
But there are some weeds that are actually native plants that we just don't want around the actual education facility here at North Keppel, um so we're just trying to make sure that they're not in people's way and there are like quite a few introduced species that tend to stick to clothing and animals and things like that that it very easily spread. So we're having to be very careful in the way that we're pulling them to not spread the seeds even further.
So, I'm doing a Cert III in Conservation and Land Management and I have only just started this year, but I have done a previous Certificate in Horticulture. Well, I'm a very nature orientated person, I love going camping and stuff like that. So just learning about my local environment really is interesting to me because then when I do go explore and um like go camping.
I can appreciate what like what is there and what is natives and what is not, and it also helps for me to know how to protect our environments like biodiversity laws, like how we wash our boots and make sure that things are not contaminated before we enter and off like before we leave as well.
Oh my gosh it's so amazing and like when we did that, we first started our partnership with Great Keppel, I was at the one of the first groups to go over there and do vegetation there. It's just really exciting to be able to like see places that I haven't seen before, but also know that I'm helping ensure that people can come here in the future and see them and still find them beautiful and able to actually be used instead of sitting here and being overrun by weeds and exotic species.
I was in administration beforehand, and I've had two children since then and being a stay-at-home mom and I wanted something that would take me outdoors as well and from having such an adventurous camping lifestyle that we have with our children I thought that we could incorporate that in with it with what the new career I'm doing.
I think it's important to maintain the biodiversity of the island and to keep that the native species of the island going without being invaded by all these exotic weeds and therefore we can enjoy it for future generations as well.
Look, I'm hoping to be a park ranger, but the great thing about this course is that I can go into all sorts of different pathways so at the moment I'm just happy learning studying and hoping to see where it takes me.
Isn't it a pleasure? It's brilliant, yes, and I try to take the students on trips twice a year, but now that we've been given natural bushland by the council. So, we're doing monthly works on that one and re-vegetating it and it's just such a pleasure to work in a natural bush land and knowing that you're doing something for the environment.
I absolutely love it, can't recommend it enough.
"

Studying at CQUniversity as lifted me off my feet out of school and really inspired my brothers. I have very much felt supported through my study, CQUniversity teachers are great!

Certificate III in Engineering
Fee-Free TAFE
Become job-ready and gain the skills you need with a fee-free TAFE certificate, diploma or skill set for eligible Queenslanders. Check your eligibility and apply today.
Want a Personal Chat?
Get your questions answered with a one-on-one conversation. Choose a time to connect with us via a phone or video call, email or via social media such as Facebook Messenger.