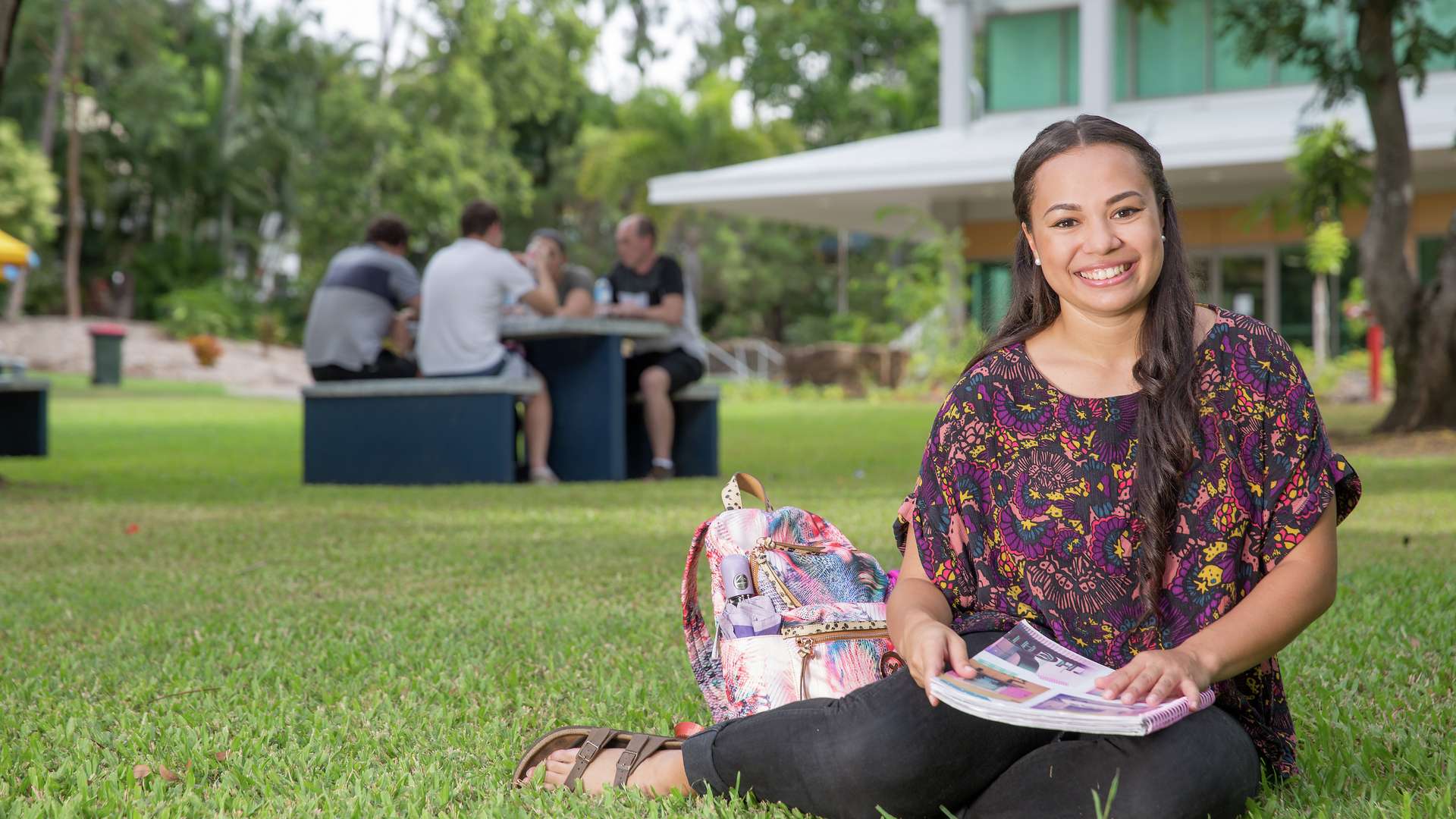 We believe a quality education can be for everyone – regardless of background, location, or life circumstances. That's why we offer a variety of scholarships and bursaries to cater for all student needs. This can include financial support to assist with living expenses, and non-deferrable costs such as textbooks, uniforms, technology, course-specific equipment, travel costs associated with compulsory residential schools and unpaid placement, accommodation, and general living expenses such as rent, groceries and fuel. 
Whether you're a commencing student or continuing your studies, receiving a scholarship can help balance your studies and life commitments. A scholarship looks good on your resume and may open the door to industry networks and work experience opportunities.
Browse the categories to find more information about the range of scholarships on offer.
Scholarship contacts
Undergraduate scholarships - phone  13 27 86 or email studentscholarships@cqu.edu.au 
Research scholarships - email  research-scholarships@cqu.edu.au
International scholarships -  for all prospective international undergraduate and postgraduate scholarship enquiries please email international-enquiries@cqu.edu.au.
What can a scholarship do for you?
Transcript
Somebody I went to res school with. She's like, "hey, I think it would be really worthwhile for you applying for one of these scholarships".
I was like "I don't know", she's like "look, I'll send you the link and it's really easy" and it was really easy. You click on the link, the questions are extremely structured and straightforward. Upload your information and that's it.
Originally, I didn't think that I was smart enough or eligible really to get any type of scholarship, but I did click on an email once that was sent to me and thought I'll just have a look
When I found out about being successful for the grant I was over the moon and I did cry. It was tears of joy because just the amount of help that has for us is incredible.
The financial component of the scholarships was a massive help to me. Our family situation is one that we have six children between us, so funds are always tight and reallocated into other things that aren't myself and having that financial assistance it was wonderful to be able to purchase a few things, but also it just gave me a sense of immense pride.
For somebody that has to study and work at the same time, that grant has just been phenomenal to be able to pay for my study. Basically, it has really taken a lot of monetary worry away from my family
I'm so grateful and thankful for it. It was just honestly incredible.
University, to me once seemed like a different, like it was like for a different range of people, people smarter than me, people more businesslike than me and it's not like that at all.
University is absolutely for everyone and they want you to pass and they want you to succeed. 
"

The scholarship has made my workload easier to manage, as I do not have to stress over finances. It has made it possible for me to reside on campus and made accessing resources such as textbooks easier.

Bachelor or Engineering (Civil) and a Diploma of Building Design, Destination Australia Scholarship
Frequently Asked Questions
The application form relevant to your scholarship of interest is found in the "Apply Now" section of the scholarship page.  
Part of the application process is a written submission, about 500 words or one A4 typed page outlining how a scholarship will assist with your studies.
If you wish to apply for multiple scholarships, you will only need to apply once for each category (Donor Funded, HEPPP, and Indigenous).  It's easy to identify the application category, as all scholarships contain that in the name. 
There are also plenty of external scholarships available so it is definitely worth having a look into community and industry scholarships in your area of interest.
Yes, absolutely!
We offer a range of scholarships and bursaries tailored to meet the diverse needs and circumstances of our students.
Some of our courses require specific equipment, periods of unpaid compulsory industry/field placements or students studying online who will need to travel for a residential school – being a scholarship recipient can assist with these costs, making your student life just that little bit easier.
Scholarships can also assist you to balance your employment/family responsibilities/study loads, taking some pressure off the finances and allowing more time to focus on your studies.
Scholarship applications are opened twice per year, prior to Term 1 and prior to Term 2.
If previous applications have been unsuccessful, have another go!
Term 1 Scholarships generally begin opening in October of the year prior and close in January.
Term 2 Scholarships have a considerably shorter application period, generally opening in early May and closing in early June.
For future students, closing dates may occur before you have been offered a place of study with the university.  Check the individual scholarship page for application details. 
HEPPP-Funded Scholarships and Bursaries:
Targets students from in regional and remote Australia, low socio-economic status (SES) backgrounds, and Indigenous persons with expenses associated with undergraduate study.
Dare to be Deadly Scholarships:
Targets Aboriginal and Torres Strait Islander students with expenses associated with higher education.
Donor-Funded Scholarships:
Targets specific students based on the individual Donor Scholarship eligibility criteria.
Other featured Scholarships:
External Scholarships
Research Scholarships
Destination Australia Scholarships
International Scholarships
We encourage you to review the available scholarships listed on our webpage to see what you may be eligible for. 
Each scholarship listed will advise which application form you are required to complete. 
A 500-maximum word written submission which addresses how the scholarship will assist you in achieving your educational objectives.
Depending on the type of scholarship you may think you qualify for, you may need to provide further documentation to support your application. The online application system will help you identify these documents and you can attach them in the system.
Documents relating to financial income and/or disability are strictly confidential and only used at the initial stage of the assessment process to identify which scholarships you are eligible for.
Please monitor the email address you have used for your initial application as we'll use this address to communicate with you if we need any further information or if some documents are missing.
Any request for further information needs to be responded to and received prior to the closing date of scholarship applications. Late responses will not be considered.
To be considered for Indigenous specific scholarships and bursaries, you will need to provide a Confirmation of Identity (previously known as Confirmation of Aboriginality/Torres Strait Islander) as an additional supporting document to your scholarship application.
A Confirmation of Identity is issued by an Aboriginal and or Torres Strait Islander organisation that has been signed by the Organisation's Chairperson and includes the corporate seal. For scholarships and bursaries, the Confirmation of Identity document should be issued to the student in their current legal name where possible. Confirmation of Identity documents issued in the name of a parent or sibling cannot be accepted.
If you are unable to obtain your Confirmation of Identity (Confirmation of Aboriginality), you must provide 2 x Cultural References and a Statutory Declaration.
A Cultural Referee is defined as:
A recognised Aboriginal and/or Torres Strait Islander community member named or known as a spokesperson, a member, employee or executive of a registered First Nation Australian organisation; or
An acknowledged and recognised Elder or Traditional Owner who is a member of an Aboriginal or Torres Strait Islander community.
Any Aboriginal or Torres Strait Islander students who would like further information, guidance, or support in obtaining a Confirmation of Identity are encouraged to contact the CQUni Indigenous Student Engagement Team on 07 4930 9250 or by email indigenous@cqu.edu.au.
Find a scholarship
We offer a variety of scholarships that can give you a helping hand with a range of expenses and enhance your employability.