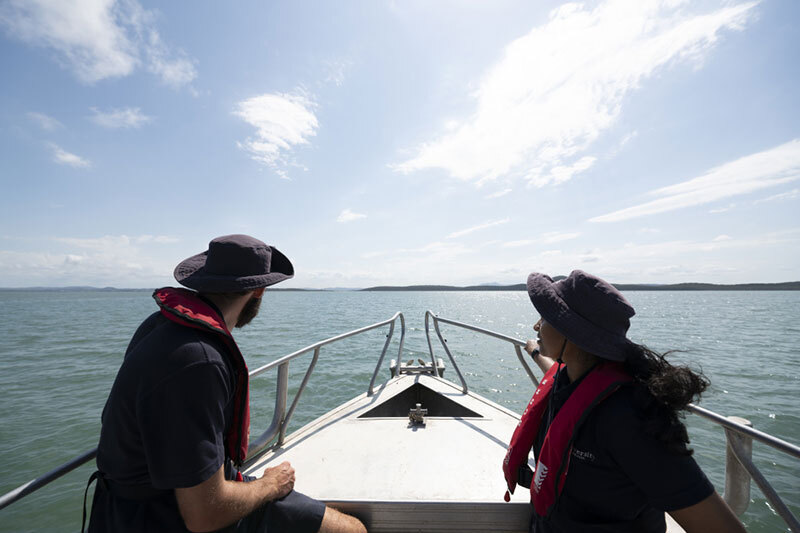 Description
Seagrasses are disappearing at an alarming rate globally. In Australia, seagrass meadows are at critical levels which potentially could have disastrous outcomes for our coastal ecosystems.
CQUniversity's seagrass restoration research program continues to explore ways to restore and grow seagrass meadows in the sub-tropical estuary of the Port of Gladstone. Seagrass meadows are susceptible to urbanisation, due to the fact they grow in sheltered parts of the coast and estuaries where urban development occurs. Opportunities exist to use this development to the benefit of seagrass rather than their detriment. Seagrass meadows are vital to the health of the marine ecosystem. They provide 'ecosystem services'.
Impact
This research project continues to provide insight into how seagrass meadows can be restored and grown in regions of extreme conditions. It contributes to a global body of research which hopes to restore balance to marine ecosystems around the world.
Partners
Professor Emma Jackson- Project Lead
Professor Emma Jackson is the Director of the Coastal Marine Ecosystems Research Centre and a Research Fellow in Marine Ecology. She has 19 years of research expertise in fisheries ecology, seagrass landscape and restoration ecology, impacts on marine species, coastal marine habitats and ecosystem health indicators.
SDG Goals
At CQUniversity we are committed to embedding sustainable practice in our operations, interactions and relationships, underpinned by the United Nations Sustainable Development Goals. Sustainability is one of our strategic pillars within our Strategic Plan 2019-2023.
This project aligns with the following SDG Goals:
11 - Sustainable cities and communities
13 - Climate Action
14 - Life below water
17 - Partnerships to achieve the Goal