Implementing new rail safety technology is precarious business and a research partnership between CQUniversity and Keolis Downer Adelaide illustrates just how important it is to consider the broader operating environment, and the people who will use it.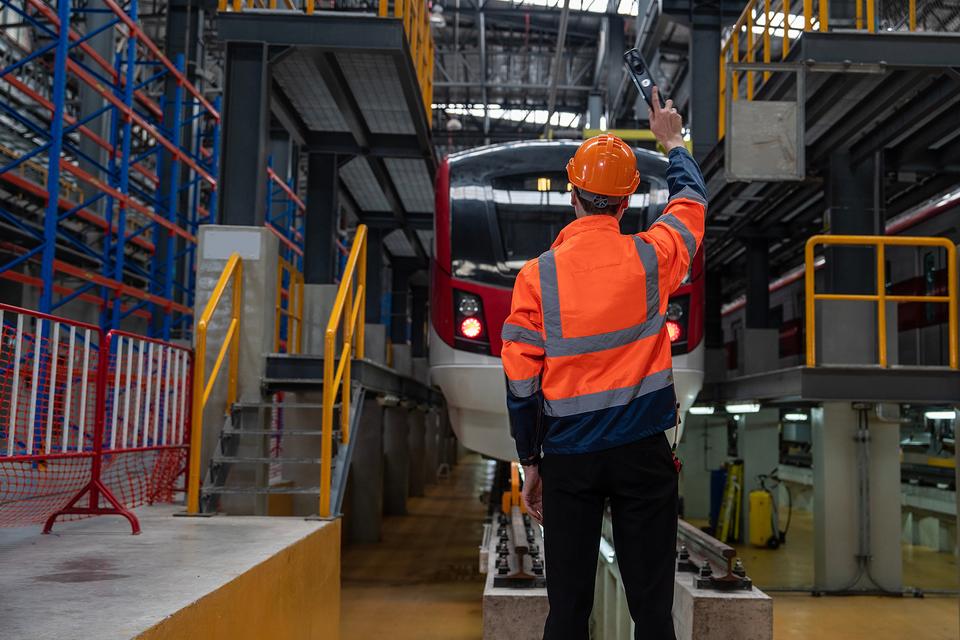 Description
The performance of the Belair line in Adelaide, South Australia, has been impacted by the introduction of Automatic Train Protection technology. Using a multi-pronged approach, researchers studied the technology and have shown that this impact is far-reaching and reflects a failure to appropriately consider human factors in its design and implementation.
Partners
Keolis Downer Adelaide, Engineering. Systems. Management. and Tom Hampton Group
Impact
The research project targeted multiple improvements across different target categories and system levels. A total of 25 targets for enhancement across eight broad categories were identified. These are being used to develop an overall strategy and comprehensive roadmap to deal with business improvement needs associated with the Belair line and ATP, and improve overall system performance.
Researcher
Professor Anjum Naweed and Dr Stephanie Chappel
Generic technologies, like Automatic Train Protection (ATP), often boast impressive safety capabilities. However, research led by CQUniversity Professor Anjum Naweed points out that even the most safety-conscious tools won't perform well if they don't complement the end-user's working style, or unique track requirements.
ATP systems communicate with drivers through numbers, colours and instructions on a display in the cab. When these displays don't work synergistically with the driver, it can create unsafe situations. A system that overprescribes information or instructions to the driver also risks creating errors.
An untailored, or poorly considered, safety device could threaten safety and wreak havoc on the broader network, says Prof Naweed.
"The best way to describe it is using a puzzle analogy. If you try and squeeze the wrong piece into a jigsaw, you could damage that piece, damage the wider jigsaw and, even if you make it fit, create a picture that doesn't quite look right."
CQUniversity has been helping Keolis Downer Adelaide, the operators of the metropolitan rail services in Adelaide, South Australia, deal with the challenges of operating an untailored ATP system on the Belair line after it inherited one from its former management.
"There are sections of steep gradient and single track on this line and segments where lots of cyclists come on board and impact delays. When the track is already very challenging for drivers, issues with poorly calibrated devices are more pronounced," says Prof Naweed.
Some train drivers expressed a strong dislike for the safety device, complaining about its alerts and claiming it added pressure to an already stressful situation. It was also thought to be overly conservative and did not allow drivers to operate at speeds they considered safe. These issues negatively impacted the timetable, as well as the drivers' sense of job fulfilment.
"Not being able to keep to time can make train drivers question their competency and take pride out of the profession," says Prof Naweed.
"It's strange to think that these devices, which are intended to make things more efficient, can have the opposite effect. In this case, performance in the entire network was diminished along with the drivers' sense of purpose. It was a piece of the puzzle that sent ripples across the broader jigsaw and distorted the whole picture."
A well-designed ATP works in harmony with the driver's existing competencies and workload.
"Such a system is adaptive and steps in when the driver's workload is high and backs off when it reduces. A poorly designed ATP will make decisions that conflict with the driver's own and give instructions that correspond poorly with the outside world," Prof Naweed says.
"This breeds distrust and resistance. It is important to take a closer look at how ATP fits with the existing rail technology, and make adjustments that recognise the nuances of the track and driver population."
To compensate for the challenges and limitations around technology adjustments, developing a tailored training program is also a sensible idea Prof Naweed recommends.
"Rail operators need to analyse the training needs of their team before they begin upskilling them on new systems like ATP. Insufficient or poor-quality training leaves drivers unclear on how the system functions and creates a multitude of issues. When drivers aren't properly informed, they have little choice but to create their own theories and introduce new safety risks. When they are properly informed, there are performance and efficiency gains to be made."
Prof Naweed says consultation with drivers and wider stakeholders is critical before purchasing any new rail technology and protecting the delicate ecosystem of rail operations.
"Listening to driver concerns can ensure the technologies suit those drivers that make quick and accurate decisions, have clean safety records, and feel uncomfortable changing their way of working. Equally, it can ensure they suit less experienced drivers who feel uneasy making rapid-fire safety decisions, and therefore need more help. Of course, you will never be able to design a fool proof system, but you can design one that doesn't create 'error traps' for the driver."
"Prioritising human factors in design speaks to the broader culture of safety engagement, particularly in a highly regulated, unionised industry. There is a lack of autonomy in train driving, so if you are not consulting with drivers before making a major change to their workplace, they will feel dehumanised. This will affect their wellbeing, decrease safety performance, and ultimately, impact the bottom dollar."
The research has been conducted in collaboration with Engineering. Systems. Management., and Tom Hampton Group, with tremendous support from Keolis Downer Adelaide, both based in South Australia.
"Research like this is difficult to undertake without organisational support and Keolis Downer Adelaide has welcomed the scientific and ethical needs of the project and provided an 'open door' policy, enabling unfettered access to existing data and collection of new data. It's been an exciting partnership, there's been lots of mutual support and learning, and this research will have high impact," says Prof Naweed.
The research was recently presented at the 2023 Annual Rail Safety Conference in Sydney, Australia, and biennial 2023 Conference on Railway Excellence in Melbourne, Australia.
Connect with CQUniversity
At CQUniversity we know the value of our connections locally and around the world. Our partnerships help us create opportunities, deliver solutions and change lives. From time to time, we share our Connections Count update where we share our highlights, including research impact stories like the ones above. Sign up to become one of our valued connections.