School of Education and the Arts
Studies in Human Society| Psychology and Cognitive Sciences
Dr Marika Guggisberg, Dr Anne-Marie Holt
andrew.burton@cqumail.com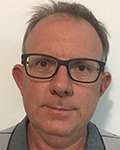 Research Details
Thesis Name
Men with paedophilic and haebephilic interests: Offence prevention based on the Prevention Project Dunkelfeld (PPD)
Thesis Abstract
The Berlin Prevention Project Dunkelfeld (PPD) offers confidential treatment for individuals with paedophilic and/or haebephilic desires. Encouraging individuals to seek support voluntarily, the PPD offers preventative therapy for those men who experience paedophilic/haebephilic desires and do not wish to act on these desires by sexually offending against children or consuming child pornography.
This study will focus on prevention, namely with men who are identified by Western Australian service providers as having inappropriate fantasies and/or desires. Providing knowledge of and recommending implementing the PPD program may serve to reduce the incidence of child sexual abuse by providing intervention 'before the fact'.
Why my research is important/Impacts
Most importantly, it is anticipated that this research will raise awareness of child sexual abuse prevention strategies in Western Australia. The study will benefit potential victims and society as a whole, including individuals with paedophilic and haebephilic interests not wishing to act on their desires.
Additionally, the research may have wider implications for clinicians and other professionals working with actual and potential child sexual offenders. With no study of its kind having been conducted in Australia, the research will potentially have significance on a local, national, and international level, and will be an important addition to the body of knowledge.