School of Education and the Arts
Professor Judith Brown, Dr Liz Ellison
nicole.e.thomson@cqumail.com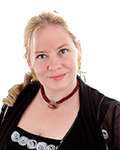 Research Details
Thesis Name
Finding your mix: Analysing pedagogies for developing the mix voice in young adult female music theatre performers.
Thesis Abstract
This thesis will examine case studies of singing pedagogy relating to singing teachers and their young adult female music theatre students to analyse current practice in the development of the mix voice.
Why my research is important/Impacts
There are many research elements relating to 'belt' and classical voice techniques, but little detailed research has been carried out on this emerging vocal style. This thesis will add significantly to the existing writings around this important singing pedagogy.