School of Health, Medical and Applied Sciences
Environmental Sciences| Agricultural and Veterinary Sciences
mehraban.farahmand@cqumail.com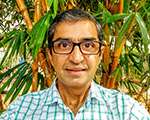 Research Details
Thesis Name
Fostering social resilience and ecological stewardship for uptake of urban agriculture towards building communities in regional Queensland.
Thesis Abstract
This proposed research aims to investigate the development of Urban Agriculture (UA) — and explore a justification of developing social resilience and capacity to foster community building. In this context, Central Queensland. The findings will contribute towards improved environmental management.
Why my research is important/Impacts
This research will draw attention to the need for policy development that encourages UA in regional Australia. It will consider lessons from other metropolitan cities within Australia and internationally. The shift will bring about an improved attitude to community cohesion cutting across age, ethnicity, language and economic status. It will investigate proven strategies to improve mental health through UA practices. Its focus on the environment will have a collateral influence in mitigating the impacts by reduced dependence on industrial-style mass food production. CQUniversity's contribution towards UA will grow and it will be known for its inroads in social and environmental sustainability.