School of Health, Medical and Applied Sciences
Medical and Health Sciences| Education
Dr Roxanne Bainbridge, Dr Michelle Redman-Maclaren, Mrs Miriam Ham
amelia.britton@cqumail.com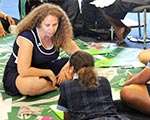 Research Details
Thesis Name
Co-designing a learner-centred alternate education model that can be contextualised to meet the developmental needs of remote Indigenous adolescents.
Thesis Abstract
Current educational opportunities on Cape York don't work for all remote Indigenous adolescents. For adolescents disengaged from mainstream education, opportunities to learn the holistic skills needed to set them up for adulthood are limited. Families and community support agencies have identified a need for educational alternatives to meet the complex educational needs of these adolescents. Action groups in two Cape York Aboriginal communities will work with the researcher to determine the specific needs of the adolescents and their context, and examine models that are working in other Indigenous contexts. This information will inform a co-designed alternate model of education ready for implementation.
Why my research is important/Impacts
The research findings in this PhD study will produce a co-designed alternate model of learner-centred education ready for implementation within the identified two Cape York Aboriginal communities. This model will inform holistic action with and for remote Indigenous adolescents to learn the skills needed to set them up for adulthood. It will also inform other remote Indigenous communities in Australia, and other nations with comparable colonial experiences. A variety of people will share their expertise and perspectives in the action group discussions and will benefit from this research by being part of the solution to a community identified need.
Funding/Scholarship
CQUniversity Postgraduate Research Award