School of Education and the Arts
Education| Studies in Creative Arts and Writing
Professor Judith Brown, Mr Phillip Bohun
joanne.burrows@cqumail.com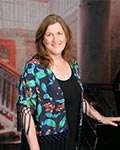 Research Details
Thesis Name
Constructivism and Australian piano studio teaching
Thesis Abstract
This research examines the teaching materials used by Australian piano teachers when teaching beginner piano students aged between 12-16. A survey of Australian piano teachers who teach older beginner students will establish and quantify favoured teaching materials. It will also offer individual teacher perspectives on the suitability of these for older beginners. An evaluative tool will be created and used to critically analyse teacher-preferred materials through the lens of constructivism and frame a discussion of teaching practice in the Australian piano studio. The research will offer fresh insights into several aspects of studio piano teaching in Australia, focusing on the identification and evaluation of teaching resources for older beginners in relation to constructivist learning theory.
Why my research is important/Impacts
Many piano students stop learning after a relatively short time, often before they have the skills to be independent musicians. An examination of teaching materials in relation to constructivism will provide information regarding current teaching materials used with older students. The identification and examination of teaching materials preferred by piano teachers for older beginners will enable a discussion of piano learning in terms of musical repertoire, relevance and educational impact. Additionally, the research will contribute to the field of music education.