School of Health, Medical and Applied Sciences
Environmental Sciences| Biological Sciences| Agricultural and Veterinary Sciences
Associate Professor Owen Nevin, Dr Melanie Clapham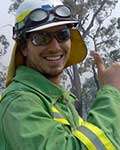 Research Details
Thesis Name
Impact of Ecotourism: a comparison to observe behavioural changes in brown bears (Ursus arctos) that may have occurred across generations under a constant viewing regime
Thesis Abstract
The proposed research project will examine the behaviour of brown bears (Ursus arctos) at an established ecotourism viewing site to determine whether changes have occurred under a constant management regime in the Glendale Cove region of Knight Inlet, British Columbia, Canada. The project seeks to establish whether previously identified direct positive impacts for the animals viewed persist on generational time scales. As the first of its kind, this study seeks to compare the behaviour of one generation of brown bears to another in one location, it will give a unique account of the long-term impacts of ecotourism and bear viewing.
Why my research is important/Impacts
The proposed research seeks to develop the preservation of brown bears and their habitats through better understanding and management of bear-viewing ecotourism and the exploitation of resources in the ecosystems of the Great Bear Rainforest. Through successful completion of this project, it may be possible to adopt similar long-term studies to advance the conservation of other species and their habitats using similar methodology.
Partners
Knight Inlet Lodge
Brown Bear Research Network