School of Nursing, Midwifery and Social Sciences
Medical and Health Sciences
Associate Professor Clare Harvey, Dr Adele Baldwin
Donna-Marie.Bloice@cqumail.com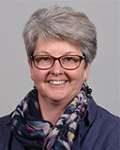 Research Details
Thesis Name
Who cares about the health of female former prisoners?
Thesis Abstract
The number of women in prison in Australia has been growing over the past two decades. Women represent 8% of the total prison population with current evidence confirming that women leaving custody generally experience poor health outcomes which include chronic health conditions and unmet mental health needs. Poor engagement with health care services and an absence of transitional health care post release from prison leaves this group of women at risk from preventable death.
Why my research is important/Impacts
The data evidences the need for continuity of care, supportive recovery, and reintegration, and to promote engagement with health services in the Australian context. The role will involve planning for discharge, build on health literacy and provide social and health support in the immediate months following release. This combined in-prison and outreach nurse navigator role will assist women to navigate health systems, avoid overusing emergency departments and missed care. The dedicated nursing model of care will facilitate health needs and referrals to other agencies without the associated stigma and label of being in prison.