School of Health, Medical and Applied Sciences
Environmental Sciences| Biological Sciences| Psychology and Cognitive Sciences
Dr Bradley Smith, Dr Tina McAdie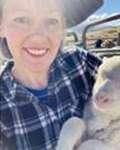 Research Details
Thesis Name
Determining the—¯impacts of dingoes on livestock production: A case study from Central West NSW.—¯
Thesis Abstract
In south-east Australia where sheep are farmed, dingoes and livestock are deemed incompatible due to their perceived threat to the livestock industry. Details relating to dingo-livestock interaction, and public attitudes to dingoes in areas of livestock production are limited. In order to begin exploring these issues, this research seeks to determine the perceived versus the actual impact of dingoes on livestock production.
Why my research is important/Impacts
Gaining an accurate picture of the interactions between dingoes and livestock, and the attitudes and experiences of livestock producers, will help the development of more evidence-based dingo management and conservation strategies.