School of Education and the Arts
Studies in Creative Arts and Writing| Language, Communication and Culture
Professor Liz Ellison, Prof. Craig Batty
amantha.perera@cqumail.com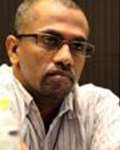 Research Details
Thesis Name
The Impact of Online Trauma Threats Faced by Journalists: The Case of COVID-19 Imposed Remote Working Regimes
Thesis Abstract
COVID-19 enforced working conditions increased exponentially the exposure levels of online trauma threats faced by journalists. The pandemic's global reach and its fatality rate meant that from around April 2020, bulk of journalists across the world found themselves working from remote locations, under restrictive work conditions while reporting a chronically traumatic story.
Why my research is important/Impacts
The research explores a threat vector — online trauma, which was recognised as an occupational hazard encountered by journalists only few years back. However, since early 2020 due to COVID-19 imposed restrictions and conditions, the threat exposure levels, and potency have increased dramatically. This project explores in-depth this urgent and dangerous threat. As journalism grapples with how it adapts to post-COVID normal, there are newer dynamics at play with their own set of dangers. Online trauma is one of the key such dangers. This project gives the chance to develop knowledge that would be of real-time value to the industry.
Funding/Scholarship
CARTA Scholarship