School of Nursing, Midwifery and Social Sciences
Medical and Health Sciences| Education
Associate Prof Pauline Calleja, Dr Ashlyn Sahay
danielle.jocumsen@cqumail.com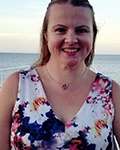 Research Details
Thesis Name
Providing emergency care in rural and remote facilities; what are the needs of non-emergency trained registered nurses?
Thesis Abstract
My research focuses on the preparedness, confidence and competence of non-emergency trained nurses working or commencing work in rural and remote facilities. Studies have shown that Australians face unique challenges due to their geographical locations and people living in rural and remote areas have shorter life spans, higher levels of disease and injury, poorer access to health services and isolation and distance from appropriate health services compared to people living in metropolitan areas. Registered Nurses working in these areas are required to be multi-skilled and practice at an advanced level. Literature has also shown that registered nurses working in rural and remote locations often feel unprepared for the breadth and complexity of this role and lack the expertise needed to address the community's health priorities.
Why my research is important/Impacts
The data collected would be utilised to develop a process of evaluating rural and remote nursing education, training and competencies to ensure that nurses commencing work in rural and remote facilities are prepared, confident and competent to deliver the holistic care specifically required for caring for people in rural and isolated areas.