School of Engineering and Technology
Built Environment and Design| Psychology and Cognitive Sciences
Dr Pushpitha Kalutara, Professor Chris Doran
michael.bowles@cqumail.com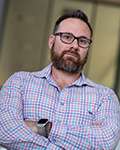 Research Details
Thesis Name
The Impact of Suicide in Australia's Building and Construction Industry
Thesis Abstract
The Australian construction industry has a 46% higher suicide rate than Australia's general population. Suicide and self-harming behaviour have profound effects on families, communities and society in general. A single fatality by suicide can shut down a workplace for days, having a significant impact on productivity and workplace morale. The impetus for this project is to investigate how the suicide of a construction worker impacts an organisation, its employees, the deliverables of a project, and the builder/client relationship. Moreover, the project will garner the opinion of people employed in construction organisations on how they perceive the suicide of a colleague might affect them and their employer.
Why my research is important/Impacts
In recent years, there has been more focus on the mental health of the building and construction industry, which has attributed to the growing awareness of the high costs of poor mental health, due to reduced work time and diminished productivity. . It is anticipated that the findings of this study will redound to benefit society; considering the high rate of suicide in Australia's building and construction industry. Long term, this study seeks to try to reduce the impact suicide has on an organisation and its employees, by understanding the negative impacts suicide has on the industry and what can be done to deal with the issue.
Funding/Scholarship
CQUniversity Stipend Scholarship