School of Nursing, Midwifery and Social Sciences
Medical and Health Sciences| Education
Prof Amanda Henderson, Dr Adele Baldwin, Associate Prof Clare Harvey
frances.corcoran@cqumail.com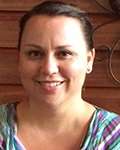 Research Details
Thesis Name
Assessment practices for work ready Registered Nurses: A critical discourse analysis
Thesis Abstract
Though thousands of Registered Nursing (RN) graduates enter the workforce in Australia yearly, many are not considered to be work-ready. Assessment practice in Higher Education (HE) provides a process by which undergraduates are evaluated, students are motivated, and learning is structured. This research uses Critical Discourse Analysis to examine assessment practice in Australian nursing curricula as related to the preparation of work-ready graduate RN's. Methods include document analysis and semi-structured interviews.
Why my research is important/Impacts
This research has the potential to influence the nursing workforce, education, and health service delivery. The way in which HE prepares its graduate nurses to enter the workforce plays a large role in both their individual success and capabilities as well as how they contribute to health service delivery. To be able to improve their work readiness will impact safety, retention and colleague acceptance. Research in assessment for work readiness demonstrates and strengthens the link between nursing academia and clinical practice.