School of Health, Medical and Applied Sciences
Psychology and Cognitive Sciences
Dr Amanda Rebar, Professor Drew Dawson
kristie-lee.alfrey@cqumail.com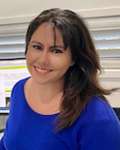 Research Details
Thesis Name
The Role of Identity in Human Behaviour Change and Maintenance
Thesis Abstract
Identity — the way a person understands themselves — is typically viewed in light of cultural and environmental factors, with many psychological theories supporting the view that social identity predominantly influences the decisions people make and the behaviour the person engages in. However, the identity a person assumes based on cultural and environmental cues (external identity) may be different from the identity a person assumes based on their own emotions, preferences and instincts (internal identity), potentially influencing behaviour in different ways. This project investigates the processes of behaviour motivation, initiation and maintenance with regard to internal and external identity.
Why my research is important/Impacts
This project investigates the role of identity in behaviour change and maintenance across three different behaviours (support-seeking behaviour, student behaviour and physical activity behaviour). Findings are expected to indicate motivational and behavioural differences between 'socially-identified' persons and 'internally-identified' persons. Additionally, findings may indicate if certain behaviours may be more (or less) influenced by motivation driven by the 'internal-identity'. In all, this project looks to expand current knowledge surrounding identity-related motivations that underpin behaviour change and maintenance, potentially providing alternative, or complimentary, theoretical standpoints and practical approaches to encourage behaviour change in behaviours particularly difficult to initiate and maintain.