School of Business and Law
Commerce, Management, Tourism and Services| Studies in Human Society| Psychology and Cognitive Sciences
Associate Professor Olav Muurlink, Dr Danielle Every
samantha.cooms@cqumail.com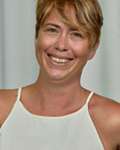 Research Details
Thesis Name
Disability and First Nation Australians: Custodians of the People
Thesis Abstract
This research seeks to explore the lived experiences of the Quandamooka community regarding disability. This includes traditional practices and the intersectional relationships with western programs and practices, the and the community's hopes for the future in the disability sector.
Why my research is important/Impacts
The National Disability Scheme has altered the disability landscape, but there is limited information about disability in First Nation communities. It is widely accepted that First Nation people with a disability have some of the poorest outcomes of any group in Australia, which is echoed in many First Nation groups globally. This research seeks to share the voice of a people in a strengths-based and culturally appropriate manner.
Funding/Scholarship
University Postgraduate Research Award - Indigenous