School of Health, Medical and Applied Sciences
Medical and Health Sciences
Dr Betul Sekendiz, Associate Professor Brendan Humphries
patricia.english@cqumail.com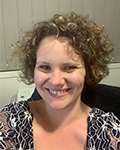 Research Details
Thesis Name
An investigation into the risk management of pre-existing medical conditions to minimise the incidence of fatal and non-fatal drownings within Australian public aquatic facilities.
Thesis Abstract
The proposed study will use information gathered via an online cross-sectional survey designed for both patrons and staff members of public aquatic facilities to examine the proposed link between risk awareness and improved safety behaviour to minimise the risk of drowning incidents related to pre-existing medical conditions.
Why my research is important/Impacts
There has been a large amount of research done both nationally and internationally concerning drowning on beaches, creeks and rivers. However, there is a lack of research towards drowning events in public aquatic facilities. In addition, pre-existing medical conditions, such as diabetes mellitus, epilepsy and the long-QT syndrome, raise a person's risk of drowning, a risk which has yet to be examined.