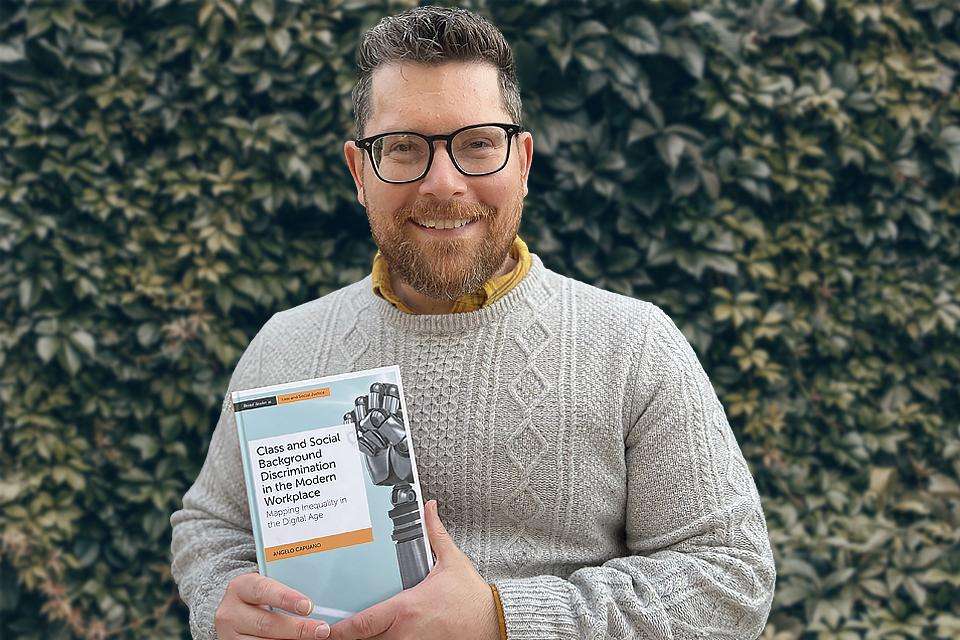 A law academic says digital workplace trends like "cybervetting" through social media, interview gamification and AI-driven recruitment could mean applicants from working-class backgrounds don't even get a call back when they submit job applications.  
In his new book, Class and Social Background Discrimination in the Modern Workplace, CQUniversity Law lecturer Dr Angelo Capuano warns the use of popular new technologies can create risks of discrimination against people from disadvantaged or diverse backgrounds, and people with disabilities. 
"We know employers use cybervetting to assess what they call 'cultural fit'… and there's new evidence that employers may now deny giving people jobs simply because the employer does not approve of the lifestyle choices they perceive on candidates' social media profiles," he said.
"This is quite shocking, especially because certain lifestyle choices can be cultivated from upbringing and reflect our class, social and family background."
Dr Capuano said whilst some recruitment algorithms like Contextual Recruitment Systems are promoted as positive for workplace diversity there are risks the algorithm may filter out socially and economically disadvantaged people. 
"Similarly HireVue's Asynchronous Video Interviewing is a process of automating the interviewing of job candidates with AI assistance, but the design of this technology may disadvantage people who use manner of speech or words that are associated with the working-class," he said. 
He also points to gamification in recruitment, which involves filtering job candidates based on the results they get from completing online games. 
"This is very troubling, as there are a range of medical conditions which can, and will, impact a person's ability to complete these games."
"For instance people with disabilities will be disadvantaged, or people on the wrong side of the 'digital divide' due to their age, socio-economic circumstances or upbringing.
"We're also seeing social media platforms like Facebook and LinkedIn give employers detailed targeting options when advertising job vacancies, and location targeting means employers can make job ads visible only to people in particular locations.
"That can mean those who live in outer suburbs, or rural locations, may be denied from seeing job opportunities in a city… creating a digital form of 'postcode discrimination'."
Raised in Melbourne's western suburbs, Dr Capuano was first-in-family to attend university and he saw plenty of discrimination based on postcode, and worse. 
"I first discovered the ugly reality of classism in the legal profession when I tried to get a job - for example, when a firm asked me to brainstorm the people in my network who could become clients of the firm, but I had none, or when my pronunciation of words was ridiculed for not being 'proper'.
"I was even told I didn't get a job because the successful candidate showed more 'commercial acumen' through having a share portfolio!"
Eventually securing an associate role with Justice Peter Gray of the Federal Court of Australia, Dr Capuano went on to study law at Oxford University, with a Rotary International Ambassadorial Scholarship. 
"Being told that I was the first person from Melbourne's traditionally working-class western region to win the scholarship since its inception in 1947 got me thinking about social mobility," he explained. 
A PhD scholarship at Monash University saw Dr Capuano complete his thesis on 'social origin' discrimination in international law and Australian law, and he said the topic still lights a "fire in his belly".
While writing his book, he also experienced a ruptured eye, and advanced stages of a degenerative eye condition, which challenged him to consider other types of discrimination. 
"Digital workplaces and the changing nature of work from the fallout of COVID-19 creates new disadvantages at various intersections, especially at the synergy of 'social origin' and disability," he said. 
Class and Social Background Discrimination in the Modern Workplace is out now with Bristol University Press, and exposes how digital workplaces can exploit and accelerate class inequalities. 
Former Justice of the High Court of Australia the Hon Michael Kirby AC CMG reviewed the book, and said it: 
"Evidences some of the critical changes in the way digital decisions will impose consequences on human beings. Despite many benefits, the gigantic shocks that lie ahead stretch beyond ChatGPT, to impose disadvantage on data subjects without human mediation. This timely book uses particular algorithms to illustrate specific dangers and the urgent need for law reform and social awareness."
The University of Sydney's Professor Emeritus Ron McCallum AO, a leading Australian labour lawyer and scholar, also reviewed the book and said: 
"This splendid volume broadens Australian discrimination law by analysing class as an element of the ILO concept of social origin. These precepts will strengthen equality in the digital age workplace."