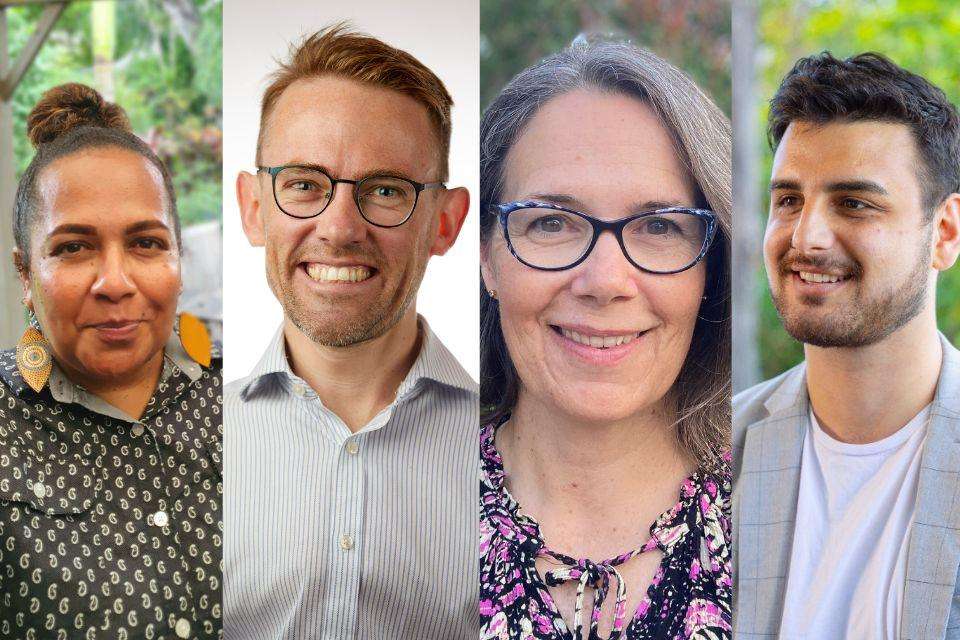 Passionate changemakers have shared their insights for CQUniversity's Festival of Change 2023, at the launch event tackling inclusion, accessibility and equity in higher education. 
The free online session attracted a big audience from across education, community and social impact sectors, and kicked off two weeks of events to inspire and celebrating changemaking.  
Moderated by CQUniversity Social Innovation Program Manager Ashley Clarke, the panel featured:
Dr Melinda Mann, a proud Darumbal woman and South Sea Islander, CQUniversity Senior Learning Designer and Lecturer – First Nations Cultural Competency, and advocate for Indigenous Nation building, Pacific sovereignties, and regional and rural communities 
Sam Drummond, author of recent memoir Broke, lawyer and human rights advocate, who was diagnosed with a form of dwarfism at a young age, and has worked across media, law, and human rights advocacy
Professor Kate Ames, multi-award-winning educator, and leader across tertiary education, Defence, and not-for-profit
CJ Thom, grew up queer, neurodivergent and facing disadvantage in regional Queensland, but an equity scholarship helped him unlock education, opportunities and his career creating an inclusive community through Wellways Carer Gateway.
Watch the Breaking Barriers panel here.
Mr Drummond told the event that growing up in regional Victoria with a single mother and tough medical challenges, he saw university as "a route out of the situation." 
But challenges to afford accommodation accessible to university, and lacking the social networks of his predominantly private school peers, he said as he began his law degree "the culture and the system were already a barrier". 
"We can try to get the numbers (of diverse students) better, more Aboriginal and Torres Strait Islander people, more people with disabilities, more people from rural and regional - but until we have the systems to accept them and support them at university, then those barriers are still going to exist," he said. 
"I think we have this myth at the moment that university can be the great cultural equalizer, and it's true to an extent, but only if we implement it in the right way … And my experience is we're not doing that from day one."
Dr Mann, who achieved her PhD at CQUniversity, said universities had work to do to undo old stereotypes. 
"Universities get in their own way when it comes to (either) addressing or perpetuating these barriers … universities need to realise they are part of the system that is built around old thinking, and change systems to address structural inequality that First Nations people experience," she said.
"First Nations worldviews and knowledge must contribute to new knowledge base."
Dr Mann said her work leading First Nations Cultural Competency training and development at CQU was designed to challenge and change assumptions, and systems.  
Also at CQUniversity, Professor Ames leads development of hyper-flexible study options, and said inclusive design is crucial, especially considering the neurodivergent community.
"This work has come a long way, and at least we're asking these questions, and starting to offer the flexibility that's needed for different learning styles," Prof Ames said. 
"But the core principle is, people shouldn't have to advocate for themselves to get access to university, support for their needs should be systemic." 
CJ Thom said managing his mental health through his studies was "really a traumatic experience".
But he said support systems around his degree made a big difference. 
"I was very lucky to be awarded an equity scholarship, and without it financially I wouldn't have been able to attend university, after my family lost their business in the 2010/11 floods," he explained. 
"What was so vital for me, was the community built around the scholarship recipients, that actually celebrated us and encouraged us – rather than just telling us we were lucky to be there." 
Mr Thom highlighted that equity scholarship recipients have a higher rate of completion than the mainstream student cohort, and advocated for growing scholarship programs. 
"That $3500 that I got to move from Bundaberg to Brisbane and start my degree, that is the difference to breaking the cycle and not," he said.
The panellists shared their views as Federal Education Minister Jason Clare prepared to release a report from the recent review of Australian higher education. 
Watch the Breaking Barriers panel here.
Mr Clare said enrolled students numbers are expected to double to 1.8 million by 2050, and that universities must do more to improve participation and completion rates of people from disadvantaged backgrounds.
"The only way to do this, is to significantly increase the number of university students from the outer suburbs and the regions, students from poor backgrounds, students with a disability, Indigenous students," Mr Clare said.
The Festival of Change is part of CQUniversity's role driving social change, innovation, equity and inclusion as an Ashoka U Changemaker University, and Australia's first social enterprise university certified by Social Traders.
For more Festival of Change events on campus and online until Friday 28 July 2023, browse the full schedule here.