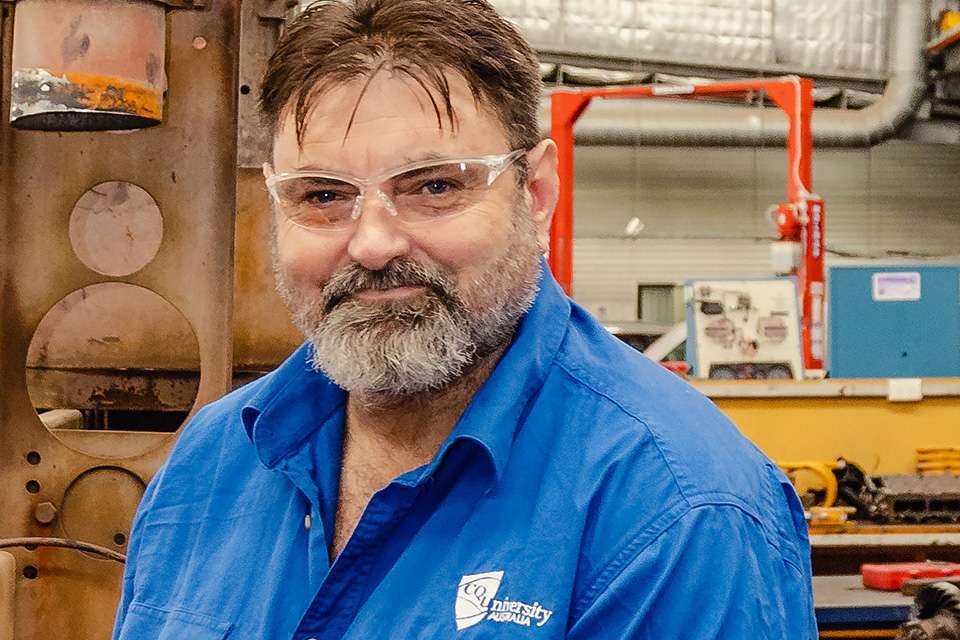 For Chris Wasiak, becoming a trades teacher at CQUniversity was "the best decision" he's ever made because every day he gets to pass on his knowledge to the diesel fitters of the future.
Having been an apprentice himself back in the day, learning the trade, Chris knows just how important his role is.
"I finished school in Year 10 because I was looking for a more hands-on experience," he said.
"I started my road to diesel fitting through a Pre-Vocational Course at the then Central Queensland Institute of TAFE in 1990. This was a nine-month course which exposed me to various trade areas, and I excelled in the Automotive section."
After completing that course, Chris applied for various positions in Brisbane and was lucky to gain an apprenticeship through a host employer at TNT Fleet Management's Salisbury Workshop. 
With 15 years of professional experience as a diesel fitter, Chris decided to move into teaching. He's been a teacher for 18 years – 11 of those with CQU TAFE. He's now the Head of Course for the Automotive Mechanical program. 
"Following a work injury, I was unable to return to the Heavy Diesel Fitting Trade and sourced other work until I completed a Certificate IV in Training and Assessment. I ultimately commenced my teaching career with TAFE Queensland, stationed in the remote town of Normanton, in the Gulf of Carpentaria," he said.
One fond memory of his time teaching in The Gulf of Carpentaria was with a group of First Nations students.
"I was involved in delivering Pre-Apprenticeships and first- and second-year Diesel Fitting blocks onsite. I also taught the Certificate IV in Training and Assessment to the young Indigenous employees from all over the Gulf Communities," he said.
"The biggest highlight was teaching a second-year group, as we rebuilt a 1HZ Engine. After replacing it in the vehicle and hearing it wind over, then start, was priceless. The look of sheer joy and accomplishment for the young class was amazing. I was so grateful to be part of that."
He said these moments were what made being a trades teacher rewarding.
"To me, teaching is a very enjoyable career. I can pass on my knowledge and learn new technology through both the students and industry," he said.
"My role as Head of Course for the Automotive team has been quite the challenge. Teaching various ages and personalities can be quite interesting but nothing is too difficult to overcome with the support mechanisms we have in place. And you can always fall back on your own experiences in the trade. Students like hearing relevant information."
As Head of Course, Chris' role is a busy one, managing his teaching role and his team of professionals across campuses in Emerald, Gladstone, Mackay, and Rockhampton.
"Every team and campus are very welcoming. The teaching teams work very well together. We are always travelling to cover classes at different campuses, so you get to see most of the teams yearly. 
"Speaking from my own experience, it was the best decision I made. Teaching various ages and personalities is very rewarding. Passing on your years of knowledge to a new emerging generation is a great feeling, but also learning from their experiences is an essential part of being a teacher of today.
"I would recommend teaching as a career to anyone."