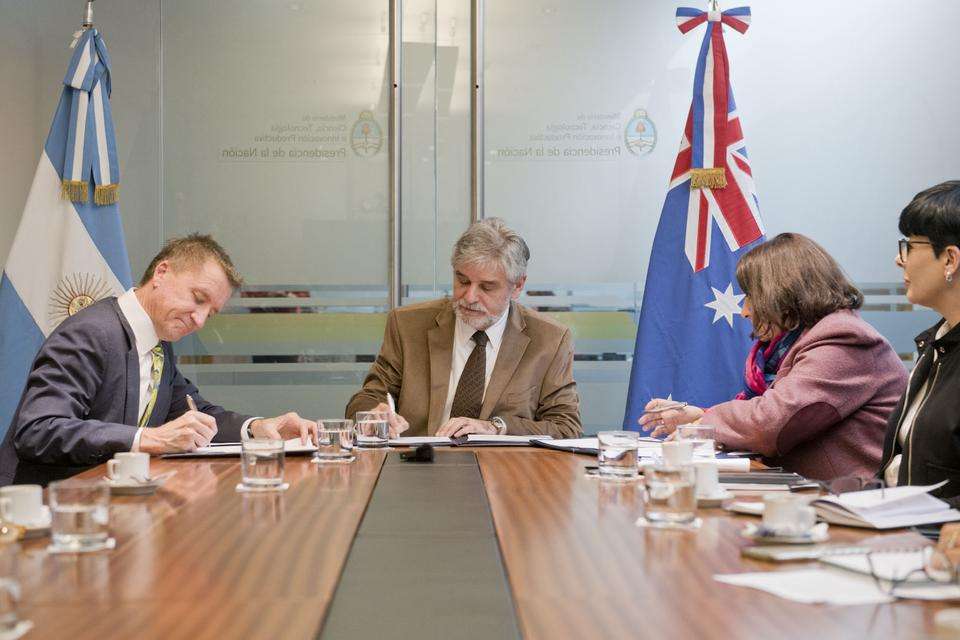 CQUniversity Australia has this week established a partnership with a leading Latin American research agency, with the signing of a Memorandum of Understanding with Argentina's Ministry of Science and Technology (MINCYT) and the National Council for Scientific and Technical Research (CONICET). 
The MOU will enable a partnership agreement for a joint offshore research higher degree (RHD) program, in which young scientists in regional areas of Argentina will undertake Master or PhD research projects under the joint supervision of CQU and Argentinean researchers. 
The program will also enable collaboration between post-doctoral researchers at CQU and CONICET in areas of mutual excellence, such as environmental science, health and engineering.
CQUniversity's Vice-Chancellor and President, Professor Nick Klomp, who travelled to Argentina to sign the MOU and meet with research partners in Argentina, said the program was an innovative way for CQU to work with established and aspiring scientists in addressing shared challenges common to both countries. 
"Delivering this RHD and postdoctoral program through an offshore model allows us to work with our global partners to support emerging research talent and grow the capacity of the scientific workforce in both countries," Prof. Klomp said.
"Supporting them offshore allows them to remain in their homeland during their studies so that they can apply their knowledge to benefit their local industries and communities." 
The initiative builds on CQU's six years of partnership with the National Institute of Agricultural Technology (INTA), which has seen CQU undertake collaborative research with automated livestock monitoring technology deployed at INTA research stations in the provinces of La Pampa and Mar Del Plata. 
"As a university with specific expertise in agricultural technology research, and in particular precision livestock management, the partnership with INTA has been the perfect match for delivering tailored programs to RHD students in this space," Prof. Klomp said. 
Professor Klomp said the new agreement with CONICET would expanding collaborations in the region in new areas such as marine and freshwater science, health and engineering.
"Through our renowned research centres and institutes including our Institute for Future Faming Systems (IFFS), the Coastal Marine Ecosystems Research Centre (CMERC), the Appleton Institute and Centre for Rail Engineering, we look forward to establishing new collaborations and programs," he said.
"We will also be connecting with Argentina's national network of universities to explore opportunities for collaborative approaches to education in regional communities, as well as other activities including student exchanges and mobility programs," Prof. Klomp said.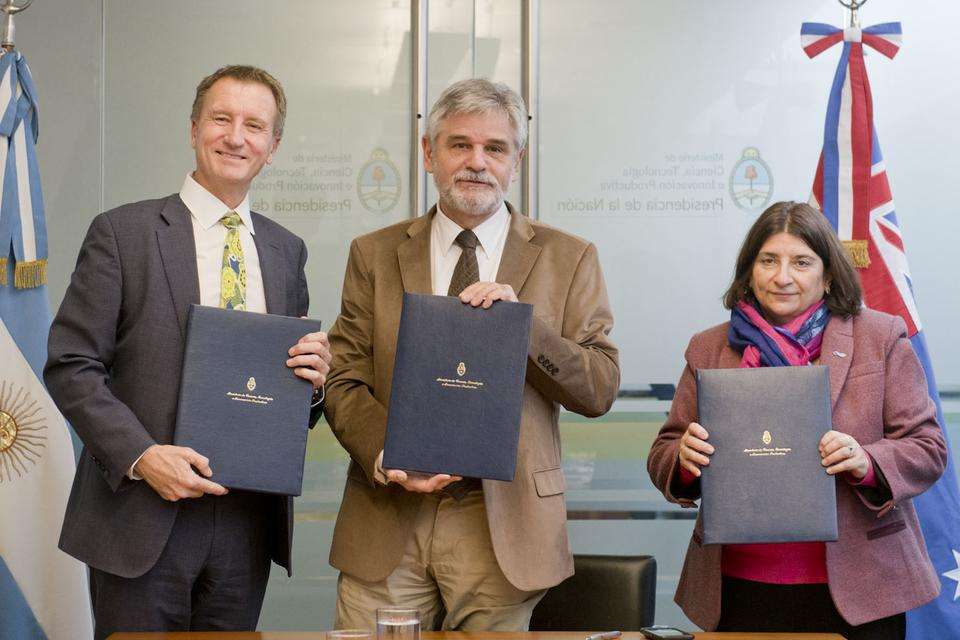 During the signing ceremony in Buenos Aires, Argentina's Minister for Science and Technology Daniel Filmus said the agreement with CQU would deepen the relationship between the two countries and create new opportunities for Argentina's provinces. 
"We seek to decentralise and bring capacities to the country as a whole. We hope we can have more exchanges and collaborations. Science cannot be interpreted if it is not done globally," Mr Filmus said.
CONICET President Dr Ana Franchi said the collaboration would deliver international benefits by addressing research issues common to both countries including renewable energy, marine ecosystems and intelligent agricultural systems. 
For Dr Luz Lardone, Undersecretary for the Federalisation of Science, Technology and Innovation and member of the CONICET Board of Directors, the knowledge and development agendas of Argentina's 24 provinces would be strengthened by taking a shared approach to this new international collaboration.