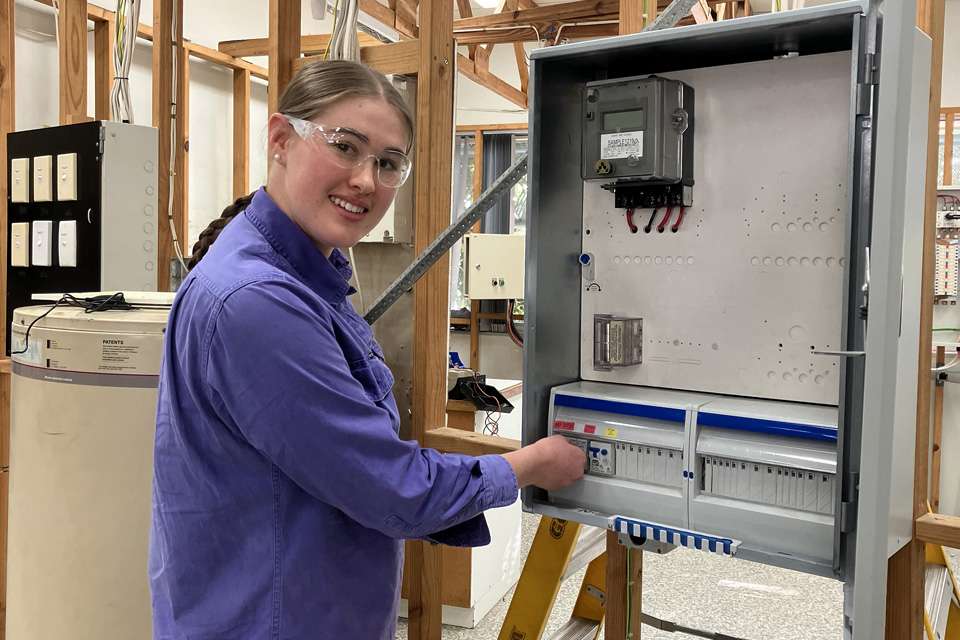 The lack of women in trades is the very thing that has motivated teenager Macee McGilvray to acquire skills for the future by taking up Start TAFE Now at CQUniversity while at school.
The 16-year-old Rockhampton Girls Grammar School student is enrolled in a Certificate II in Electrotechnology with CQU TAFE, studying one day a week at the Rockhampton City campus and it's safe to say it's ignited a spark in her.
Macee has encouraged other young people like her to consider a trade.
"Why not? I have been looking at electrical trades for a while and I thought living in a rural town it would be a beneficial trade," she said.
"Women have a lot to offer by taking up trades. There are only three per cent of women in trades, so motivating women to pursue their dreams has definitely motivated me. 
"Electricians are in such high demand, so there will never be a shortage of work which means always employment opportunities."
Since starting her course in February, Macee has hit the ground running, managing the course around her normal school studies.
"It is fantastic that our teachers encourage us to do practicals and make our theory interesting by involving the whole class. Practical experiences are the highlight of these classes," she said.
Macee said she hoped to secure an electrical apprenticeship when she completes Year 12.
"My dream job would be to become a high voltage electrician to gain a variety of knowledge and experiences. But owning my own business and managing people will definitely be something I'll pursue in the future," she said.
"But I won't stop there. I plan on starting up an electrical business mentoring and employing female electricians.
"Women have frequently been excluded from trades – men chosen over women. I believe that everyone should have equal opportunity and women make fantastic trades persons. 
"Giving everything a go is also important, because you won't know what you can achieve until you have a go."
To learn more visit Start TAFE Now.